*This post includes my affiliate links.
Did you know that GuruNanda has come out with the first ever Humidifier and Aromatherapy Diffuser in one? They did!
White Tower Humidifier And Aromatherapy Diffuser In One 
The new GuruNanda White Tower XL Diffuser combines the best of both worlds! Unlike other aromatherapy diffusers, it has a large 2-liter capacity, meaning it can produce mist for up to 12 hours without the constant need to refill.
And while regular humidifiers are not made to be used with essential oils, the White Tower Humidifier And Aromatherapy Diffuser In One is designed specifically to accommodate them.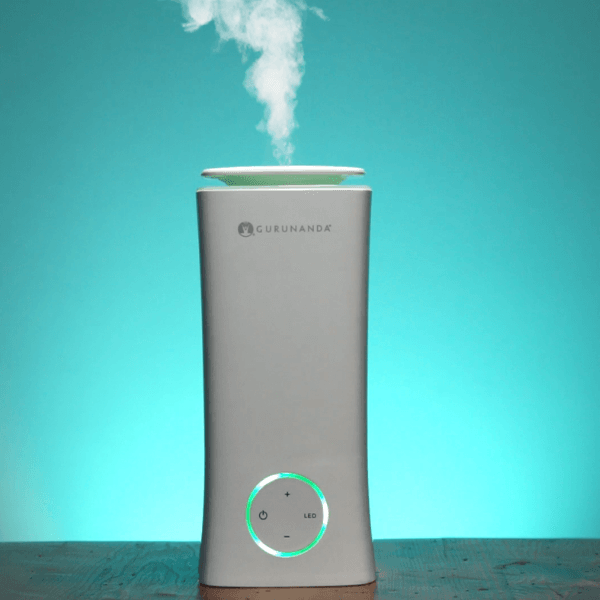 So, users get the bonus of better air quality at home or work (especially during the cold dry winter months), along with a pleasant aromatic environment and a variety of wellness benefits, depending on which essential oil or oil blend you choose to use!
You can try GuruNanda's lavender for nighttime relaxation, and peppermint or orange for a daytime lift! They recommend using the White Tower XL Diffuser with GuruNanda's essential oils as they are sourced sustainably and are the purest and pristine on the market. However, you can pair it with any favorite oils you already have!
The Tower XL is the world's first open-top humidifier and essential oil aromatherapy diffuser. The Tower XL has a 2-liter water capacity, which is 20x the size of an average diffuser (100 ml). It is built with state-of-the-art, medical-grade white plastic to ensure no corrosion occurs.
The unique patent-pending air funnel ensures smooth bubble mist flow, which results in a mist volume that is up to 10x the average diffuser. Fill it, shut it, and forget it!
Due to its large tank size, you can keep diffusing all night long. This means you can get a peaceful night's sleep without having to wake up every couple of hours to refill the tank! Yay!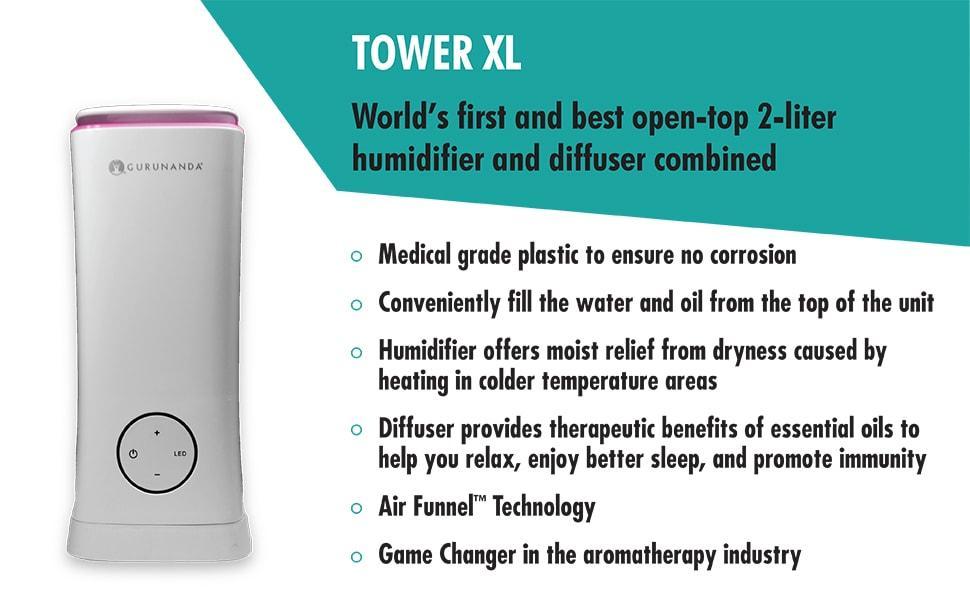 Power Supply:
*Wall Outlet
Special Features:
*Large 2 Liter Water Capacity
*Mist Lasts up to 12 Hours
How To Use:
Remove the lid and simply fill with water until slightly below the line, then add 10-20 drops of your favorite GuruNanda Essential Oils.
Place the lid back on the diffuser.
Press the power button once for continuous mode and color-changing lights.
Press the "+" button to increase the mist. (Mist lasts up to 6-8 hours)
Press the "-" button to decrease the mist. (Mist lasts up to 12 hours)
Press the "LED" button to turn the color changing LED light on/off.
Maintenance:
To ensure the diffuser works properly, we recommend cleaning the diffuser between changing oils or every 3 days.
Disconnect the diffuser unit from the power source before cleaning.
Use a cloth to clean exterior part of the unit with water.
Use a cotton swab or cloth to clean the water tank.
Keep water from entering the vent.
Do not use detergents, solvents or abrasive agents to clean the diffuser unit.
Use the diffuser unit on a dry and even surface.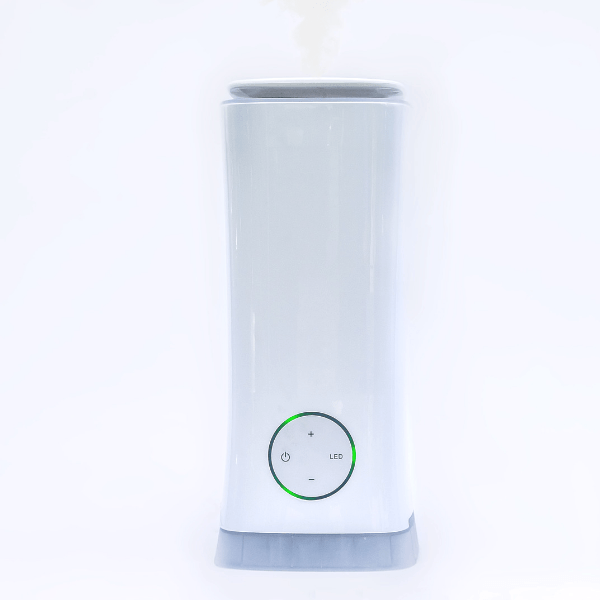 Buy
This holiday season, get 25% off sitewide when you spend $100! Offer valid till midnight of December 25, 2018. Use code HOLIDAY25 at checkout! Visit them online at https://www.gurunanda.com/. Go here to purchase the Humidifier And Aromatherapy Diffuser In One!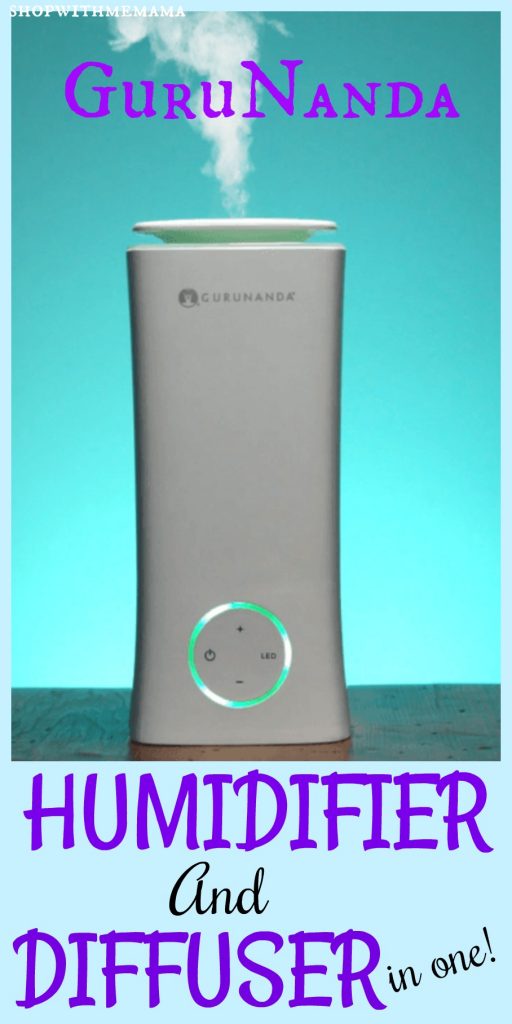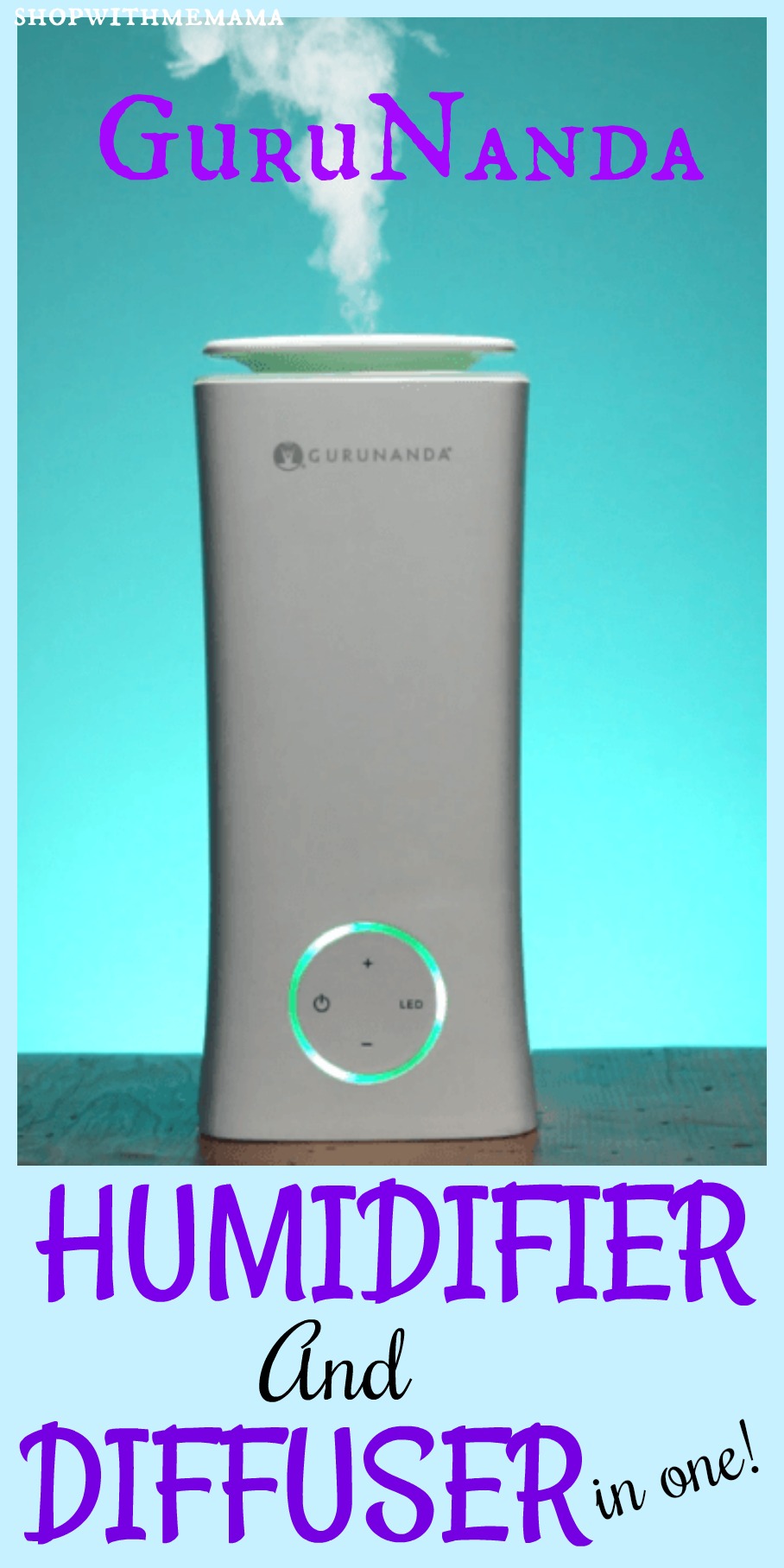 Win!
One person is going to win the GuruNanda White Tower XL Humidifier And Aromatherapy Diffuser In One ARV $69.99! Woot!
Rules
The Contest is open US residents, ages 18+. The giveaway will end on December 31, 2018, at 11:59 PM MT. Winner will have 48 hours to confirm their win after I email them, or a new winner will be chosen. I am not responsible for lost or stolen mail.