Do you enjoy nibbling on popcorn? I think we make popcorn at least three times a week when we watch family movies together. Popcorn is something we ALWAYS have in our pantry! And, we just found out about Johnson's Popcorn and now we have an all-time favorite popcorn!
We received a big tin filled to the brim with delicious Johnson's Popcorn in the peanut crunch flavor. It is SOOO yummy! It is a huge tin, so I knew it would last through a few family movie nights 😉
Three weeks later, and it is almost gone, but we could still get a few more nights of watching movies, eating it! We were really impressed with the size of the tin and how full it was. Some popcorn tins are big, but when you open it up, it is only half full! That is always a disappointment. But, Johnson's Popcorn tin was filled full! Yay! So, worth the money for sure!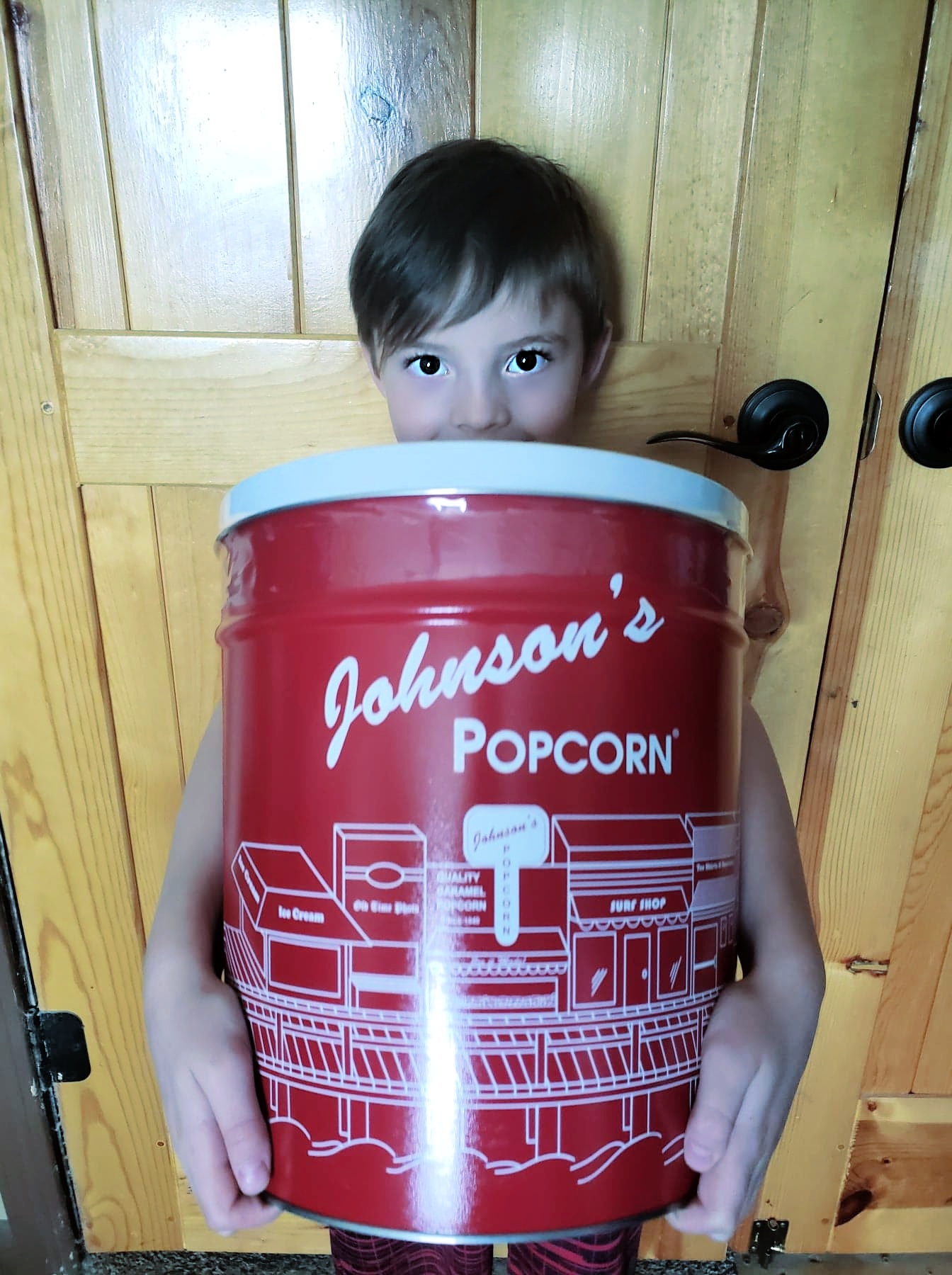 Johnson's Popcorn Is Delicious!
The peanut crunch flavor is a rich, deep caramel flavor with Spanish peanuts! Some pieces of popcorn are stuck together because of all the yummy caramel and this makes for a big treat! My family and I sometimes have a contest on who can 'accidentally' get the biggest pieces of popcorn clusters!
The peanut crunch flavor is slowly cooked and mixed in a copper kettle. Then, it is cooled with a special process to make sure every single batch tastes the same! I love hearing how they made the peanut crunch flavor and can tell that Johnson's Popcorn really puts a lot of time and effort into making sure their popcorn is delicious and made correctly!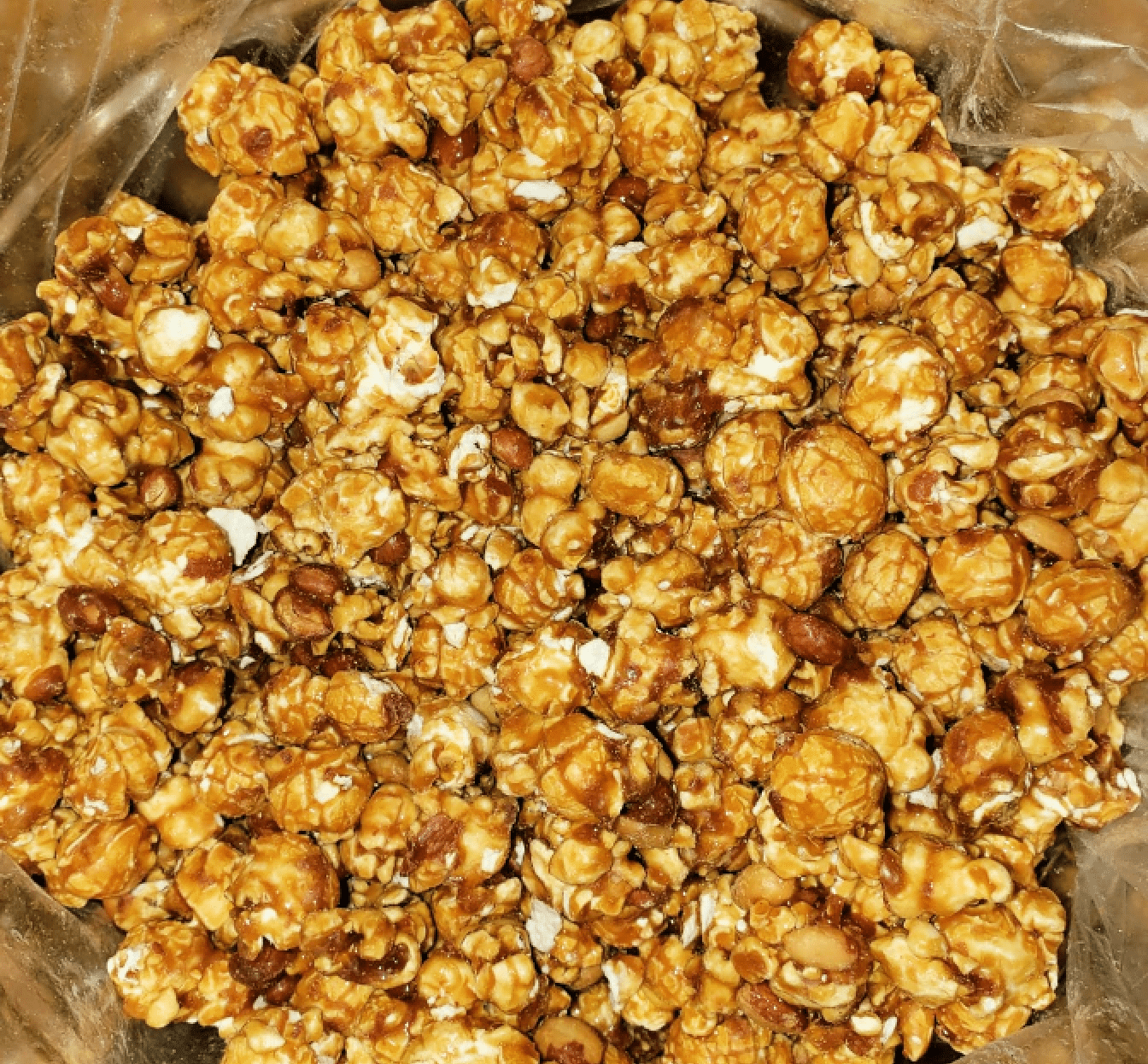 Other Flavors Of Popcorn:
Johnson's Popcorn carries an array of yummy flavors like:
*Peanut Crunch (what we received):
*Caramel: Johnson's Popcorn's most popular flavor! The caramel corn would be so good!
*Cheddar Cheese (might have to try this one next!): Artisan Cheese blended over the popcorn kernels
*Salty-n-Sandy: Caramel and Cheddar popcorn that is mixed to perfection!
*Chocolate Drizzle: Premium Dark Chocolate Over Our Famous Caramel Popcorn
*Platinum: They use a batch of peanut crunch and drizzle their premium chocolate into every nook and cranny they can find. It is the ultimate flavor for any sweet tooth!
*Butter: This is Johnson's Popcorn newest flavor! Their buttered popcorn is made with their very own air-popped popcorn and tossed with real butter and salt.
*Tri-Flavored: 3 great flavor combos all in one! YUM!
Johnson's Popcorn also offers party favors. Just let them know what you need and they will make it for your next gettogether with family and friends. And, since the holidays will be here before we know it, Johnson's Popcorn also makes holiday gifts. Think delicious popcorn bundled to make the perfect holiday gift for that special someone. Check out their Holiday Popcorn Gifts here!
I also really like how many different tin or container options you can choose from, to have your popcorn in! There are holiday tins and containers, plastic containers, and so many more!
And, they come in a variety of different sizes! I am especially loving their Johnson's Popcorn Halloween Stack right now! So dang cute! With the holidays approaching, they will be having some really cute holiday tins that hold their delicious popcorn!
And, when you are all done with the yummy Johnson's Popcorn, you can reuse the tin it came in. We will be using it for storing all of our colored pens, pencils, and markers! So, next time my kids want to color and draw, they will just pull out the Johnson's Popcorn tin and get busy! Love this!
About Johnson's Popcorn (Taken from their site):
Since 1940, Johnson's Popcorn has been one of the most famous icons of the Ocean City, New Jersey Boardwalk. The aroma of hot caramel tossed over giant kernels of popcorn has lured millions of visitors to Johnson's Popcorn's storefronts that lie beneath the red and white awnings.
All of Johnson's Caramel Popcorn is Hand Mixed in large copper kettles. This mixing process always draws a crowd of fascinated eyes and hungry snackers during the summer season. Every kernel is popped and mixed at one of our Ocean City, NJ Boardwalk locations, 7 days a week, 12 months a year!
Buy
You can check out everything Johnson's Popcorn offers by visiting them online at https://johnsonspopcorn.com/.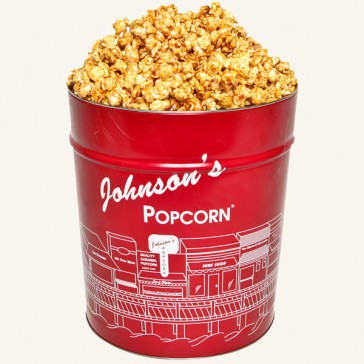 Win
THREE lucky individuals are going to win a traditional Johnson's Popcorn Tin in their choice of flavor! Yay! ARV is $63.95!
Rules
The contest is open to US residents ages 18+. This giveaway will end on October 29, 2020, at 11:59 pm MT. The winner will have only 48 hours to claim their win or a new winner will be selected. I am NOT responsible for lost or stolen mail (DUH!).
PIN IT