Gotta love clear skin and trust me when I say I have tried them all! Most of them work amazingly well and some not so much. If you have acne-prone skin, I am sure you have been there and tried that too!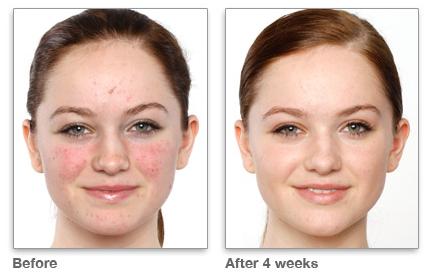 Why not try a product or products that are safe, natural, and organic, instead of using harsh chemicals? I am all for it, so I tried out Juice Beauty Organics To Clear Skin Kit. I had a few pimples on that their chin of mine, so this arrived at a glorious time for me.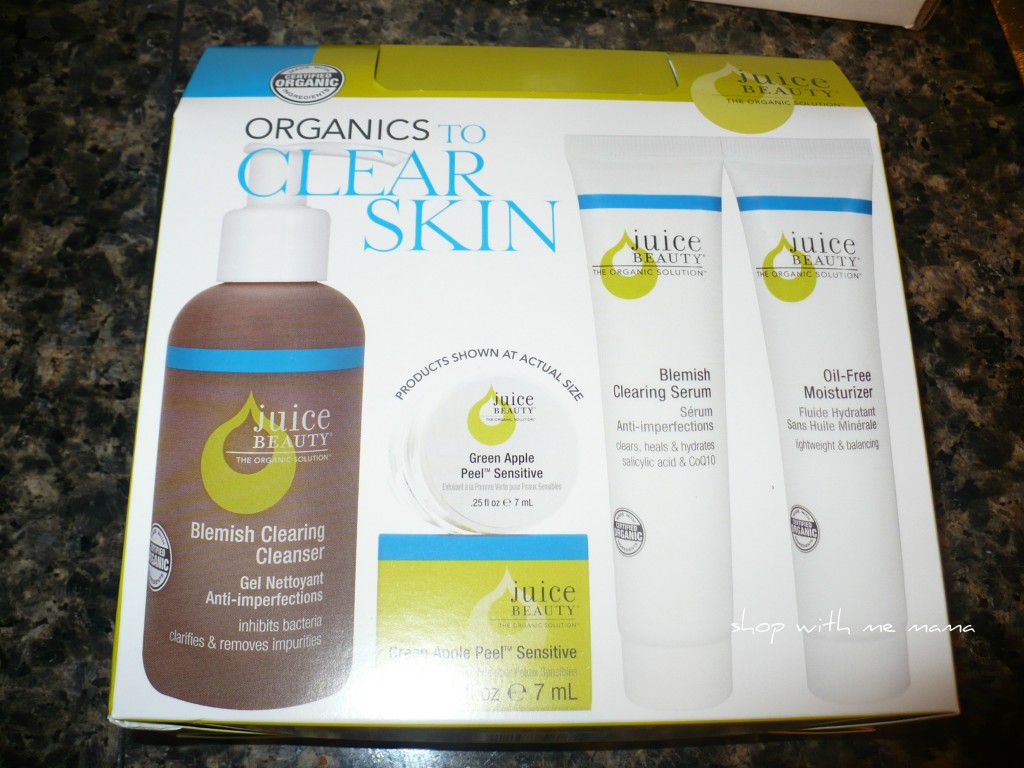 This kit is a 30-day supply that is the perfect organic solution to clear up that skin of yours! You are only 4 steps away from clear, smooth, and healthy skin! This kit includes a clarifying blemish clearing cleanser, exfoliating green apple peel (LOVE this!!), replenishing blemish clearing serum, and a lightweight oil-free moisturizer. Also includes a bonus eco-bamboo washcloth that is oh-so-soft!!!! This kit is perfect for oily and blemish-prone skin like mine.
The cleansing gel is wonderful. It really gets into my pores and cleans my makeup off my face very well. It rinses clean and my face feels soft, clean, and fresh after I use the cleansing gel.
Next, I use the Green Apple Peel, I ran out recently, but I would use this once a week. What this does is helps to exfoliate to reduce breakouts, discolorations, and fine lines. This heals while hydrating with rejuvenating algae, vitamins, and antioxidants for a smooth, glowing complexion. My face was certainly very soft after using this once a week. Loved this stuff!
The Blemish Clearing Serum is a very powerful organic fruit acid complex with salicylic acid from willow bark, that unclogs pores, reduces your breakouts, and lightens scars while the organic aloe, CoQ10, and fat-soluble Vitamin C renew the skin for a healthy, clear complexion. I use this every night after cleansing. My skin loves this serum and helps limit my breakouts on that silly chin of mine.
Last but certainly not least, is the fabulous Oil-Free Moisturizer. This is certainly my good friend! It is non-greasy and my skin NEEDS none-greasy lotions. My face drinks up this oil-free facial lotion and my skin is soft and supple after using this stuff. I just adore this stuff! It doesn't irritate my skin and is organic too!
This is a lightweight, hydrating moisturizer that has blends of organic grape and aloe juices, purifying botanicals, and antioxidants to moisturize, soothe redness, heal breakouts and restore the skin's natural balance. Perfect for oily skin.
So, as you can see, this is a really neat little acne-fighting kit! I really like it and definitely see nice changes in my skin tone and clarity of my skin.
Buy
You can purchase the Juice Beauty Organics To Clear Skin online at http://www.juicebeauty.com/