*Kobo Mini eReader Review. Product was received. All opinions are mine. This post contains my personal affiliate link.
Since having a baby I have noticed that I enjoy reading again! When I nurse my baby, I have to do something, so I use that time to read. And goodness, I have been enjoying myself! I so miss reading, like I use to do!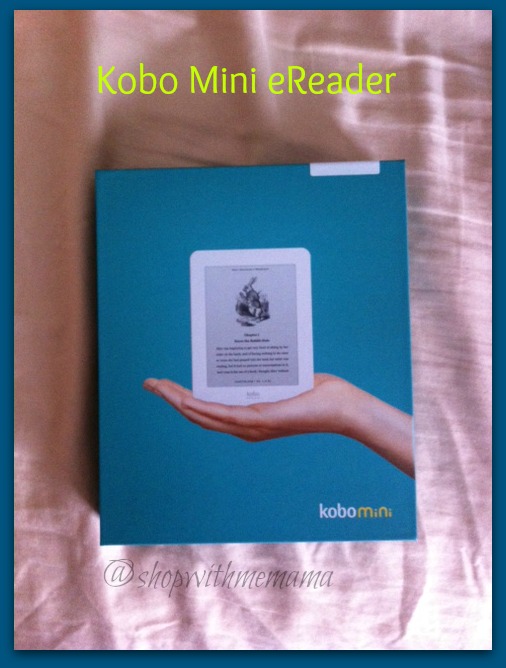 Kobo Mini eReader Review
I received the Kobo Mini eReader to review and am liking it so far. It is sooo tiny!!! It fits in the palm of my hand, is super lightweight too.
The Kobo Mini is fully equipped with a no-glare Pearl E Ink touchscreen (which is just 5"!) for a print-on-paper reading experience. I like how easy it is on the eyes. The words are very clear and easy to read.
This eReader can carry a capacity of up to 1,000 eBooks! So now I don't have to miss out on the latest and greatest read! I can have ALL of my favorite books in one place and I really like that! Plus, I can shop over 3.5 million eBooks anywhere there's a hotspot with Kobo Mini's built-in Wi-Fi. Very cool indeed!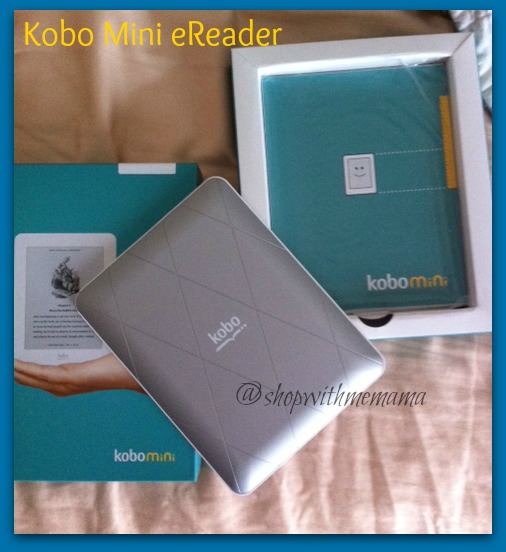 I like how tiny this eReader is. I can easily put it in my purse, diaper bag or a pocket! Though I mainly use this at home, I do bring it on occasion to the doctor's office, for something to do. It is nice having all my books at my fingertips!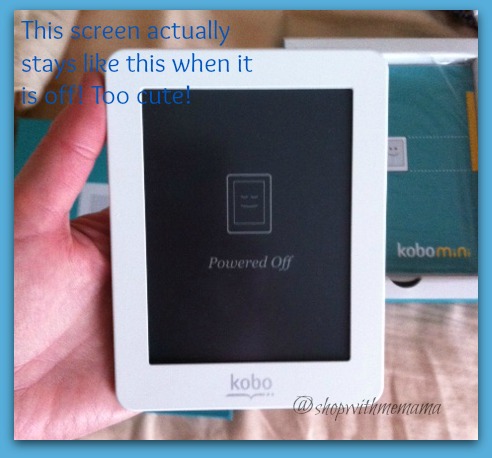 Another brilliant thing that I really like about the Kobo Mini is that the battery lasts a long time!! One good charge can last up to ONE month!!! That is of course based on how much you use it, but on average, it will last a full month! Mine has been going strong for a month and longer, though I have only been using it for when I nurse baby so far.. and one time at the doctor's office.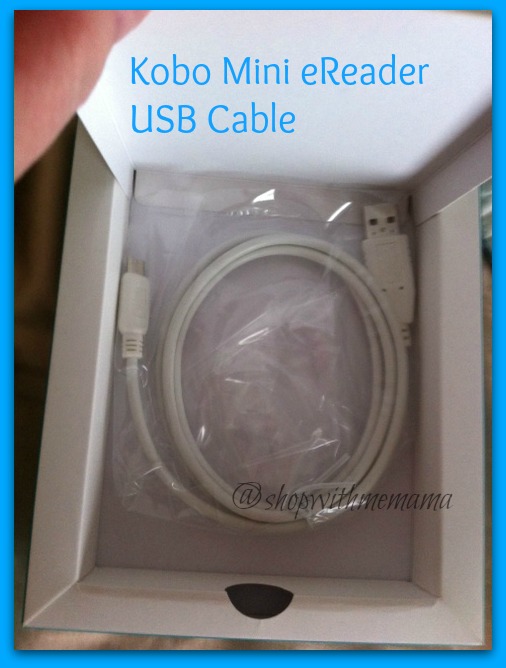 The Kobo Mini eReader comes with a micro USB cable in each box, so you can easily charge up your Kobo Mini when it needs to be charged.
Customize your Kobo Mini with an interchangeable Kobo SnapBack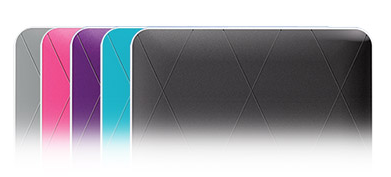 The Kobo Mini is FULLY customizable. You get to make it YOURS! I love this part! I was able to choose from 8 font styles and 24 font sizes, as well as exclusive weight and sharpness settings that allowed me to adjust the text to suit MY eyes. I can browse my library, look up words and switch between screens effortlessly with the highly responsive touchscreen.
I really like how the Kobo Mini adjusts to ME and not the other way around. The only thing I was not too sure about when taking this out of the box initially, was the weight of it. It is weightless and that made me think that it was not well made or that it would break really easily. I was wrong though. It has held up pretty well and I am impressed that something that feels lightweight and not very strong, could really BE strong. So, that was nice!
There is just SO much to this eReader, there really is! But one thing I really really love about this is that if you happen to leave your Kobo Mini at home, you can easily read it on your smartphone, tablet, or computer with the free Kobo eReading apps. When you sync, your entire library comes with you, including all your bookmarks! Pick up right where you left off, wherever you are! Too cool!
 Buy
You can purchase the Kobo Mini eReader online at http://www.kobo.com/kobomini. It retails for $79.99.
Have you ever used an eReader? Which one do you just love?