In this post, we will talk about the LazyOne Matching Family Christmas Pajamas because they are SO cute, AND at the very bottom of this post, you will find Family Christmas Pajama Photo Ideas!!
Every Christmas Eve my kids each get to open up ONE Christmas gift and that gift is always their Christmas pajamas! I did this when I was young and now I do it for my kids too.
We love this tradition and I am sure almost everyone in the world does this tradition along with me!
This year I got my kids matching sibling pajamas for Christmas. Usually, they each get something different but this year they are getting matching Christmas pajamas!
I even got my hubby and me matching couple's Christmas pajamas so our whole family can match! So fun and I can't wait!
*This post includes my affiliate links.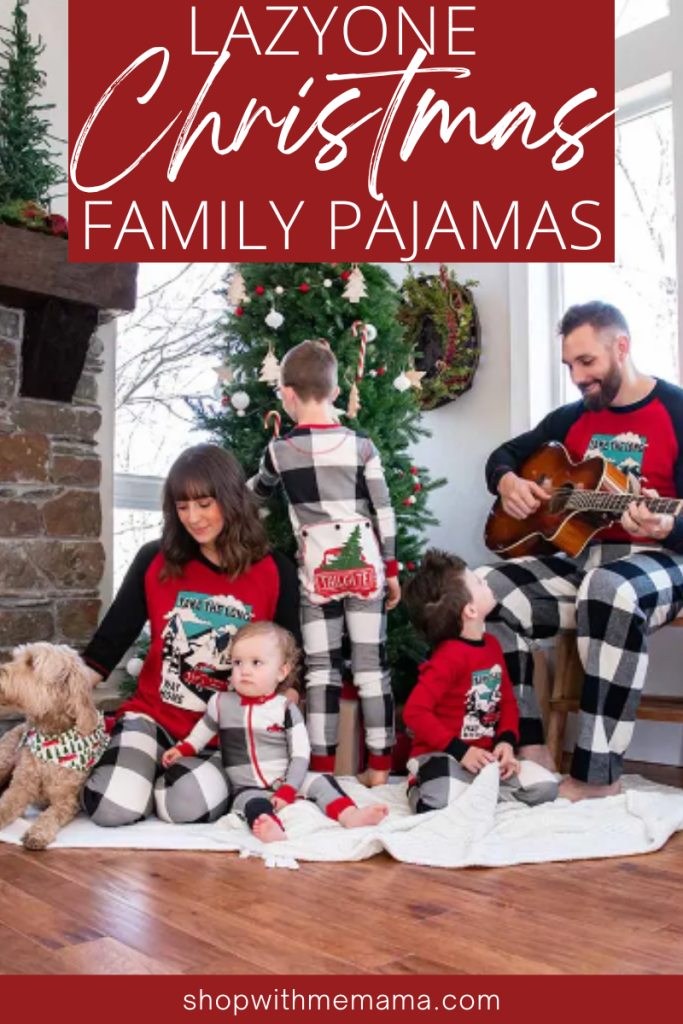 LazyOne Matching Family Christmas Pajamas
The LazyOne has SO many different styles of Christmas pjs to choose from. There are literally Christmas pajamas for everyone! Below are my top 6 Family Christmas Pajamas that I LOVE:
*Buffalo Plaid Christmas Pajamas: In several different styles, you can get everyone's butt covered with super cozy and comfortable matching jammies this Christmas! For your littlest ones, they offer infant leggings and onesie flapjacks.
For older kids and adults, the Bear Cheeks Onesie Flapjacks match their infant selections, so your entire crew will look beary adorable in holiday photos!
The button trapdoor at the back of the onesies is totally functional, so it allows everyone to quickly take care of business. For the guys, they also offer Buffalo Plaid boxers and joggers.
Bring Fido into the mix as well with the Bear Cheeks dog bandana or the dog onesie flapjack. Each is easy to dress your four-legged friends in.
Want to make the matching PJ tradition even wilder? Add accessories like paw mitts, crew socks, paw slippers, bear stuffed animals, or hooded blankets to your order!
*Matching Christmas PJs – Silent Night Collection: These are the family Christmas pajamas that we received and I LOVE LOVE LOVE them!
They are SO soft and very comfortable! They are very well made and fit perfectly on each one of us! All is calm and comfortable in LazyOne's Silent Night family pajamas.
This matching family set comes with a fun Christmas-inspired design perfect for the holidays and photos.
*Gnome for the Holidays Collection: No matter where you are for the holidays be comfy and cozy in their Gnome for the Holidays. It features a fun red and grey Gnome design with a matching Gnome fair isle print.
*Candy Cane Matching Pajamas: "Cane" you believe it's almost Christmas time again?? We can't either! This holiday season, buy yourself some candy cane pajamas that are just as fun to look at as they are to sleep in.
With lots of sweet options for men, women, kids, infants, and even dogs, LazyOne is cane-fident that you'll find everything you need and more, whether you want to take some cute holiday pictures or snuggle up together on the couch watching Christmas movies!
*LazyOne Matching Family Christmas Pajamas Moosletoe Collection: Looking for a little extra holiday love this year?
Then you 'moose' check out the LazyOne Moosletoe Holiday family matching pajama collection. It is chic and simple.
With a creamy natural background and festive shades of green and red. They have long-sleeved pajama sets for men, soft and flattering leggings sets for women, and matching long-sleeved jammies for the kiddos.
*Lights Out Christmas Pajamas: This Lights Out matching Christmas pajama collection is one of our most popular options.
With a silly reindeer tangled up in a string of colorful lights and pants with even more strings of Christmas lights, these PJs are super cute.
LazyOne has really cute pajamas for ALL seasons not only Christmas! That is why I love this brand so much.
They don't stop at Christmas! I recommend you head over to their site and check out their festive pjs! You can thank me later!
Family Christmas Pajama Photo Ideas!
I thought I would throw in some fun ideas for family Christmas pajama photo ideas! Why not! Christmas is a time for family, and what better way to capture the holiday spirit than with a fun family photo in matching pajamas?
Whether you're taking the picture yourself or hiring a photographer, creating an amazing family Christmas pajama photo doesn't have to be stressful. Here are some ideas on how to make your family's holiday portrait stand out this year!
1. Choose the Right Christmas Pajamas! This is so important. When it comes to choosing the perfect set of pajamas for your family portrait, you want something that is comfortable and FUN!!
There are so many options out there, BUT I just saved you some time on this one! LazyOne has SO many Christmas pajama options!
2. Set the Scene! It's important to create an atmosphere that will set the tone for your photo shoot.
If you're planning on taking the photos yourself, use natural light as much as possible and choose a location where everyone can spread out comfortably—like in front of a cozy fireplace, propped in front of your gorgeous Christmas tree and holiday decorations, on your front porch, or outdoors in front of a festive winter scene!
If you plan on hiring a photographer, they can help with selecting props and backdrops that will enhance your pictures and create lasting memories.
3. Have Fun With It! The most important part of any photo shoot—especially one involving children—is having fun with it!
Let everyone express themselves in whatever way they want—dancing around, playing games, or goofing off! Encourage them to move around freely and make silly faces if they want; these could end up being some of your favorite shots from the day!
Don't forget to take plenty of candid moments throughout; these often turn out more special than posed shots because they show each person's true personality shining through!
With these tips in mind, you'll be sure to capture beautiful memories that will last a lifetime!
Discount Codes for LazyOne Products
There are plenty of discounts and sales going on this time of year and at LazyOne it is no different! Right now they have these sales going on:
Get 15% off of pet products! Use coupon code: FURBABY15 at checkout
Save 14% off infant creepers! Use coupon code: INFANT14 at checkout
Save 15% off notepads, notebooks, and sticky pads! Use coupon code: NOTE15 at checkout
Save 12% off all regular-priced items! Use coupon code: DCLP12 at checkout
Plus, get Free Shipping on all orders over $75!! Yay! And, while you are on their website, why not check out their clearance section too?!?
I hope you enjoyed my post about LazyOne Matching Family Christmas Pajamas! They are so fun and cute! Do you usually get Christmas pajamas for your kids, family, and loved ones each year? Have you taken any fun Christmas pajama photos? Let me know in the comments below!