*Look Younger, Faster With StriVectin. The product was received. All opinions are mine. This post contains my affiliate link.
We all want to look and feel younger, don't we? I am pushing 39 her really quickly and I am not too happy about it 🙁 I don't feel old and I certainly don't look old… Blah.
Okay, so 39 in not old, I KNOW. BUT… it is older than I want to be! I wish I could have stayed in my 20's forever. But, alas, I am getting older and it cannot be stopped. But, the signs of aging can be SLOWED and that is where I can target my efforts for now 😉 I love making my own skincare products, but sometimes you have to spend some money to see some results!
Look Younger, Faster With StriVectin
I recently received StriVectin's NEW! Advanced Retinol Day Treatment and Present Perfect to check out. I gave the Advanced Retinol Day Treatment to my mom because she has more advanced aging than I do (and that is what that particular one is for) and I kept the Present Perfect for myself as it is for younger skin (if you can call my skin that!)…
I started using this about two weeks ago and so did my mom. First I will talk about my mom's reaction to this stuff. She said that it really has made her face look and feel beautiful. She notices fine lines soften up and her face looks like it is glowing and healthy looking. She uses it in the morning time, before her makeup. It leaves her skin supple and younger looking, throughout the day. She is very happy with the results so far. So, in a nutshell, she really likes it!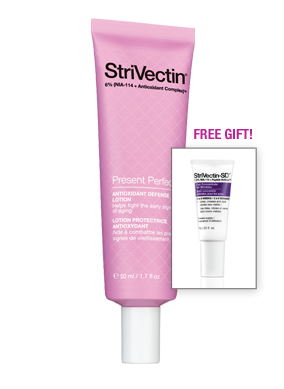 Now for mine! I have been using the Present Perfect for about 2 weeks. I use it at night so that it has time to absorb and really get into my skin, with no distractions. This is an oil-free and fragrance-free product, which I really like. It is rich with protective antioxidants and skin nourishing ingredients that really does leave my skin super soft and my lines around my eyes and mouth seem to soften, but not disappear (that would be too cool if it did though!).
My skin does appear more radiant than before. I have to say I have had a few breakouts since using this. I no it is oil-free, but for some reason when I use this on my forehead or chin (which I don't do anymore), I would break out a bit. Otherwise, it is great on the other parts of my face and neck areas.
Buy
You can purchase these products online at http://www.strivectin.com. And when you purchase the Present Perfect right now, for a limited-time Introductory Offer: Receive a FREE Eye Cream 0.25oz with purchase!