We all use toilet paper, right?
I kinda HOPE you all said yes…..
So, why not use a toilet paper (and paper towels) that is better for our environment?  Since 1950, Marcal® has been helping families take a small step towards making a big difference…with affordable recycled paper products that are good for families and good for the earth! Great huh? I think so!
I had the chance to review some paper towels and toilet paper from Marcal. I don't usually buy environmentally friendly products, but, if I find a great one, I WILL. I do try to do my part in helping the environment by recycling, but I could go a bit further and buy environmentally safe products. So, giving Marcal a try was my first step in doing that.
The paper towels are just as good as the other brands I have ever used. They absorb the liquids well and don't break apart when I use them. They are thick and I like that because they last through a clean up longer. The toilet paper, I was not overly excited about. It does the job, but feels a bit rough. I am use to really soft toilet paper, so that could be why, maybe I am being too picky.. But, knowing it is better for the Earth, made me feel like I should just suck it up and deal with the roughness 🙂 And of course I did! My hubby and kids never said it was rougher, but then again, we don't sit around and talk toilet paper.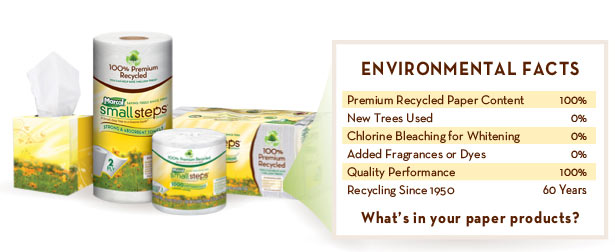 A Bit About Marcal (taken from their site):
Based in Elmwood Park, New Jersey, we at Marcal Manufacturing have prided ourselves as being one of the oldest environmentally friendly paper companies in the US. For 60 years Marcal® has been making paper products using recycled paper.
In 2009, Marcal Manufacturing, LLC, introduced the Marcal® Small Steps® line of 100% recycled bath tissue, towels, napkins and facial tissue for both home consumption and to distributors for commercial use. These products deliver strong performance without the typical "green premium" cost. The name Small Steps® signifies the small and easy steps toward making a difference in the world that you can make by using these recycled paper products.
For over five decades, Marcal has reducing landfill by making our paper products from recycled paper. We use paper collected from curbs in residential neighborhoods in cities and towns across America–from the small blue baskets in office buildings, unwanted junk mail, and waste from printers–all in an effort to do something good, to produce something that people need.
Marcal is an integral part of the northern New Jersey community. Our company uses recyclables from local municipalities and recycling facilities for our paper recycling process.

Buy It!
You can purchase the Marcal products by visiting them online at http://www.marcalsmallsteps.com/

You can also check out Marcal's Promotions page and grab some coupons!
Disclosure:
I received product for this review. These are my own honest opinions, thanks!