*Monster High Fang-Tastic Locker Review. The product was received for this review. All opinions are mine.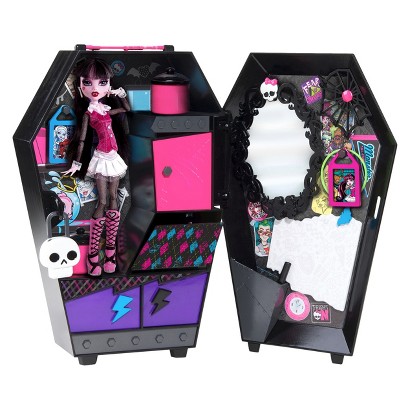 Having a little girl is so much fun! Now that she is getting a bit older, she LOVES beauty products and fun girl toys! Now, because of this, I get to re-live my childhood through my daughter 🙂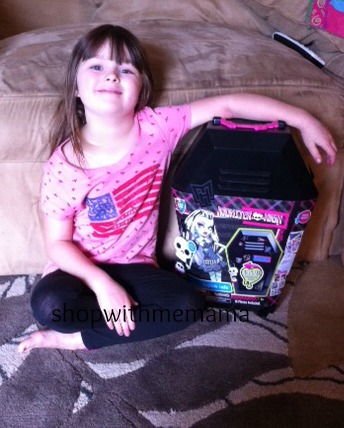 We like to play toys together and recently we received the really cute Monster High Fang-Tastic Locker to review! Now, this is a neat locker! It has SO much to it!
It is a ghoulish coffin locker and it is filled with some really fun and entertaining things. And, this coffin locker can only be accessed with a special key that you wear around your neck, so no one can take it away!! No sneaking into this super secretive locker!!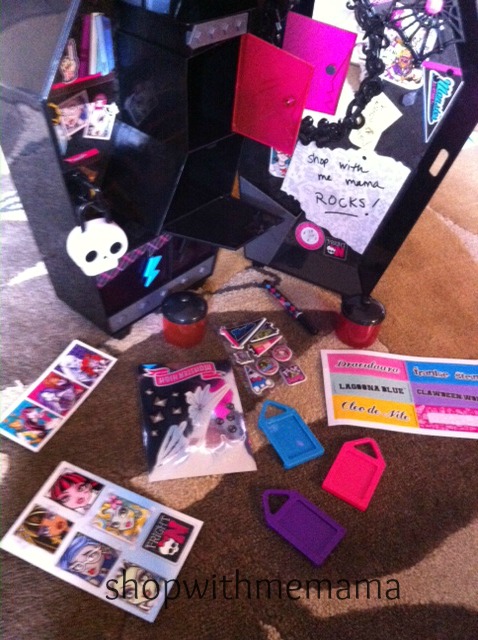 Inside of this cool locker, you will find a real working wipe board, for writing secret messages (notice a message on there now..) and a 'spider web' for holding your ghoulish jewelry or other goodies. It also has a fun, real working picture frames, to store pics of you and your buddies!!
Too much fun to be had if you ask me and my daughter!!! There is also some fun accessories and stickers so that your child can decorate their locker just how they like it!!
My daughter is having so much fun with this coffin locker! She loves all of the fun things it came with and she is enjoying decorating it to her liking. I love toys that come with lots of fun stuff for your child to play with. I love that it entertains my daughter and keeps her attention for a while.
My daughter feels so important when she locks up her Monster High Locker and puts it away. She knows it is just HERS and no one can get into it without that special key!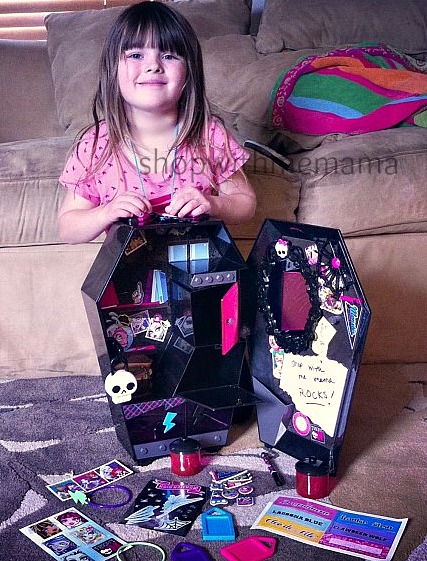 We have a few Monster High Dolls since they are not included in the Monster High Locker. But, they really are not needed, in my opinion, as my daughter just loves playing with it just the way it is.
This is perfect for kids ages 3 years and up (my daughter is 5), and fits dolls 11.5 inches. It is all plastic parts and comes with ten pieces. No assembly is required and no batteries either! Yay! My kind of toy to give my child 😉
If it gets dirty, simply wipe it clean with a moist rag. The locker stores everything, so no little pieces lay around for my 7-month-old to grab up and put into his mouth! MUST keep it away from him and small children though, regardless…
Buy
You can purchase the Monster High Fang-Tastic Locker is available at  Target! It retails for $29.99 and it is truly worth it! So go now! Holidays are coming up (GASP!) so get the Monster High Fangtastic Locker at your nearest Target!!!