If you love music like we do and Do NOT enjoy your music to be disrupted by breaks in your sound and/or low-quality sound, you will want to hear more about the new Bowers & Wilkins Formation Bar, Wedge, and Bass that is available at Best Buy.
*This is a sponsored post from Best Buy.
Wireless audio systems are the new standard for convenience and whole-home connectivity. We love having wireless everything in our home. It is so important and makes everything run smoothly in our home.
The new Bowers & Wilkins Formation® Suite is the first wireless audio system that lives up to the exacting standards of Bowers & Wilkins. With its amazing features, you will want to go and pick one up for yourself, at Best Buy. This has rich, powerful sound and Includes a subwoofer, 2 mid-ranges, and 2 tweeters. The expressive sound from the Bowers & Wilkins Formation Bar is something you can hear and feel. The 6-1/2″ active subwoofer delivers authoritative bass for high-impact home theater audio. So, get ready for your movies to come to life!
Experience legendary, room-filling audio quality
The 240w total system power provides the best quality sound not only for your favorite music but for movies, shows and games too! The Bowers & Wilkins Formation Wedge fills your room with awesome audio quality. You can use for multi rooms too with the compatible portable speaker which plays music in multiple rooms at once. So, have a party in every room in your home!
I love that the wireless streaming because you can access all the music you love in one spot. Your music library can have all the songs you desire, all in one spot from radio stations, etc. The wireless design makes it easy to place the subwoofer in an area that suits your sonic needs and preferences.
And, with its sleek appearance, the Bowers & Wilkins Formation Bar fits into any room of your home, seamlessly! This would look great in any room of your home. We would prefer it in our living room where most of the action is!
Bowers and Wilkins Wedge Features:
*Discover the new standard in wireless audio
*Formation Wedge's 120-degree cabinet has been specifically designed for an immersive stereo experience while our patented Formation –Wireless Technology delivers wired fidelity, wirelessly.
*120-degree elliptical shape for room-filling, stereo sound.
*Decoupled Double Dome Tweeter produces fully expressive soundstage.
Bowers & Wilkins Formation Bass Features:
*Uncompromised Wireless Sound
*Opposed Dual Driver Technology provides less distortion
*Class D Amplifier delivers exacting and efficient bass performance
*Dynamic EQ optimizes the performance of the system in real-time, so the subwoofer performs at a higher level, delivering significantly more bass without distortion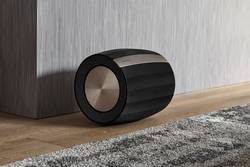 Bowers & Wilkins Formation Bar Features:
*Discover the new standard in wireless audio
*A powerful, multiroom soundbar that delivers legendary audio quality with wireless music streaming flexibility due to 9 optimized drive units and a dedicated center channel for a truly immersive audio experience.
*9 optimized drive units positioned to create a wide and inclusive soundstage for music and movies.
*Double Dome Tweeter ensures the highest quality high end from a fully expressive soundstage.
*Dedicated center channel so you'll hear the crisp and clear dialogue in your favorite movies and TV shows.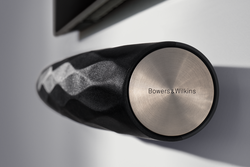 Bowers and Wilkins Formation Bar, Bass & Wedge Features:
*Bowers & Wilkins performance sound.
*Perfected Speaker Synchronization – in-room 1-microsecond sync between speakers.
*Patented Robust Mesh Network – runs independently from your home Wi-Fi network for seamless sound.
*96kHz/24-bit Audio Resolution – High resolution streaming with twice the fidelity than the leading wireless speaker brand for the pure and clear audio experience.