Coming soon, I will have a 3rd Grader and a 1st Grader, *cry*. My my my, why do they grow so fast? I am a sad mama!!!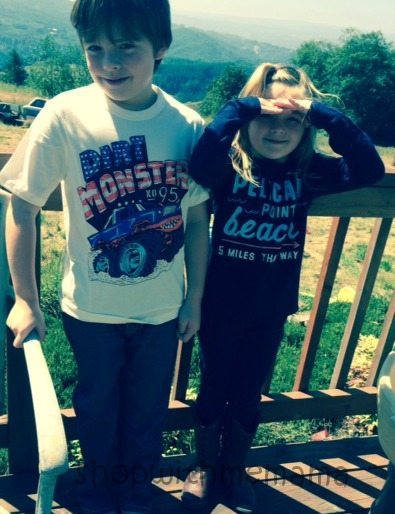 To make things a bit easier for the back to school transition, I have been shopping for back to school clothes for the kiddos. Since I LOVE shopping, it is really good therapy for me 🙂 Makes me feel better (well, a little bit better..).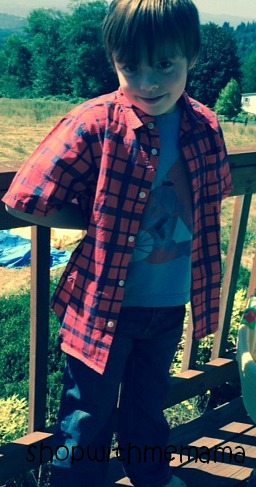 A couple of weeks ago, I had a chance to sit down with OshKosh in a briefing and listen in on the new, back to school trends! It was very interesting to learn what will be popular this fall season. Denim overalls for big kids? Pattern mixing? Both yes's!!!!!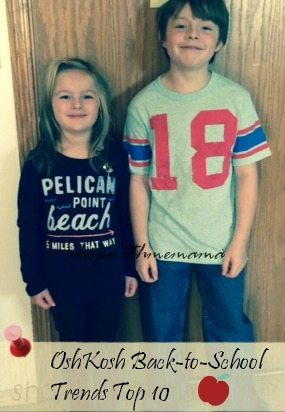 Read on to learn more about OshKosh Back to School Trends Top 10, below!
 1. Denim
Heritage of the OshKosh brand (we all know that!). They also have  overalls up to size 12! So fun! Cute denim skirts, shirts and jackets are super cute for the girls! For boys, the new skinny jeans or classic fit denim pants are sure to get some attention! They are all fashion forward and of course, age appropriate, which I love.
2. Girls TLC – Tunics & Leggings Collection
Easy outfitting, mix and match, print and patterns. They are all soft, comfy and 100% cotton. They are also age appropriate for girls up to age 12. There will be three pretty colors of sparkly leggings this season, yay!
3. Uniform
New in the market and all uniform items are on sale right now for 40% off!! There is a special doorbuster for polos and shorts at $7 and $9 (such a deal!). Fashion was built around these uniforms to show fun and flair to the kids who have to wear uniforms.
4. OKO (OshKosh Original) Tees
Designed by designers in the New York office – colorful, comfortable and collectible tees in new graphics, prints and patterns! You can pair them with denim or dress them up! These have become a collectible item over the years. For the girls, it is hearts and stripes on graphic tees. The boys get dinosaurs and monster trucks! So fun! Doorbuster is $5-6 for the tees! What a great deal!
5. Girls Active
Just this year, they expanded the line to offer skirts and tees. They have inspirational messaging, pops of neon, glitter and a fun attitude. There is hearts and stars as graphics. Totally adorb!
6. Boys Triple Jumper Pant
They have elastic waist with functional drawstring, ankle zipper and lined with jersey with the Same great comfort and durability with a new level of style in basic colors like navy, or pops of color with red, orange or even camo! This is a great stock-up item 🙂
7. Shoes
Expanded line this year, so more options and all shoes pair with the different clothing collections so your kids can match, head-to-toe!
Examples: Sneakers and high tops with sparkles speak to the girls active line; ballet flats speak to the uniform line; shoes with camo speak to the camo line. These are included in the 40% off sale going on right now!!!!
8. Boys Fleece Pant
These are a staple in boys' wardrobe, just pair with denim or other unexpected items!
9. Outerwear
Necessary to keep warm with going back to school, but also fashionable to layer (layers for boys is a fashion trend this year!). They have a wide variety of colors to choose from 🙂
10. Essential Wovens
Button-down comfortable shirts for both boys and girls are so cute. For boys, it is a 'borrowed look from dad'. Great way to dress up or down outfits for both, girls and boys!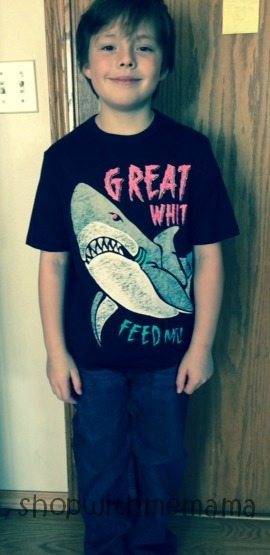 Crazy cute fashions, right?! I am loving them! I bought lots of cute clothes for my kids using these style guidelines. They will be so fashionable at school this year! And the shopping was ridiculously fun! I love how they have a great range of product for boys and girls, size 0 – 12! And, with having over 190 stores and being online, you have no reason to not shop at OshKosh (they make it pretty easy!).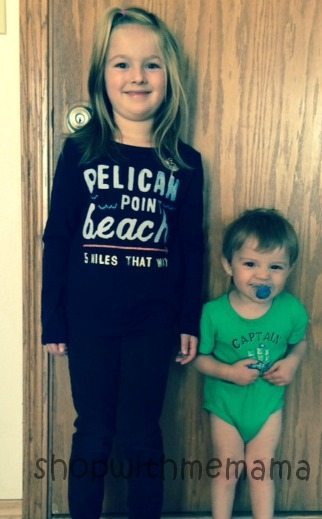 Have A Tiny One?
New Baby B'gosh line is here! It launched just this spring! Baby's First Denim and more adorable clothing! Makes me want to get pregnant again… or not.
B'gosh Jeanius Campaign!
I also wanted to tell you a little bit about the B'gosh Jeanius Campaign! It is too neat not to share! OshKosh will partner with KIDS and Donorschoose.org to help local kids, teachers and schools thrive. Just donate a new pair of jeans or make a cash donation for a great cause. OshKosh will match all denim donations with another item of clothing and all cash donations will be matched, up to $50k! This campaign runs from July 29 – September 17.
Grab Your 25% Off Coupon!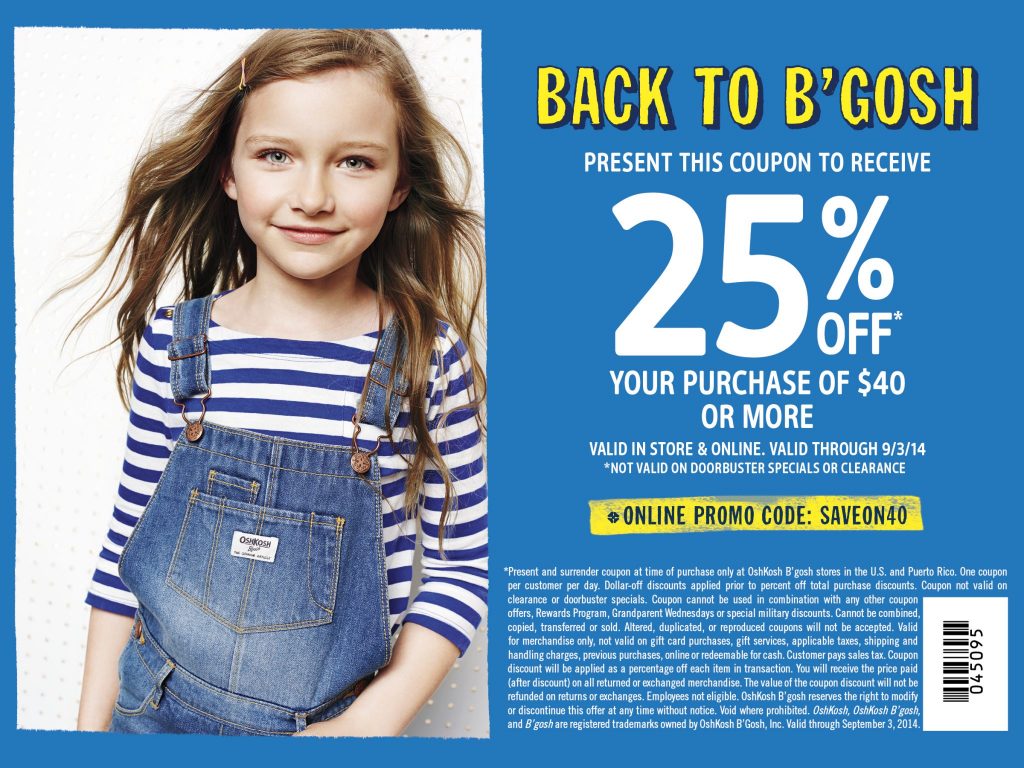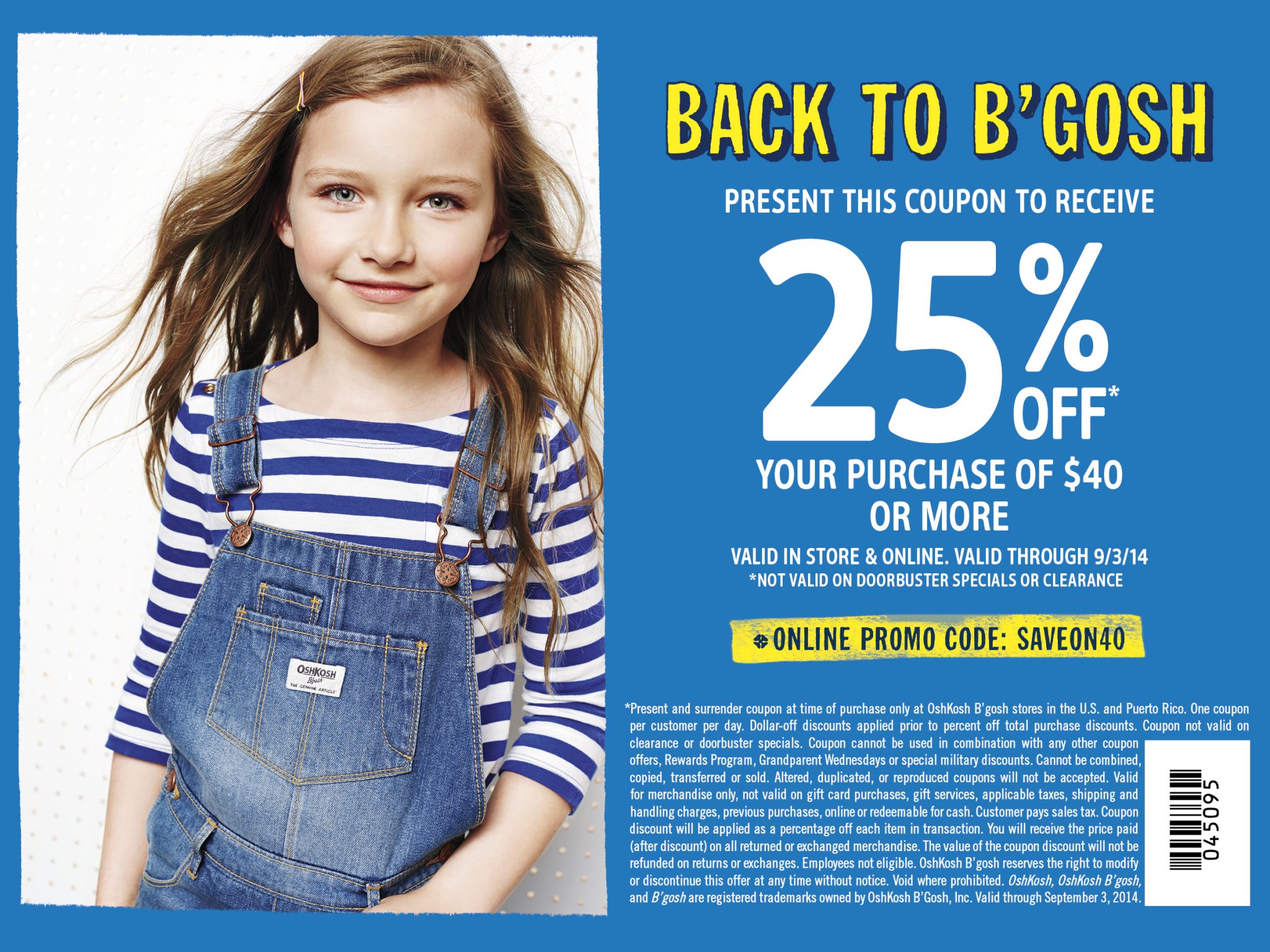 Connect with OshKosh on Twitter and Facebook!
What do you think of the new trends this fall?