CONTEST OVER! CONGRATS TO
Amanda Alvarado #230!!

If you are anything like my hubby, staying cool while you sleep is a MUST for a good nights sleep. I almost can't stand how cool he likes to keep the room. I am all about comfort and warmth, not icy temperatures when I sleep!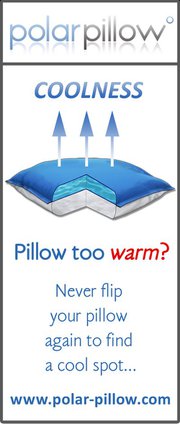 Of course there are ways to help make my hubby more comfortable and cool and still keep me happy. One of those ways is with the PolarPillow.
The PolarPillow is definitely a unique and really neat thing! It is cool to the touch and soft and cozy too. Since you spend 30% of your life (seriously!!) on your pillow, why not make it a comfy, cool pillow?
When I first received this cooling pillow, my hubby was home and I just handed it to him. I told him what it was, as much as I knew, and he laid on it. It was soon cool to his touch and he was in HEAVEN!!! This is truly a VERY neat invention!!!
The pillow is a regular sized pillow, but it is pretty heavy! My little 3-year-old girl had a hard time picking it up 🙂 But it is really comfortable, and I don't even like cool things when I sleep, but this IS cool!!! No pun intended, of course 😉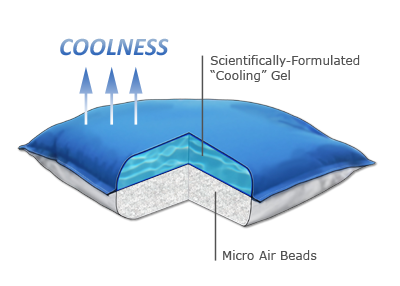 How PolarPillow Works:
PolarPillow's endothermic gel technology uses the coolness of ambient room temperature to dissipate your body's heat.
PolarPillow feels cool within 10 seconds of contact.
PolarPillow stays cool for approximately two hours of contact (just enough time to fall asleep), but it gradually warms over the course of a night's use as it takes on your body's temperature.
When not in use, PolarPillow's coolness will re-energize within 20 minutes of exposure to an air-conditioned room (about 75 degrees).
PolarPillow contains more than 200 ounces of cooling gel (about 12 lbs). The liquid gel is heavy and PolarPillow weighs much more than a regular pillow.
PolarPillow requires no set up, maintenance, electricity, refrigeration or water.
PolarPillow fits in a standard pillowcase.
So, with reading all the features of how this product works, I will bet you are pretty impressed too, huh? It is so neat! And if you still have questions about it, you can visit their FAQ's page!
Buy
You can purchase the wonderful Polar Pillow online at http://www.polar-pillow.com/ they retail for $99
Win
One extremely COOL person 😉 is going to win a PolarPillow of their own!
How?
Easy! Just use Rafflecopter below!!
Disclosure:
I received a polarpillow to review. These are my own honest opinions, thanks!