*Posh Play Mat product was received. Opinions are mine.
My baby boy is becoming ACTIVE. Oh my goodness, I swear it happened overnight!! Whoosh… He still cannot fully crawl yet, but he certainly can inch his way across a room or four!
Posh Play Mat: Easy On The Earth!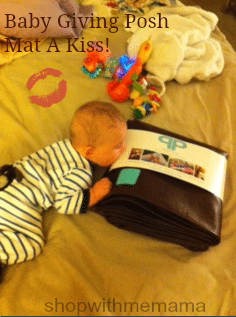 When my boy is on the floor, I do like to make sure that floor is clean. He is starting to also put things in his little mouth! I have to be so careful!! The Posh Play Mat is a wonderful alternative to the bare floor. I was sent one to review and we LOVE it!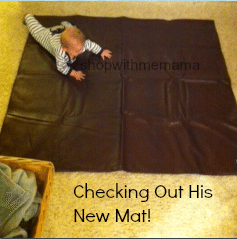 When this arrived, I never really knew how BIG it was (it is 50″ x 45″!). This is a very nice sized play mat! Perfect for a baby that is starting to be more active and can move around a bit more.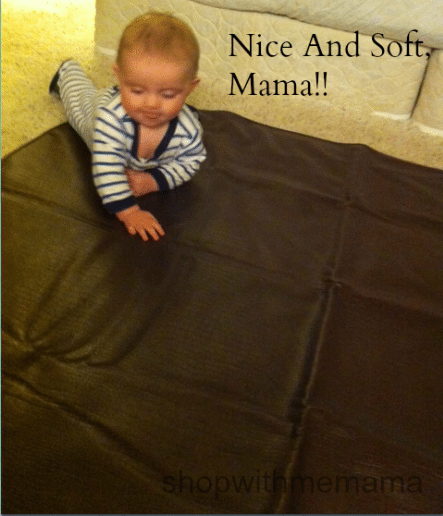 The Posh Play Mat is PVC free and was designed by a mom with detailed attention to style, function, durability, quality, and safety for your child. This mat is EASILY wipeable and very cool looking and feeling!
I can use it for my baby or under the high chair or booster seat! This mat is so very useful and can be used for so many more things too because you can easily wipe it down! Love it.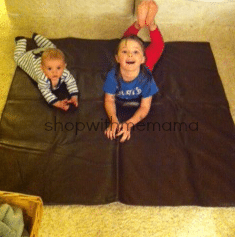 I am so happy with my Chocolate Posh Play Mat! It is so nice to have around. I even will use it for the kids, when they want to eat (or have a picnic!) in front of the t.v. or on the front lawn! I love that this mat is Eco-friendly, portable, PVC free and great for indoor or outdoor use and it is reversible so you can use it on both sides, not just one. The texture on the mat looks like leather. It is quite pretty.
This is kind of bulky, but since it came with a carry bag, it makes it easier to cart around. And plus, I WANT to cart this around as it is so nice to have on hand, especially during the summertime and we go to the park a lot! This is a great product to get for a mommy-to-be at her baby shower!
 Buy
You can purchase the Posh Play Mat online at http://poshplaymat.com/. They retail for $98.00, but they also have smaller ones that are more affordable. Check them out!