So, I am a Purex Insider and that means I get to try out all the newest Purex products, even before they hit the shelves at the stores!! In December I received their newest Purex edition, the Purex Complete Crystals Softener!! First of all I already love my Purex products, so when I received this new product, I was very excited to try it out on my stale smelling laundry!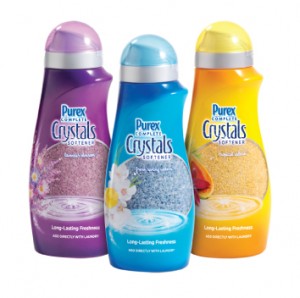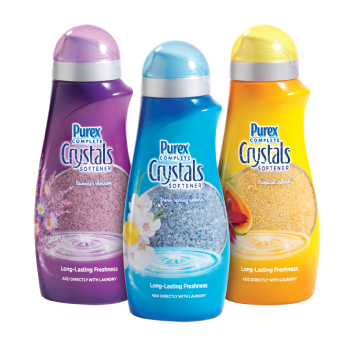 The Purex Complete Crystals Softener is unlike any other laundry softener I have ever tried.  It is a softener reinvented! It is unique and it works. What it is, is crystals that you add to your wash, before the clothes. Then you add your clothes and your regular detergent (which I am totally assuming you use the Purex laundry detergent…) and close the lid to the washer, that is it!

Unlike other softeners, you don't have to wait until final rinse to put this in. You put it in from the start and forget about it! Usually when I had to do it the  other way, and wait till final rinse, I ALWAYS forgot to add it and ended up wasting MORE water having to rerun my washing machine just to get in the softener. That was annoying! A busy mom needs this, and needs easy things, at least I know I do. I have too much on my mind already, I don't want to have to remember to add something to my wash too!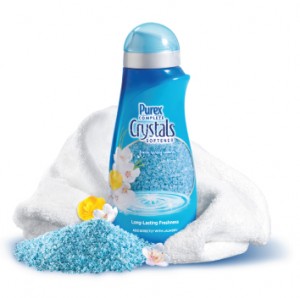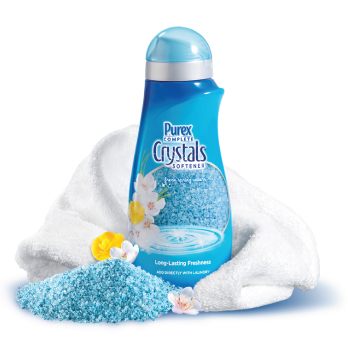 Some Quick Facts About Ordinary Liquid Fabric Softeners:
*They are oil based
*They can decrease your towels ability to absorb water (this is sooo true! My mom OVER uses her Costco brand liquid softener and her towels BARELY absorb any water, but they smell nice…)
*Can make your children's sleep wear less safe!
*Can reduce the effectiveness of your sportswear!
Wow! I never knew that liquid softeners were quilty of all of this! Did you??
So what EXACTLY is Purex Complete Crystals Softener???
It is a unique crystal form that is a 92% natural fabric softener. It is a purer way to get laundry that smells clean and fresh for weeks. I can totally vouch for this! My sheets STILL smells wonderful after having them on my bed for TWO weeks!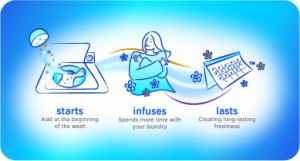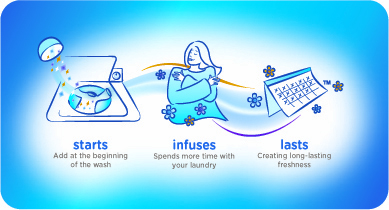 How does it work??
The crystals dissolve, infusing fabrics with freshness. Purex Complete Crystals Softeners penetrate fabrics to reduce fiber entanglement and smooth frayed fibers providing a natural fresh feel! It is also safe for all laundry and will not harm or discolor any of your fabric like oil-based softeners do.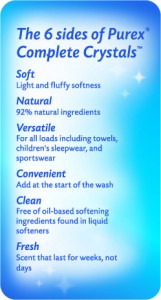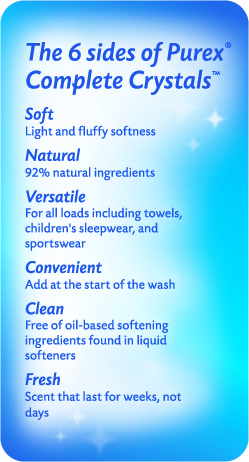 Available Scents:
It is available in three on-trend fragrances: Fresh Spring Waters TM, Lavender Blossom TM, and Tropical Splash. It is safe for use in both Standard and High Efficiency (HE) washers.
Buy It!
Purex Complete Crystals Softener is priced from $3.99 to $5.99 depending on retailer
and will be available in food, drug and mass retailers nationwide.
Grab a coupon for  Purex Laundry Detergent HERE!

Disclosure:
I am a part of the Purex Insiders and I received product for this review. No other compensation was given. These are my own honest opinions of this product, thanks!