Congrats to Xty Serafico-Cruz
*Products received. Opinions are my own. This post includes my affiliate links.
Read With Your Kids This Spring with These Educational Kids Books
I have been on a reading kick lately, not for me, for my kids! They are enjoying it, thank heavens! Lately I have been taking book reviews, which I rarely ever do, but have found that my kids are totally into it, so it works!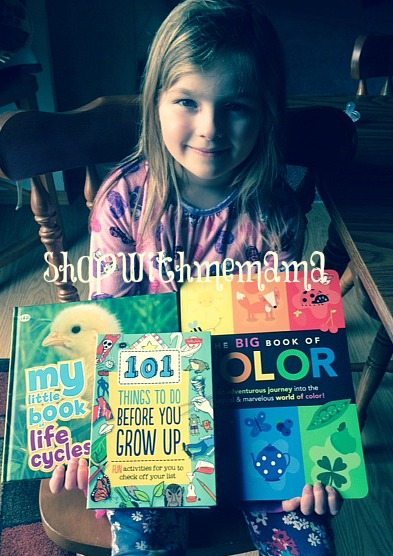 I especially love that not only are the books I have been accepting for review are cute, but they are educational books too. So, my kids like the books and find them very interesting!
The Books I Received:
The Big Book of Color
101 Things to Do Before You Grow Up
My Little Book of Life Cycles
50 Things You Should Know about the First World War
I picked these titles for my kids, because I knew they would be into them, but I WANTED them too. After all, I will be reading WITH my kids at times, so why not get titles I wanted to learn more about too 🙂
The Big Book of Color
 is a cute book. It is a fun journey into the world of color!  I love the bright, colorful pictures and information in this book. It is engaging for the kids and easy-to-understand and has simple step-by-step projects and unique educational content. This book introduces your child to the color wheel and much more. This is an awesome book for any child! Retails for around $11.99.
101 Things to Do Before You Grow Up
. I chose this book because it has SO many ideas for kids to do! Lots of projects and I thought this would be a great book to tackle during the long summer months! Keep those kids busy and active! 😉 From making time capsules to folding that perfect paper airplane, there are SO many fun ideas in this book! Can't wait to have my kids start it. They are going to start it next week, when we have Spring break! Yay! You can take this book anywhere and you just check them off, as you do each thing/adventure! Retails for around $9.99.
My Little Book of Life Cycles
. How could I NOT want to include this book in a review? Such a fun, cute and informative little book about life's cycles like, how does an acorn grow into a tree or what does a baby sea horse eat? Fun things to learn! This book has amazing photographs, easy-to-understand text and discussion points for further learning. Retails for around $15.95.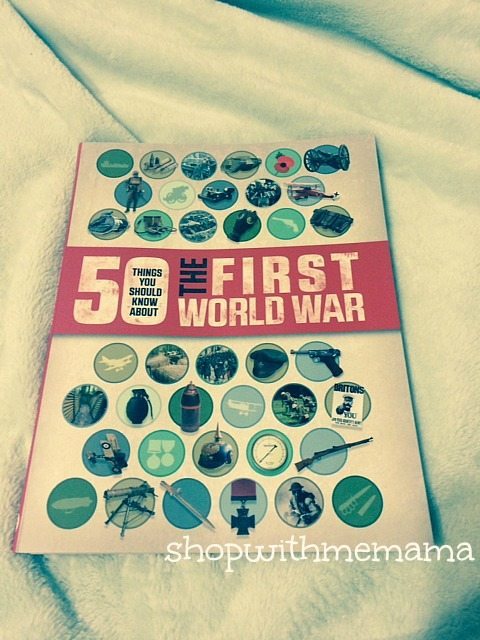 50 Things You Should Know About the First World War
. I chose this book because I was always into history, believe it or not 🙂 I want my kids to learn more about history and thought this was a good place to start. The story of war is brought to life through illustrations, photographs, diaries and newspaper reports. By reading this book you can find out what caused the war and why it eventually affected everyone. Retails for around $14.99.
Buy
You can purchase these books on Amazon.com or http://www.quartous.com/.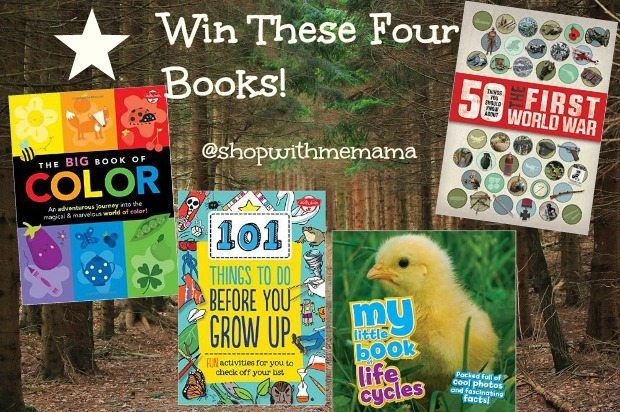 Win
One person is going to win the books mentioned above! Yay!
How?
Easy! Just use the Rafflecopter form below. Good luck to you all!
Rules:
Contest is open to US 18+. Giveaway will end on April 14, 2015 at 12 am PST. Winner will have 48 hours to confirm their win, after I email them, or a new winner will be chosen. Sponsor is responsible for sending out prizes. I am not responsible for lost or stolen mail.