You heard me right! You can save $15 instantly at OfficeMax when you buy $300 in Visa gift cards! What a great deal because I am ALWAYS buying gift cards!
If I had a child going to college I would give a gift card to them. What a perfect way to start off a new school year. I could also use a Visa Gift card as a gift to myself or to set money aside of later (think the holidays!!!).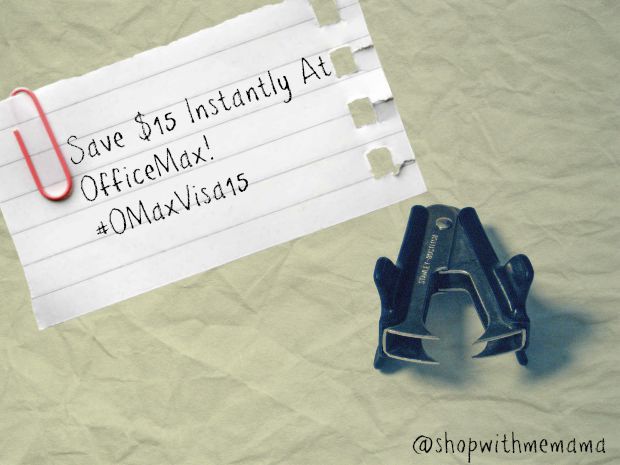 I really don't want to think of my kids going off to college just yet (I still cry when they change grades!), so I will hold off on that. But, I do have nieces and a nephew who are in college and I know they would appreciate a Visa Debit Gift Card to help them through the school year! What college student would not appreciate that?
For my birthday and even Christmas, I much prefer to receive a gift card over anything else, only because I can then get what I want. Sure, receiving gifts are fun, but a gift card with a big balance on it ( haha!) is always a nice thing to get! I have my hubby watch the kids and I go off on my own and shop away. It is SO nice and definitely a present I enjoy because I not only get a gift card but I get time to myself! Much-needed time!
The Offer Expires Soon!
This offer runs from 8/23 to 8/29, so hurry and get this deal! You can also 'double dip' on these savings if you have a Chase Ink Business credit card. These cards offer increase rewards on purchases made at office supply stores. So you can earn an additional 4 points OR 5% cash back on your Visa gift card purchases!!
Some Restrictions Do Apply!
There are activation fees
Limit 2 per household
You can see the store for more details!
This deal is awesome because you can use the Visa Debit Card everywhere in the US, where
Visa Debit Card is accepted!
Win!
One lucky person is going to win a $50 Amazon e-gift card!
How?
Just use the Rafflecopter form you see, below!
Reader Interactions