*Products were received. Opinions are my own.
I am sure people my age, especially women, have looked in the mirror and wished that their skin was younger-looking. If you haven't, then you are a rare gem and true beauty 🙂
Sure my skin is showing some signs of aging, but for the most part, I am happy with my skin on my face. It is not too bad. I thank my mother for that! Well, my dad has nice skin too, so I guess I can thank my daddy too.
Is it possible to Slow Down Signs Of Aging & Restore Younger Looking Skin? I think so. I mean, of course, you will age and of course, your skin will start to show signs of aging, but we can certainly slow it down a bit, can't we?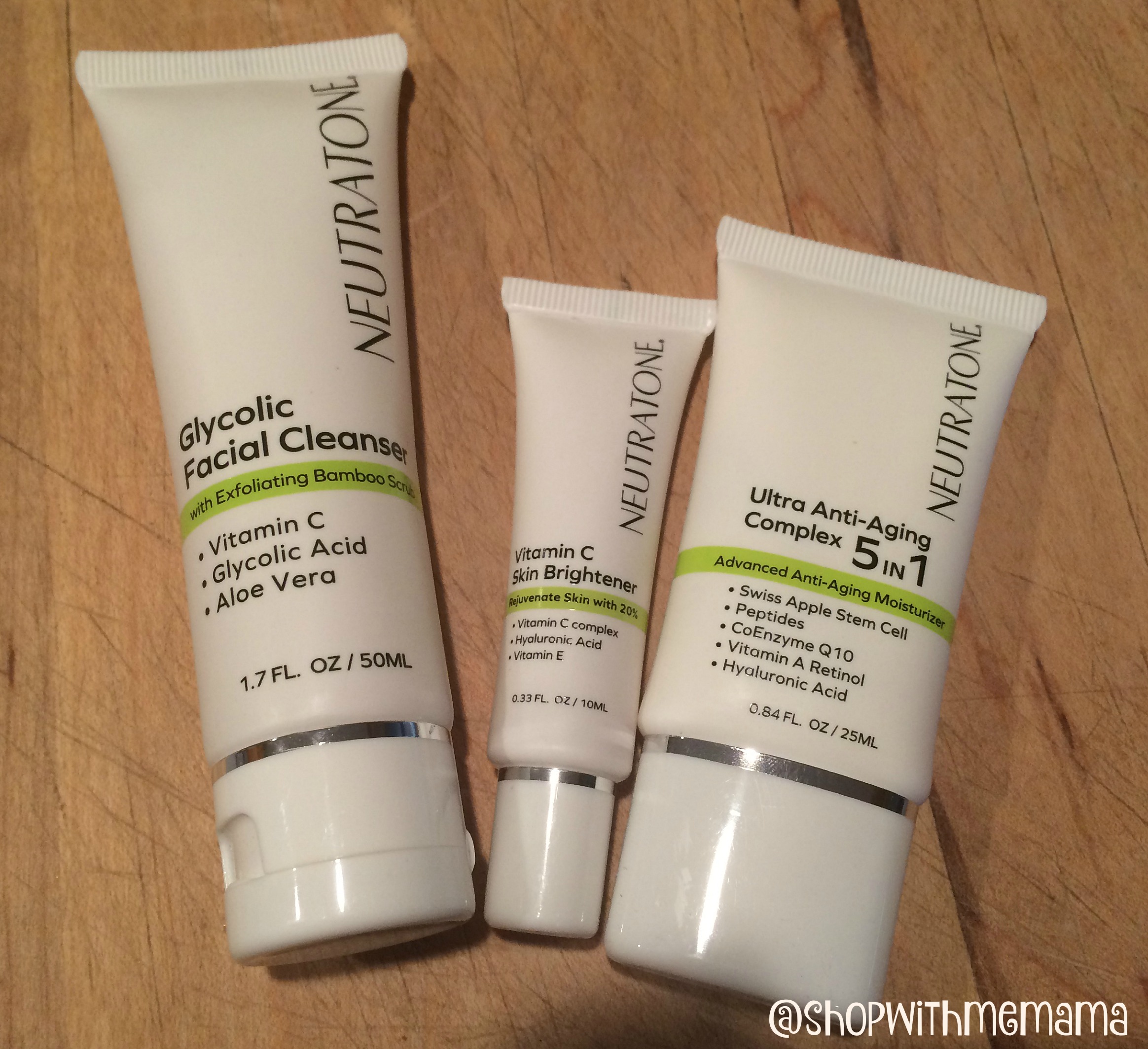 Some products to help me do just that were sent to me to try out, from Neutratone. I was sent the following products to review:
Glycolic Facial Cleanser with Bamboo Scrub
Ultra Anti-Aging Complex 5-in-1
First I will talk about the Glycolic Facial Cleanser with Bamboo Scrub. This scrub is great to use on my face. This is an all-natural anti-aging facial cleanser. I loved the little 'scrubbers' in it. It buffed away all the dead skin cells and helped reveal younger-looking skin. It cleansed my face thoroughly and left it really soft feeling. I like that I can cleanse, exfoliate, and brighten up my skin in one single step! Saves a busy mom like me, time and I appreciate that.
Benefits:
*Cleanses, purifies, and softens skin
*Exfoliates to reveal a youthful glow
*Glycolic Acid and Bamboo slough away dead skin cells and stimulate skin turnover
Retails for $38
The Vitamin C Skin Brightener is nice too. You can improve your skin's radiance and fade dark spots. This also fights wrinkles and hydrates while also promoting a smoother, brighter and more youthful complexion. I have enjoyed using this so far and my face does seem to be brighter and more flawless looking when I am not wearing makeup.
Benefits:
*Brightens skin while reducing dark spots.
*Stimulates collagen production for smooth, younger-looking skin.
*Minimizes fine lines and wrinkles.
*Hydrates and nourishes your skin.
Retails for $78
The Ultra Anti-Aging Complex 5-in-1 is my favorite because is does everything except cleansing my face. It has five powerful ingredients that penetrate deep into your skin to help reverse the signs of aging. It also helps protect against damage and returns youth to your skin. It doesn't irritate my skin and so I was happy about that.
Benefits:
*Diminishes the appearance of fine lines and wrinkles.
*Reduces the appearance of dark spots and hyper-pigmentation.
*Enhances production of healthy, new, and radiant skin.
*Thoroughly hydrates for plumper, firmer and healthier skin.
*Deeply conditions skin and replenishes nutrients
Retails for $92
All of these are wonderful skin care products for anyone who wants needs help in fighting against the signs of aging. I am happy with these products.
Coupon Code!
Use  coupon code "Shop01" for 25% off and free shipping!
Buy
You can purchase Neutratone skin care products online at . You can get a free Miracle Wrinkle Filler with Purchase of Introductory Anti-Aging Kit ($48 Value!).
Win
One person is going to win the Neutratone 3 step 30 day introductory kit (What I received).
Rules:
The contest is open to US 18+. Giveaway will end on September 10, 2016, at 11:59 PM MT. The winner will have 48 hours to confirm their win, after I email them, or a new winner will be chosen. I am not responsible for lost or stolen mail.