*This blog post is part of a paid SocialMoms and Subway SUBWAY® Restaurants blogging program. The opinions and ideas expressed here are my own.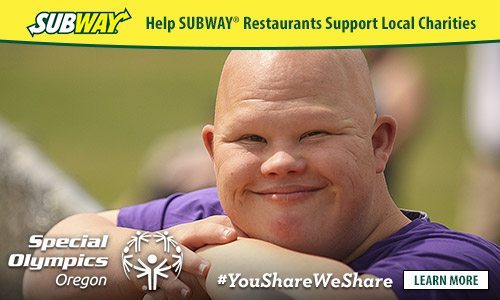 I love teaching my kids to give back to our community. Whether it is with donations of food or clothing or our services during the holidays serving Thanksgiving dinner, it is so important to teach my kids that giving back to the community is important.
When my kids are feeling less than thankful, I will go into their rooms and I will go through toys that they have not played with and I will have them bag them up and we will visit a local shelter and give their toys away. Doing this, puts some perspective on their lives and the lives of others in need. Their unthankful attitude usually changes quite quickly after doing this! It works great and my kids end up feeling good about giving things to people less fortunate.
SUBWAY® Restaurants is doing this too! I was so excited to be a part of their "You Share. We Share" campaign! SUBWAY® restaurants located in USA & Canada are joining forces with several charities to give back to the local community! From now through August 31st, more than 7,800 local SUBWAY® restaurants are participating in the "You Share. We Share." campaign to help support different charities!
This campaign encourages the communities to get out and share their weekends with SUBWAY® restaurants. SUBWAY® Restaurants in the Portland, Eugene, Medford, and Bend areas will share right back by donating a percentage of weekend sales, up to $75,000,directly to a local charity in need Special Olympics Oregon! I can see why SUBWAY® would be so excited to do this!
The charity I am representing is the Special Olympics in Oregon. They represents the largest disability population in Oregon. They provide life-changing opportunities to children, youth and adults that live with intellectual disabilities, through their year-round programs and services.
As locally owned and operated franchises, SUBWAY® is very excited to be able to further its commitment to the local community. Check out the SUBWAY® store locator to locate a SUBWAY® near you!
You can connect with the Special Olympics in Oregon on Twitter, Facebook and YouTube! Following them on these social channels helps support them and helps you get to know them better and see all the good things they are doing for those in need!