*Powered by BrandBacker. Opinions are my own.
The older I get the older I look, duh right? Well, it doesn't have to be that way anymore. All the wonderful beauty products on the market today, allow us to look younger, for longer!
TelomErase Triple Telomere Targeting Serum is next-gen age-defying technology: a 6-in-1 multi-corrective that erases, tightens, brightens, blurs, moisturizes and regenerates. It contains the most powerful combination of new ingredients available to visibly reduce the appearance of sags & bags, dark circles, fine lines, sunspots, redness, pore size & laxity. Sounds pretty interesting, doesn't it?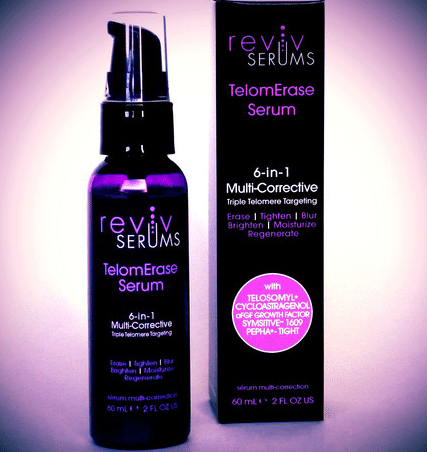 An enzyme, telomerase, has been shown to slow or even reverse telomere shortening that occurs as we age, but the amount of telomerase declines as we get older, unfortunately. Using the TelomErase Triple Telomere Targeting Serum is great for helping with that. Keeping your skin pretty good looking, for longer.
The serum smoothes on your face nicely. A little bit goes a very long way, so I can see this serum lasting a while. After this is put on my face, my face feels SO soft and immediately I see my fine lines softened.
This serum did not irritate my skin or make it feel sticky. It just absorbed into my skin allowing my skin to feel fresh and soft. I really like this serum so far!
Discount Time!
Get 10% off the $149 half-off introductory SALE price! Just visit RevivSerums.com and use the discount code TIGHT10 at checkout. Limited one per customer/household. This discount code is good through December 31, 2015!
The TelomErase Serum retails for $149.00.
What Do You Think Of This Facial Serum?