Thanksgiving Game Time giveaway! Yay! We put together a great giveaway package for one lucky reader just in time for Thanksgiving! Keep the kids entertained (and out of the kitchen) while parents prepare the Thanksgiving meal.
*This post includes my affiliate links
Thanksgiving Game Time Giveaway! Yay!
See all the details below: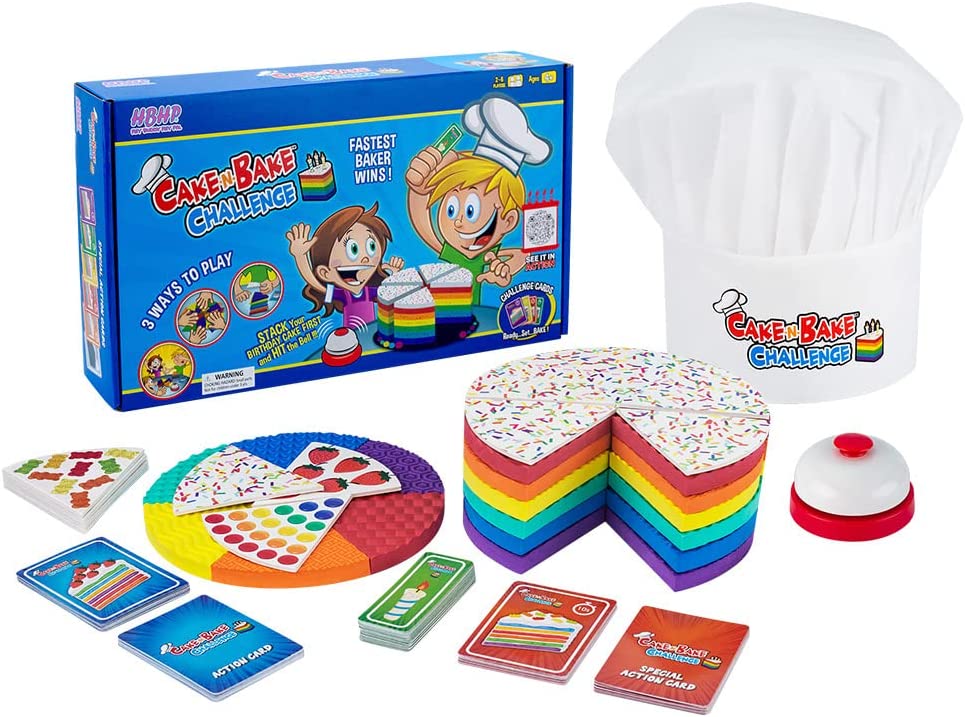 Cake-N-Bake Challenge Game (Hey Buddy Hey Pal) – This game literally delivers a full "cake" of colorful foam "slices," realistic-looking bakery topping, and candle cards — even a chef's cap! Really different from other games out there, and while it's a great family game it's also great for preschoolers. Bright and colorful, no reading required, simple gameplay, and totally tactile playing pieces.
It fits right into today's sweet spot of families' appetites for cooking fun (thank you culinary competition shows and recipe apps!), time together, and gameplay for the kids . . and mom and dad! Just launched on Amazon! (MSRP $29.99; Ages 4+)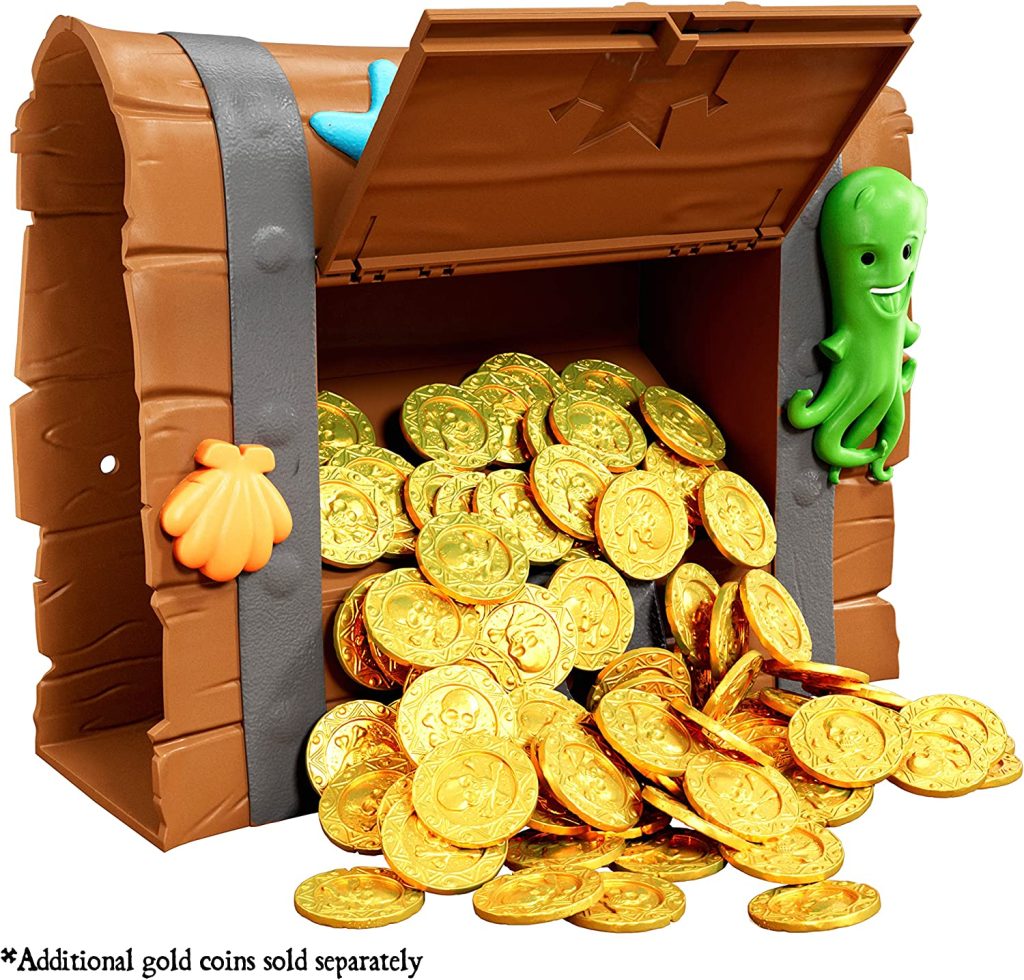 BLACKBEARD'S TREASURE HUNT (Vango Toys) – Avast me hearties! This newest kid's action game from Vango Toys has all the pirate-loving tropes for young swashbucklers! Follow the treasure map, unlock a treasure chest, and collect the booty of gold doubloons that spill out of the Chest! Takes both luck. . . and strategy. Yo ho ho… this sounds like a lot of fun!!! Available on Amazon! (MSRP: $19.99; Ages 4+)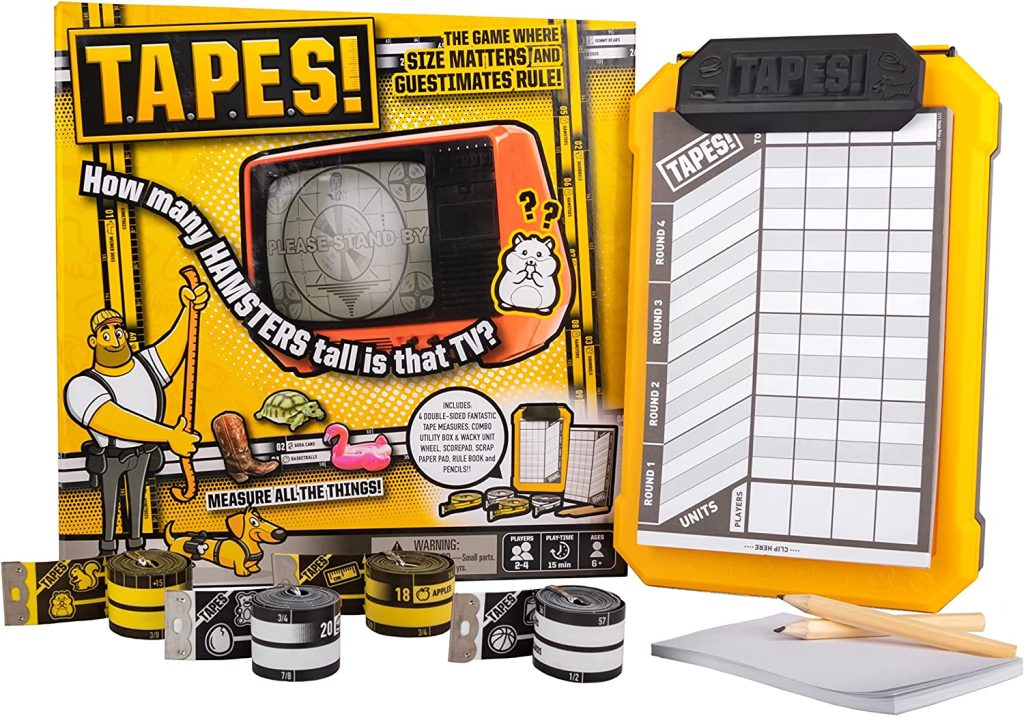 T.A.P.E.S. (Hog Wild Toys) – Players take turns guessing the dimensions of objects in the room in which they're playing — not just in inches or centimeters — but let's say, somewhat bizarre — units of measurement. There are Gummy Bears, Baseballs Caps, or even Wiener Dogs — and a correlating tape measure for each to help you out! Bonus: This family game also helps make math fun for kids!!! Available now on Amazon! (MSRP: $29.99, Ages 6+)
WIN IT ALL!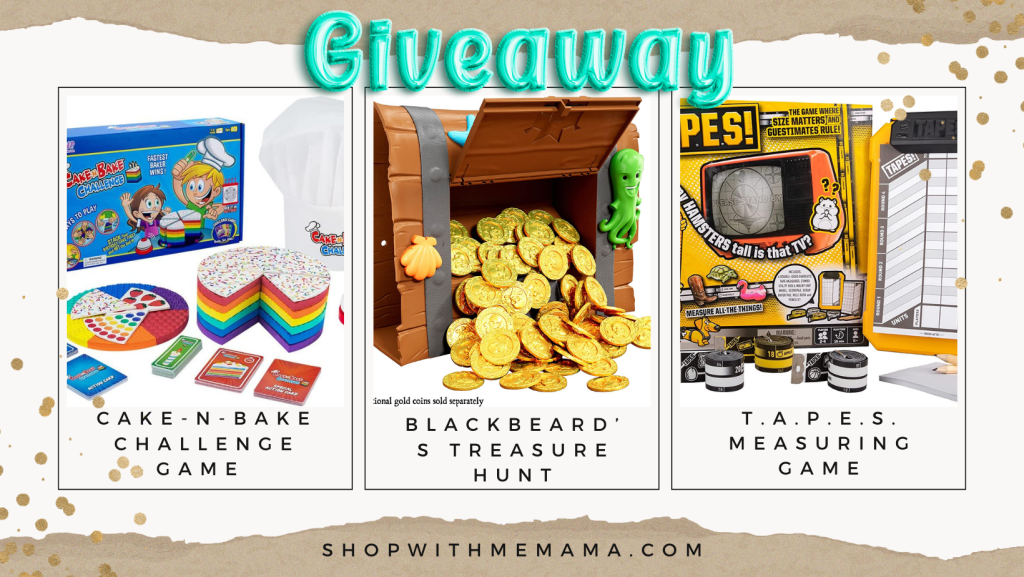 Who wants to win the awesome and super fun Thanksgiving Game Time games you see above? YOU DO!!!
One person will win the three board games below:
Cake-N-Bake Challenge Game
BLACKBEARD'S TREASURE HUNT
T.A.P.E.S.
Rules
The contest is open to US 18+. The giveaway will end on November 12, 2022, at 11:59 PM MT. The winner will have 48 hours to confirm their win after I email them, or a new winner will be chosen. I am not responsible for lost or stolen mail.