Do you have a little one at home and they don't like to eat their meals? I have a suggestion for you! My 6-year-old has NEVER been a really good eater. He picks at his meals and some days barely eats anything! He is skinny too, so at times, it worries me! However, I know he is fine because he is so active. He just takes after my side of the family. I was SO skinny when I was younger. When I saw the Babylum toddlers utensils stainless steel set, I was intrigued. Maybe if my child had his own cutlery, he would eat better? It was worth a shot!
BabyLum is a company that sells high-quality baby products at affordable prices. The products they carry help make parenting much easier! They understand the confusion and frustration of new parents. New parents (and seasoned parents!) have a lot of baby stuff to buy. So, BabyLum wants to help with that!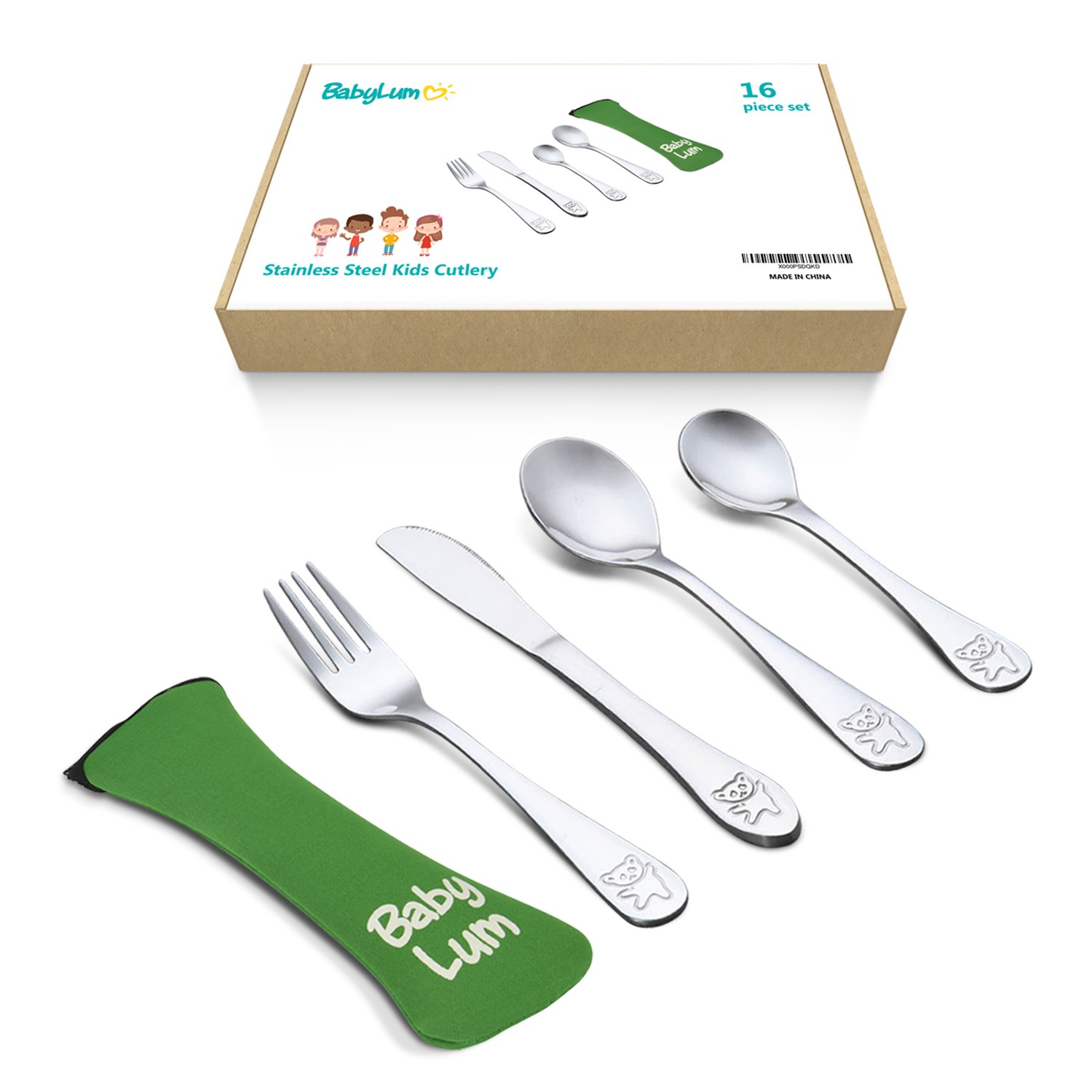 *Product received
Toddlers Utensils Stainless Steel Set
The Babylum utensils are not just for toddlers, they are made for little kids too. They are great for toddlers and little kids because they fit wonderfully in little hands! Plus, little kids feel like big kids when they have their very own utensils to eat with.
Since receiving the toddlers utensils stainless steel cutlery set, my 6-year-old has been eating a tad bit better. Of course the first day of using his new utensils, he was so excited! He ate really well on the first day!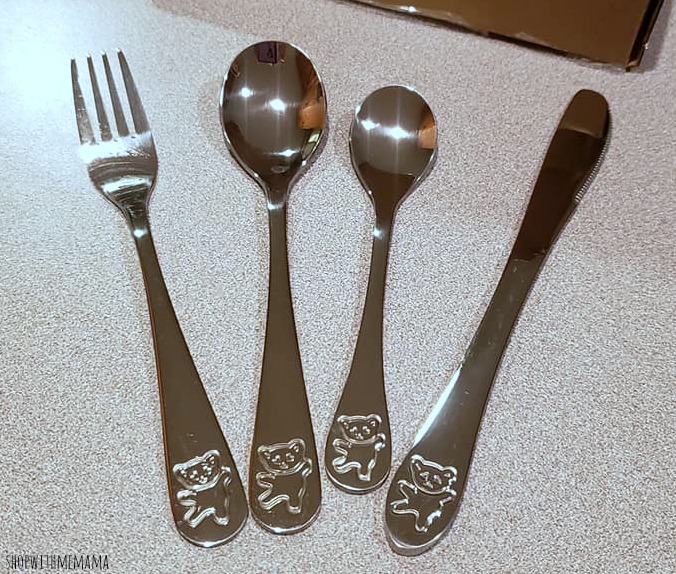 I like that the toddlers utensils stainless steel cutlery set come with butter knives, forks, spoons, and dessert spoons! So, your child has his or her own stainless steel utensil set of their very own! Plus, on the handles of the utensils, there is a really cute bear design! That makes it fun for your child!
The toddlers utensils stainless steel set is a 16-piece set. It comes with 4 knives, 4 forks, 4 spoons, and 4 dessert spoons. So, your child can share their utensils with their friends too! Plus, you will also receive a green soft case so your child can carry his utensils to his friend's house or grandparents or a restaurant!
This stainless steel flatware is made with the same quality as adult eating utensils. This set is a perfect way for children to enjoy solid foods if they are younger, and helps older little ones want to eat better because they have their own flatware!
This cutlery set is perfect for kids smaller hands, these metal utensils help develop fine motor skills as children transition from finger foods to using knives, forks, and spoons. These utensils are suitable for kids ages 3 and up!
The Toddlers Utensils Stainless Steel Set by BabyLum has rounded the ends of the kid's knives and ensured all flatware edges are polished smooth. The knives are 7″, forks are 6.5″, spoons are 6.4″ and the dessert spoons are 5.5″. These toddler utensils are perfect for any child age 3-6 years (or older!).
Do You Have A Picky Eater?
I do! And like I mentioned above, one way to get my youngest interested in eating is to make it kind of special. Like, having his own utensils to eat with. It has helped some and below, I have more helpful suggestions to get your picky eater to EAT!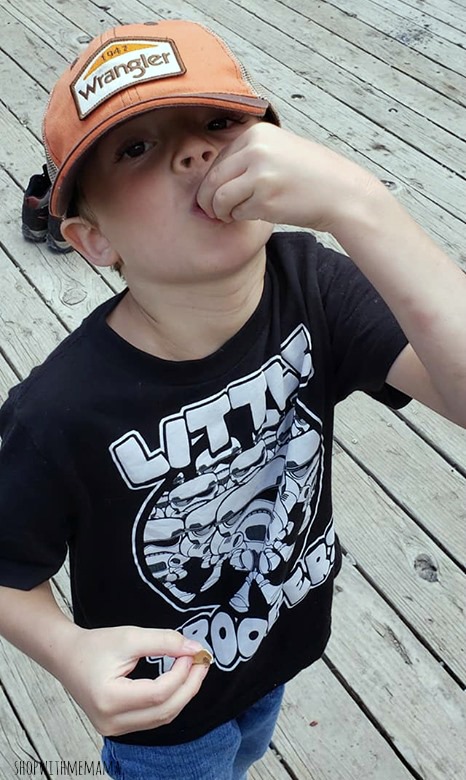 *Get them their own dishes and utensils! If you have a picky eater, try to make eating a fun time! Let them have their own dishes and utensils to eat with. Go to the store or shop online, and let them pick out some fun dishes and don't forget the Toddlers Utensils Stainless Steel Set from BabyLum, too!
*Your child will NOT starve, that is a fact. If he/she is at a healthy weight and is active, there is no need to worry. Let your child decide how much him/her want to eat. Don't have a fight at every meal or your child will start to relate bad thoughts to eating dinner. Go with the flow mama, you are doing it right!
*Stop hand feeding your child. Let your child take the lead and feed themselves! This allows your child to feel 'in control'.
*Limit drinks! Drinks tend to fill you up and rather quickly. Limit drinks at mealtime to ensure your child is not filling up on only liquid. I usually will give my kids a half a cup of milk, juice, or water with their meals. They are in control of when they drink it, but that is all they will get with their meal. When the meal is over and they are still thirsty, I will then give them more drink.
*Smaller portions! Give your child smaller portions to not overwhelm them with food. This will help them be in control. If they finish everything on their plate and ask for more, that is obviously a win! Just offer smaller portions and when they do finish it all, they will feel so proud!
Usually, a picky eater is going through a ' stage ' and it will pass. If it doesn't pass, the tips above may help! Free yourself and your child of eating wars and let them take the lead! That is my best advice for you. Choose your battles mama! You got this!