In this blog post, we will talk about the Top Gifts For Your Loved Ones. Do you ever wonder what unique gifts can be given to a friend, someone from your family, or a loved one? Are you done with old gift ideas of flowers, chocolates, and greeting cards? If your answer is yes, then you are in the right place! Take a peek at these customized photo-engraved gifts below!
In this article, you will get some amazing gift ideas for your near and dear ones. Here we will tell you about some unique personalized gifts which will be loved by anyone receiving them. You can get these customized photo-engraved gifts from Artpix3D. At Artpix 3d, you can get photos engraved on any product you like. Plus, these are very affordable!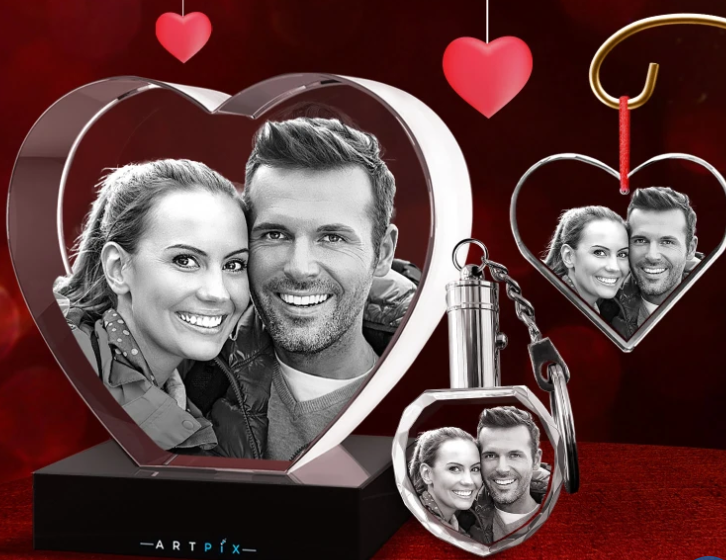 Here Are The 6 Top Gifts For Your Loved Ones This Valentines Day
Personalized photo crystals – Not only photos, but you can also get quotes, poems, dates, logos, etc., engraved on the crystals. The best thing about crystal gifts is that your memories remain preserved in these crystals and add beauty everywhere around. These beautiful, expensive-looking crystal products can be the perfect gift for any event or occasion.
The best part is you do not need to visit multiple shops to get these crystal products and can easily order them from the comforts of your home with a few clicks. You can choose from a variety of items available and get anything of your choice engraved in your selected item. It is a personalized gift, which makes the receiver think that you have made an effort in choosing their gift.
Personalized photo keychain- A beautiful yet affordable gift for a friend, family member, or colleague. A personalized photo keychain is something that is not just beautiful but also a very useful gift in its own way for the person receiving the gift.
Photo engraved pendants- One of the most beautiful and unique gift ideas for someone you love is a photo engraved pendant. A beautiful photo engraved pendant is definitely going to make the person receiving the gift feel special and will be cherished by them forever. It will remind them of you all the time as it can be worn by them all the time.
Personalized name pendant- A personalized name pendant is another beautiful and unique gift for your near and dear ones. A personalized name pendant is a gift that will always remind them of you as this is something that can be worn by them all the time.
Personalized Phone Case- A personalized phone case is something that can remind your friends or loved ones of you every time they touch their phone. A phone cover with a beautiful and memorable picture printed on it is a perfect gift for someone you love.
Photo-printed pillow cover- A beautiful photo-printed pillow cover is something that is loved by everyone. A memorable picture of a person printed on a pillow cover can be kept with them forever. This is a lifetime memory for the person and will be cherished forever by the person getting the gift.
I hope you liked my post about the Top Gifts For Your Loved Ones! Whether you are looking for customized photo-engraved gifts or unique gifts, this post has some great suggestions! What unique gifts have you given a loved one before? Let me know, in the comments below! Thank you!