Since Spring is here, for some of us (I say that because it is cold and POURING rain where I live, SIGH), it is time to update our skin care, don't you think? I have a few products that I recently got to review, below, and they are definitely a must-have for this Spring!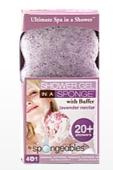 What I received was the new Spongeables
, Vegan Line of Nail Polishes from Nubar and some really great Body Lotion from Nubar. The Spongeables are very neat!! They are neat because they have shower gel already in them! All you need to do is get them wet in your bath or shower and rub them onto your moist skin. It immediately soaps up and smells soo nice!  I received the Lavender Nector with a Buffer and the Applause Hand Buffer. Oh they both smell so nice and leave my skin feeling so smooth, soft and yummy scented. And they are good for 20+ showers/baths!!


About Spongeables (taken from their site):
What makes Spongeables® Special?
An infusion of skin care, rich creamy lather and luxurious fragrances turn every
shower into a spa experience.
Only Spongeables® are infused with cleansers and skin care ingredients for all in one
cleansing, exfoliating, moisturizing and massage.
The patent-pending infusion process guarantees a specific number of uses.
No other skin products are necessary. One Spongeables® is formulated with everything
needed for healthy, beautiful skin.
A choice of sizes and designer colors makes it easy to find a favorite.
Spongeables® are welcome aboard all aircraft, a lightweight and leakproof way to replace heavy
bottles and jars while traveling.
Great design makes Spongeables® an attractive accessory in every bathroom.
An affordable luxury, Spongeables® provide a little pampering without any extra time or
effort.
Nothing but Spongeables® can transform an ordinary shower into a delightful stand up bubble
bath!
The Nubar Vegan Polishes
are nice too. I received four different ones. Two clear and two white and cream-colored ones. Great colors for springtime. I don't usually wear colored polish on my nails, just clear or I will do the french manicure. I decided to go ahead and just paint my nails in the cream for the day! I painted my daughters white 🙂 It was definitely different!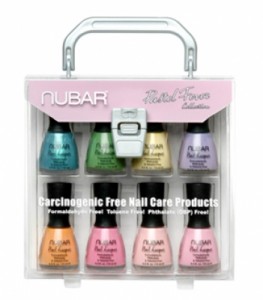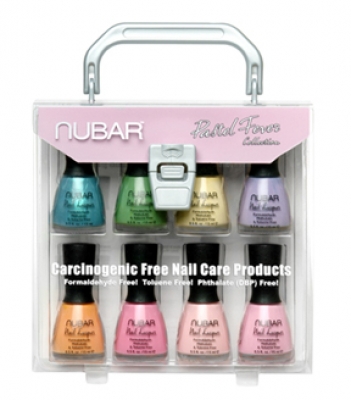 A Bit About Nubar Polishes (taken from their site):
In 2000, nubar was founded as the healthy alternative for beautiful nails.  After being affected by cancer within his own family, nubar's creative force, Noubar Abrahamian, was uniquely committed to his role as a pioneer in producing the highest quality nail care products that were free of formaldehyde, toluene, and DBP (phthalate).  These common ingredients are included in California's Proposition 65, which lists chemicals known to cause cancer, birth defects, or reproductive harm, and nubar's exclusive formula omits these components as well as their derivatives without sacrificing quality.

Nubar's standard of excellence goes far beyond our concern for product safety.  We are dedicated to producing the most innovative and exciting nail care products available, with unique trend forward nail lacquers and nail art, state of the art artificial nails, and premium skin care necessities, all of which are vegan and cruelty free.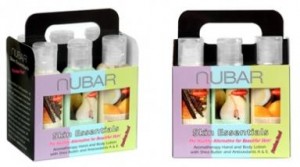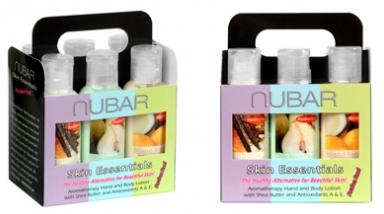 The Nubar Skin Essentials 6 Pack of body lotion is also great. It has six different scents of moisturizing body lotion packaged in a really cute little carry box. You can sample the wonderful scents and decide which ones you love and which you don't. Great way to sample before you buy a larger bottle of the lotion! They left my skin soft and smelling great.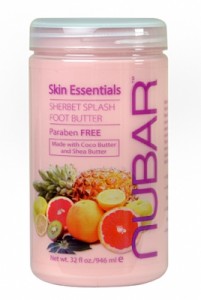 About the Nubar Lotion (taken from their site):
nubar Skin Essentials Aromatherapy Lotion with Antioxidants nubar introduces "Skin Essentials," its signature collection of aromatherapy lotions with anti-oxidants. Feed your skin with nourishing antioxidants in six deliciously scented formulas. nubar Skin Essentials lotions are made with rich Shea-butter permeating the skin's surface to achieve deep lasting moisture. All nubar lotions contain essential oils, vitamins A, Vitamin E and are NON-Paraben. Research into Parabens have found them to be carcinogenic. Use a generous amount in your hand and massage over entire body, concentrating on elbows, knees, and hands, or anywhere your skin feels rough or dry. Packaged in a handy treatment pump bottle. Available in 2oz and 8oz.
Disclosure:
I was sent product to review. These are my own honest opinions, thanks! This post includes my affiliate links.