Tria Home Laser Hair Removal System
So, I have extremely hairy legs and peach fuzz pretty much everywhere! My parents are hairy and so am I. I shave EVERY day and during the Summer months, sometimes twice a day I am NOT kidding you. As soon as I get goosebumps over my freshly shaved legs, I have hair again! UGH. It seriously drives me MAD.
I was browsing online one day and came across the Tria Home Laser Hair Removal System, and of course, I wanted/needed to know more.
I contacted Tria and they agreed to send me a Tria Laser Hair Removal System to try out for myself. Oh, the excitement I was feeling!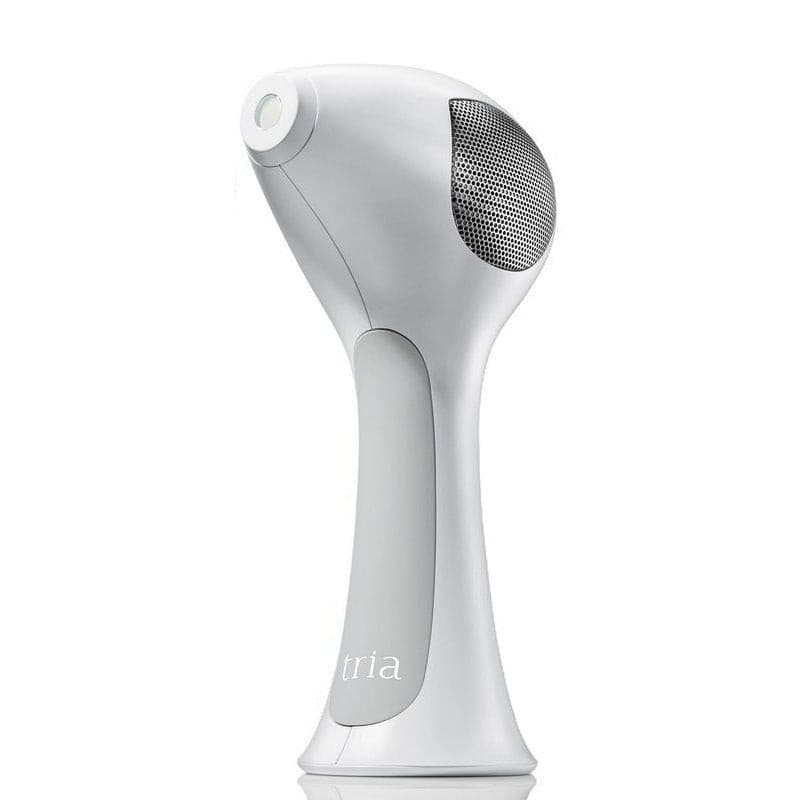 Tria Home Laser Hair Removal System Review
The system arrived pretty quickly and I was very eager to use it. I opened the box, and read the manual/book from start to finish. After I did that, I called customer service to assist me in turning on my system.
You see, you cannot turn on your Tria Home Laser Hair Removal System without talking to the customer service people at Tria. It takes only 5 minutes and they ask you a series of questions.
Then you give them the code on the bottom of your Tria and they will activate it for you! I thought this to be very neat only because they were VERY thorough with answering my questions and making sure my skin and hair were appropriate for this laser system (which it was thank goodness!).
After it was activated, she then asked me to grab the little handheld device and press the button on the back and hold it against my hand. I did and the green light came on.
Next, she told me to turn on the Tria system and "scan" the system with the handheld device and it turned on! Talk about high-tech stuff! Finally, I could use my Tria and start losing that hair!!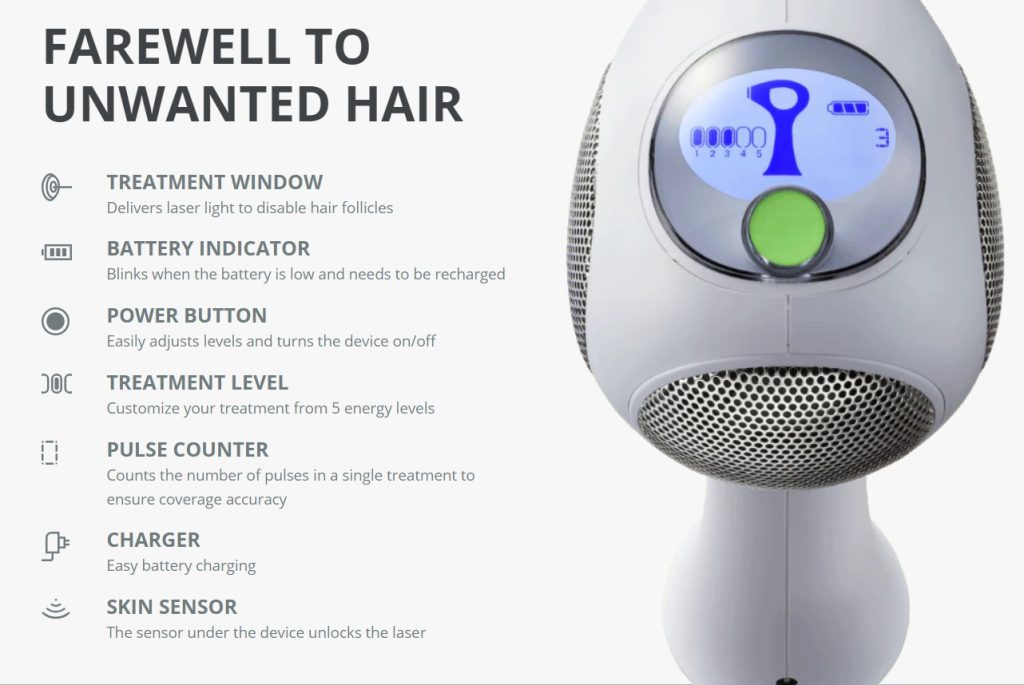 Now, backing up a bit, the Tria Home Laser Hair Removal System comes with the Tria system, a hand-held device that without this, you cannot turn on your system, and a charger/plug to charge your Tria system. Oh, and the booklet has very important numbers in it and answers to the most asked questions.
OK, now, the first time I used it, I was warned that it will feel like a rubber band snapping on your skin, not hard, but just lightly. I also knew that the closer you shave your legs, the less of that you will feel.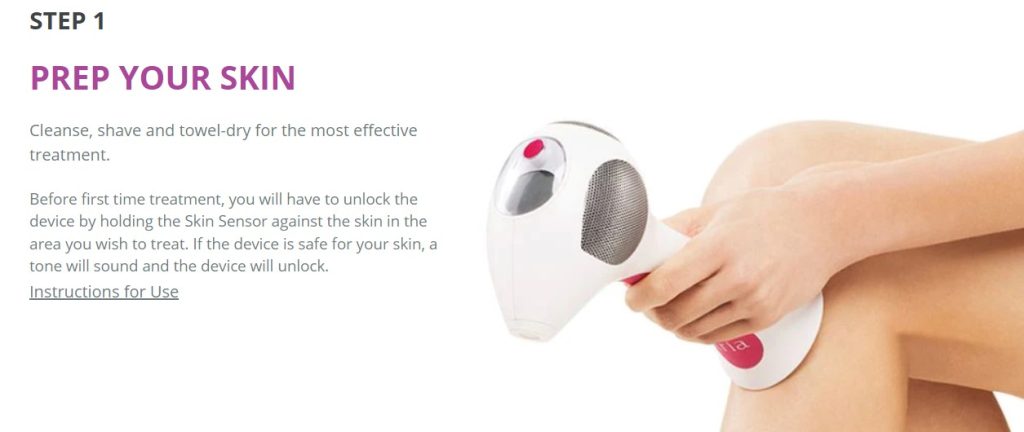 So, I started on level one of the Tria Laser System (you can go up to a 3 I think). I started on the lowest to be safe and if that did not hurt, I would go up.
I started on the bottom part of my legs as that is the hairiest part. It did not hurt me on one, so I upped it to two. Now when you use this system, a little fan inside of the system will turn on and off to cool down the system, and that is normal.
It will also do this when you are charging it, which is recommended between uses. The second one was perfect for me. I felt the "snapping of the rubber band" as they called it, on this level.
It did not hurt me at all though. I felt it the most on my ankles and shins, but nowhere else. Seemed to be of my hairiest places I felt that snapping feeling. Other than that, it was painless and so easy to use.

Now, this system takes time before you start seeing results. It will take about 8 times of treatment, so in as little as 6 months for the hair to be gone, and you're done!
The first time you use it, you will not notice anything, I did not, and even the second time I did not. But by the third time using it, I was starting to notice what I called, "bald spots" on my legs.
Tonight will be my 5th treatment and I can't wait to have all of this hair gone for GOOD!! I will no longer have to worry about Summer months and shorts and goosebumps and having to shave, EVER. AGAIN! Very excited! I am also treating my underarms and my bikini line.
It is literally the easiest way to get rid of your unwanted hair, in the comfort of your own home. You don't have to rely on a stranger to do this for you. You don't have to fork out thousands of dollars to lose the hair, you can do it yourself!
It is so worth it to me, because of how hairy I was. I HATED it. Even if you are not super hairy but absolutely hate shaving, this is definitely the route to go.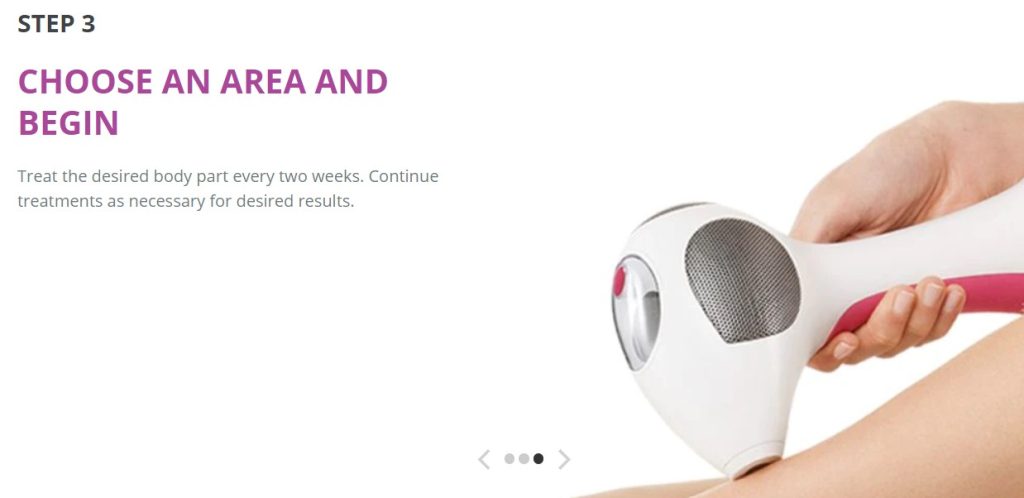 Think of all the money you will be saving in the long run with waxing, buying shavers, shaving cream and even getting professional laser treatments. With this little device, you will save money and you are only spending the money ONCE not numerous times.
Great product, and I love mine! And Allure gave Tria Home Laser Hair Removal System their "Breakthrough Award" of approval!!
"So what are YOU waiting for? Stop Shaving and Start Showing Off!!"
About The Tria Home Laser Hair Removal System
Stop Shaving For Good!
Imagine waking up to silky smooth skin every day and being free forever from endless
shaving and painful waxing! The TRIA Laser is the only way to get permanent hair removal
at home—guaranteed.
• see results in 3 months; in as little as 6 months, you're done!
• get baby-soft skin—like the hair was never there
• created by the same scientists that invented the diode laser
hair removal for dermatologists
• get the same results as professional laser hair removal
and save thousands of dollars
• FDA-cleared safe, effective, permanent
Frequently Asked Questions (FAQs)
Below are some frequently asked questions about the Tria Home Laser Hair Removal System:
Does The Tria Laser Really Work?
As with any treatment, results can vary from person to person. Some people may see excellent results with the Tria Laser (I did!!), while others may not. It just depends on your body!
Does Tria Work Better Than IPL?
Both Intense Pulsed Light (IPL) devices and the Tria Laser Hair Removal device can be effective for hair reduction, but they work in slightly different ways and have different strengths and weaknesses.
Both IPL and laser hair removal devices require consistency and patience. They will not remove hair permanently after just one or two treatments. Instead, they require multiple treatments. So keep at it!!
Can You Use Tria Laser In Pubic Area?
The Tria Hair Removal Laser is FDA-cleared for use on the bikini line, which typically refers to the outer parts of the pubic area. It is not recommended to use the device on more sensitive areas, such as directly on the genitals.
As with all areas of the body, it's important to start on a lower setting to see how your skin reacts before moving up to a higher setting. I used this on my pubic area and underarms and it was fine! No bad reactions at all.
What Is The Difference Between Tria Laser 3 And 4X?
The Tria Beauty Hair Removal Laser 4X is an upgraded model of the 3rd generation Tria device, with a LED display, a laser pulse counter, and five power levels. The unlocking skin sensor is now located at the machine's base instead of on a separate handheld device.
Buy It!
You can purchase the Tria Home Laser Hair Removal System by visiting their site today. PLUS Tria Home Laser is now only $495, you get to save $100 because it was recently, $595!!! Want more? Look no further than below:
– free shipping & free returns
– results guaranteed or your money back
– 1-year warranty
So, there really is nothing you can lose but your unwanted body hair!!! (HAD to say it! 😉 ) Check out these real results!
---