Canvas wall art has become a very popular and desirable medium for home decor over recent years, mainly because it's an affordable yet elegant way to display photos and memories from your life in your own home, office, or even business. Many customers are after the classic, slight texture of a canvas print that gives their photos a timeless and cozy feel.
However, it's now possible to get even a bit more creative than just single canvas prints. With the brand new canvas triptych from CanvasPrints.com, you can display your favorite, most cherished pictures, and photographs in a large, more dynamic, and unquestionably unique way.
Triptych Canvas Prints
Triptych photos actually consist of three canvases. When you create a triptych three large individual, vertical canvases will work together to display one image across an even bigger surface area. This is a great way to step up from just a single large canvas print.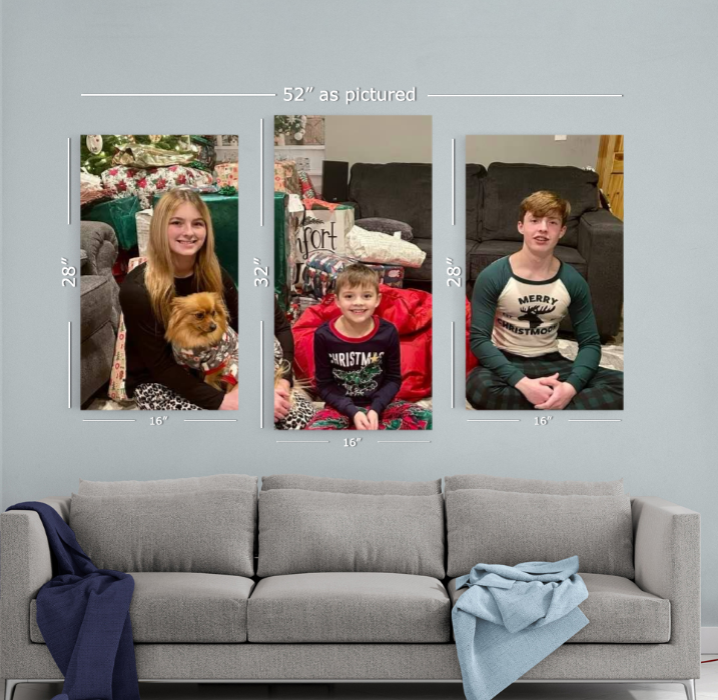 The gaps in between each canvas are usually one to three inches apart, depending on how large the total image area is. For larger triptychs, we recommend leaving more space between canvases, and less space between frames for smaller triptychs.
At CanvasPrints.com, we offer triptychs in a variety of sizes and in two different styles. Our smallest canvas triptych totals 20" x 30" in the complete area, but you can also create a canvas triptych up to 32" x 48"!
CanvasPrints.com has two variations of canvas triptych wall art available to choose from, the classic, and the flow triptych. The classic canvas triptych consists of three canvases of exactly the same size.
However, there is also the Flow triptych, where the middle frame is slightly larger than the left and right canvases. This style works best when your photo has a subject or person in the middle of the image that you want to bring more attention to.
If you're looking for some triptych wall art but don't have the luxury of a large amount of wall space, CanvasPrints.com offers "Cozy" styles of both the flow and classic triptychs, which are smaller in size but still provide the dynamic and unique display style of a triptych photo.
The triptych wall art was first found in the middle ages to display religious works of art, but is found in many modern applications today! Originally, the style was created to make it easier to transport larger works of art, but it also is useful to display larger images and photographs in a more unique way and can be used to enhance the image.
A piece of triptych wall art is sure to be a centerpiece of any room and be a great conversation starter, bringing even more attention to your photos and your memories that are displayed.
While very versatile, some of the most popular images used for canvas triptych wall art are family portraits, cityscapes, astrophotography, and landscape photography. The added aspect of displaying one image across three individual canvas guarantees that all viewers will take a second or third look!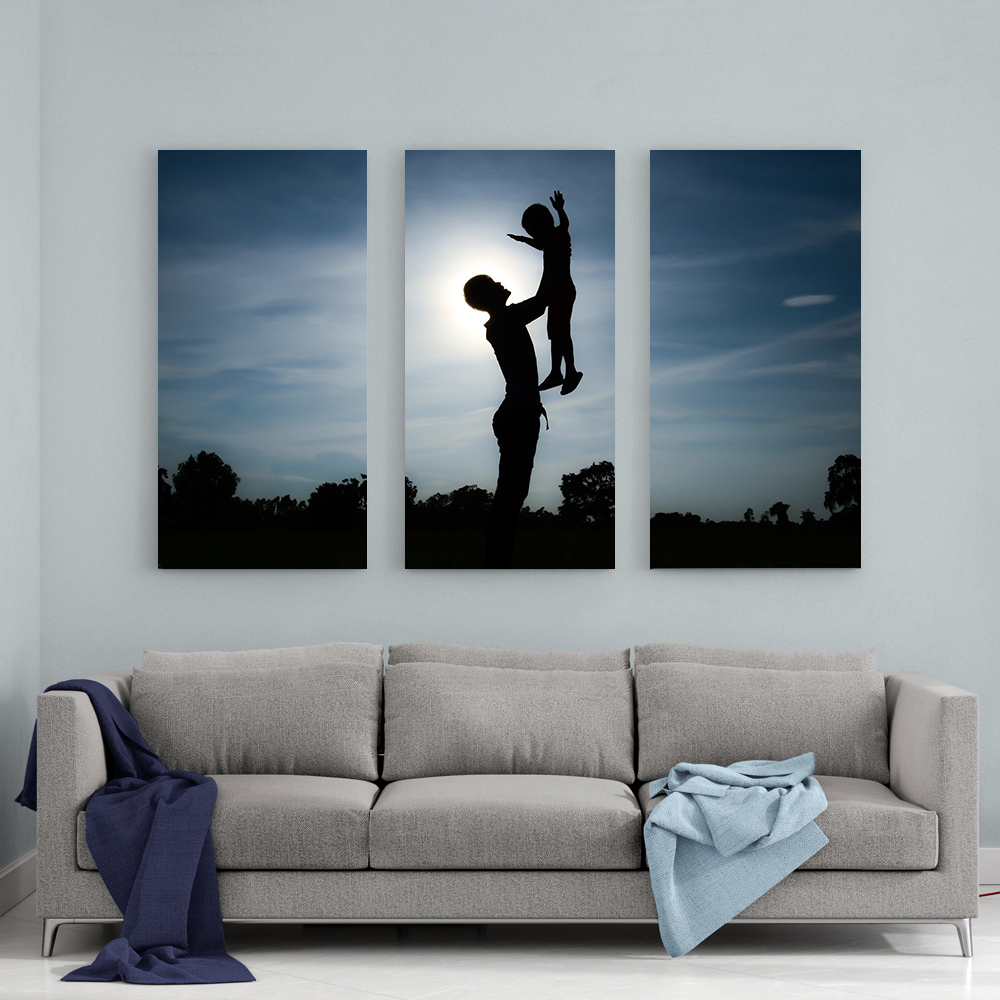 You might be wondering, how do I hang a canvas triptych? Many people are uncertain of how to correctly hang a triptych because of its multi-framed nature. However, it's not as hard as one might think. When you first unbox your triptych, the best way to get a feel for the correct spacing between each canvas is to simply lay each frame flat on the floor.
Now, start with 1-3 inches between each frame and play with the spacing in between each canvas. Make sure to look at the entire image from multiple angles, and have a friend or family member take a look too! If you're still not sure what the correct spacing is for your triptych, our website will recommend spacing for your specific triptych and size before you checkout!
Once you've decided on your spacing with your canvases on the floor, measure the distance, and hang the middle canvas first. Then, hang your left and right frames accordingly. It may be easier to have a friend or family member watch from a distance as you hang to ensure their evenly spaced and level!
We recommend hanging your canvas triptych wall art-centered over a piece of furniture in the room like a couch, dresser or desk. This will create a sense of balance within the room and help your triptych look even more professional.
With CanvasPrints.com, you don't need to be a professional photographer or artist to create an amazing-looking canvas triptych. All you need to do is find your favorite photo that you'd display as a triptych, choose a triptych style, and upload your photo. No photoshop or editing required! Once your photo is uploaded you can slightly adjust it left, right, up, or down to fit your liking.
All of our canvas triptychs come with a deluxe frame depth of 1.5" to help your photo stand out even more. We also have a couple of options for our customers with more specific needs. If you'd like to see exactly what your photo will look like as a canvas, we can provide a digital proof so you'll be able to know just what you'll be receiving.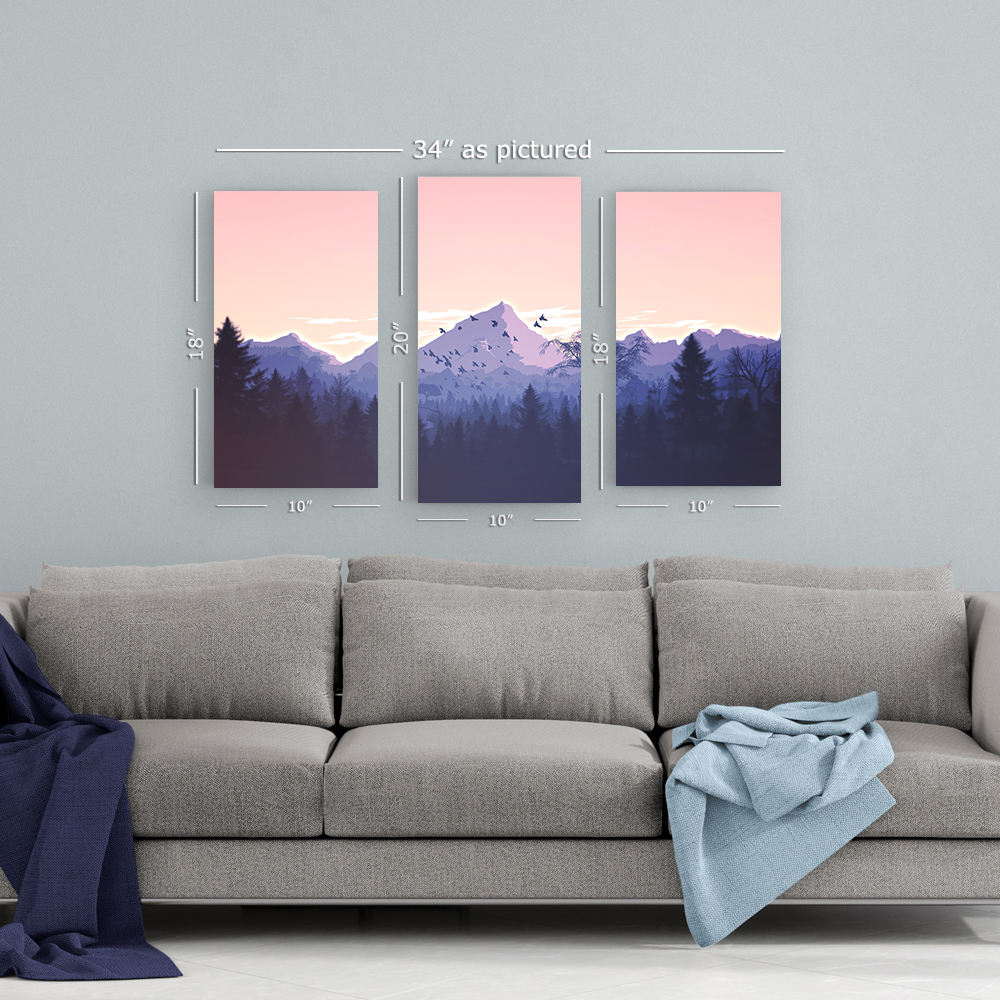 We can also ship your canvas the very next business day after your order, but please note that this is not available when digital proof is also requested. Finally, if you're a professional sending this canvas triptych to clients or customers, make sure you select blind shipping, so that any and all branding from CanvasPrints.com is removed from the packaging and canvas itself, so your customers can focus solely on your incredible work.
Whether you've got a breathtaking photo from your last hike in the mountains or beach-side vacation, or you've got beautiful family photos that you want to proudly display in your home, a canvas triptych can add an extra touch of flare.
Don't just upload your photos to Facebook or Instagram for them to be slowly forgotten, upload them to CanvasPrints.com and create something uniquely special for your family to cherish for years to come.
PIN IT