If you love natural raw honey beauty and skincare products, I have some products for you! At their 102-acre bee farm in Maryland, Waxing Kara lovingly handcrafts Farm to Body beauty products like luscious body scrubs and detoxifying bath soaks. For moms or anyone who wants a soothing treat, they have delicious honey lollipops and warming organic teas! I love this brand so much!
*Products received
Waxing Kara Raw Honey Beauty And Skincare Products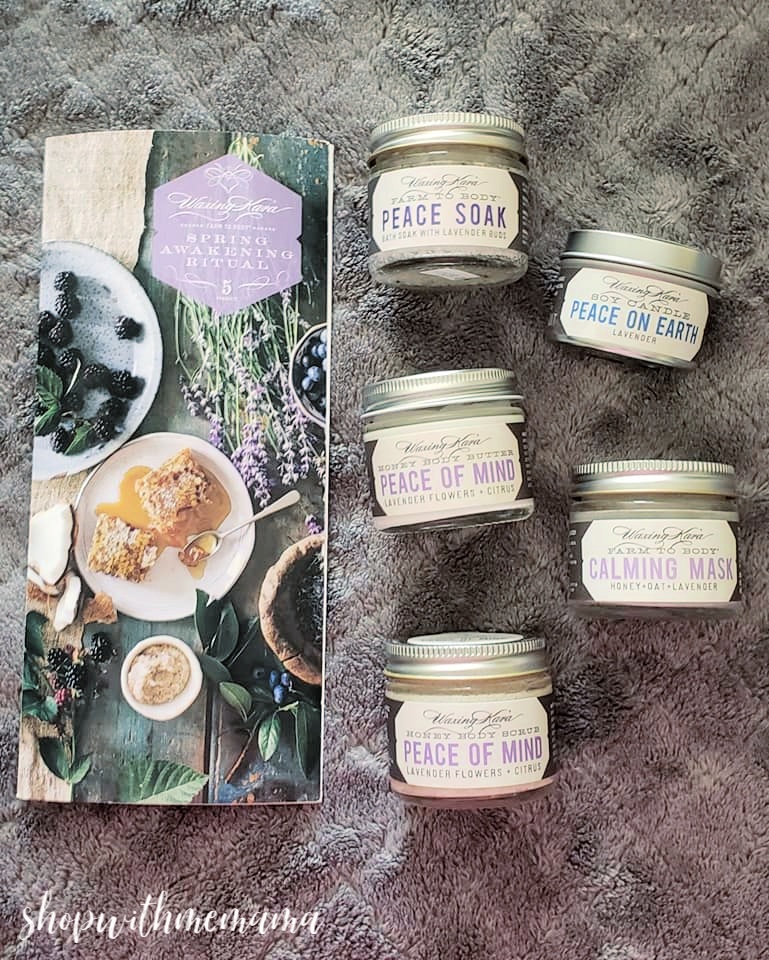 I received Waxing Kara's Spring Awakening Ritual Tower. It has several beauty and skincare items in it. I love taking baths so this was such a treat for me! Whether the mother in your life needs some pampering, a decadent treat or some peace and tranquility, Waxing Kara has something wonderful and eco-friendly. Below, is a description of the Spring Awakening Ritual Tower that I received!
Treat yourself to our Spring Awakening Ritual
Your skin is in for a rude awakening as you emerge from the long cocoon of winter! After months of abrasive weather, spring brings with it the promise of renewal for both mind and body. This carefully designed treatment mingles uplifting citrus with soothing lavender to help you shake the winter doldrums and make a seamless transition to spring. I love all the Raw Honey Beauty And Skincare products that they carry!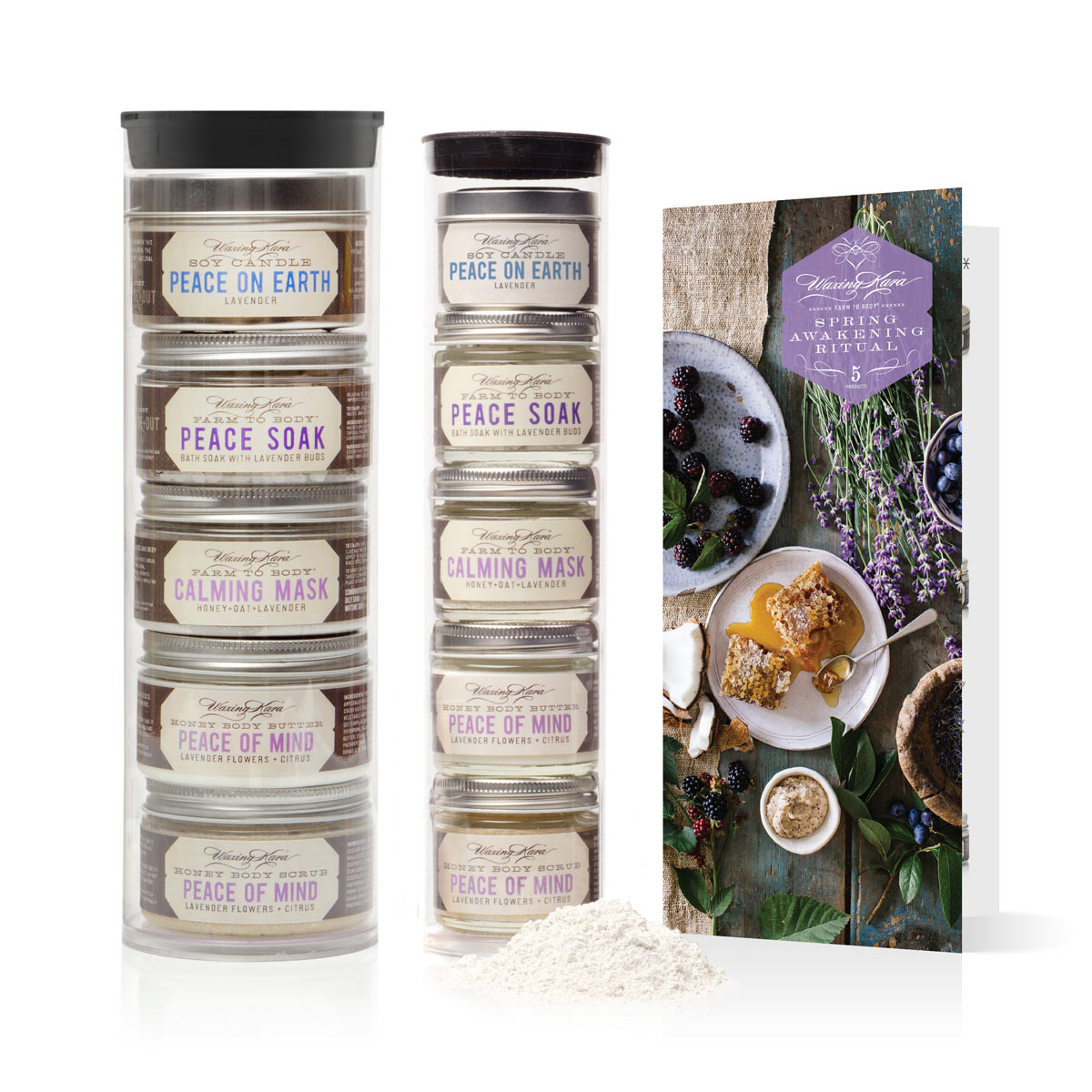 Celebrate spring with Waxing Kara's Spring Awakening Ritual. Made with carefully-selected ingredients that wouldn't be here without honey bees. Imagine an incredibly satisfying and indulgent lavender spa experience at home. Every Waxing Kara luxury is made by hand with organic and natural ingredients, designed to get your skin ready for spring and summer. Reconnect with your roots and celebrate vibrant, renewed, Bee Inspired® skin from Farm to Body®.
What's Included In The Tower?
Each Spring Awakening Ritual comes with:
Peace on Earth Soy Tin Candle: a warm, sweet lavender fragrance for the home. Warm and sunny lavender combines with gentle vanilla in our Peace on Earth Soy Tin Candle. Delightful as a summer's day, and just as relaxing.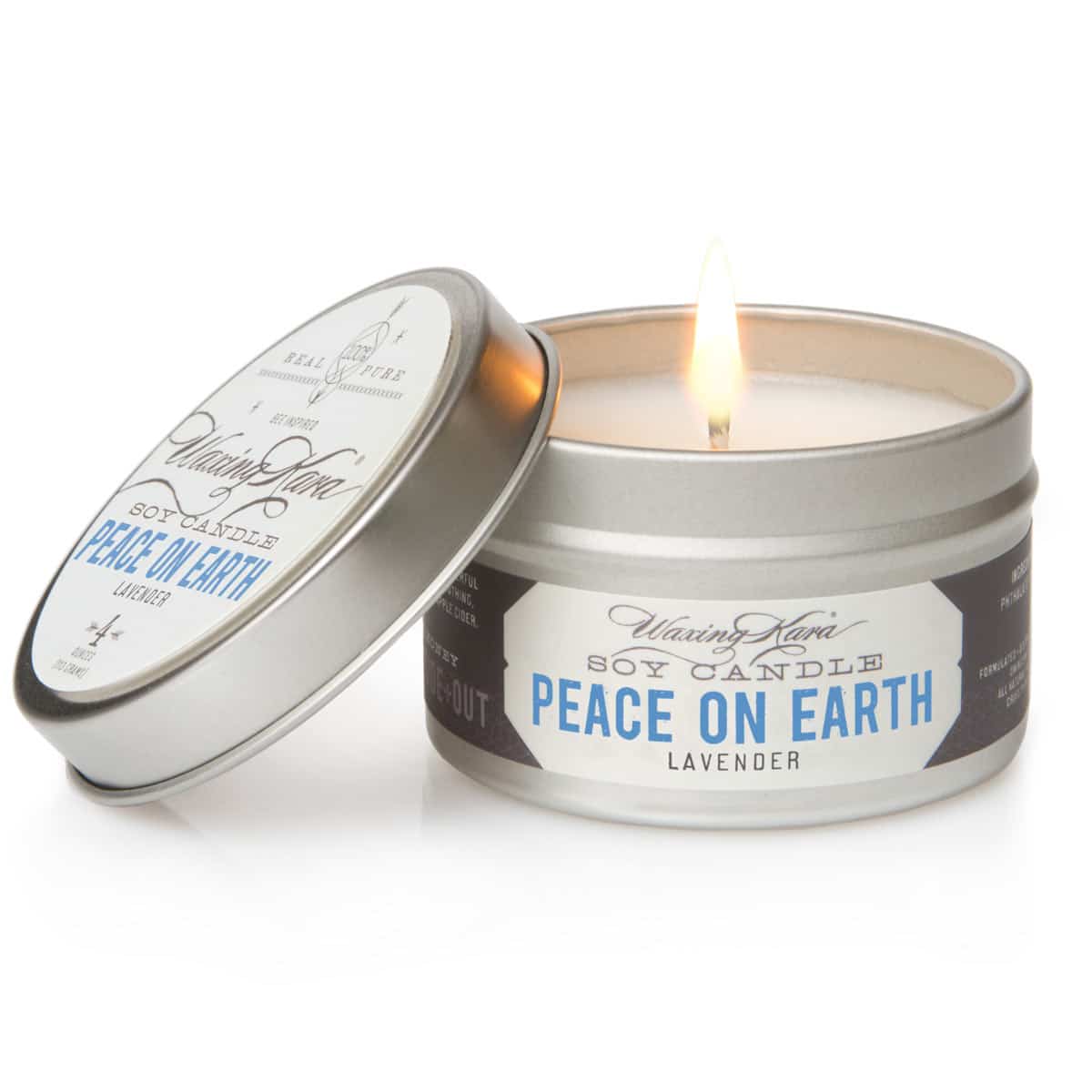 Peace Soak: a combination of Epsom and dead sea salts and fresh-picked lavender buds from our farm ease sore muscles. Bath Soak with lavender buds is designed to detox and soothe your whole body. Featuring the Dead Sea and Epsom salts, Peace Soak provides magical healing properties, though there is no real magic. Minerals help to rebalance tired skin and muscles. Features hand-harvested lavender buds from their farm.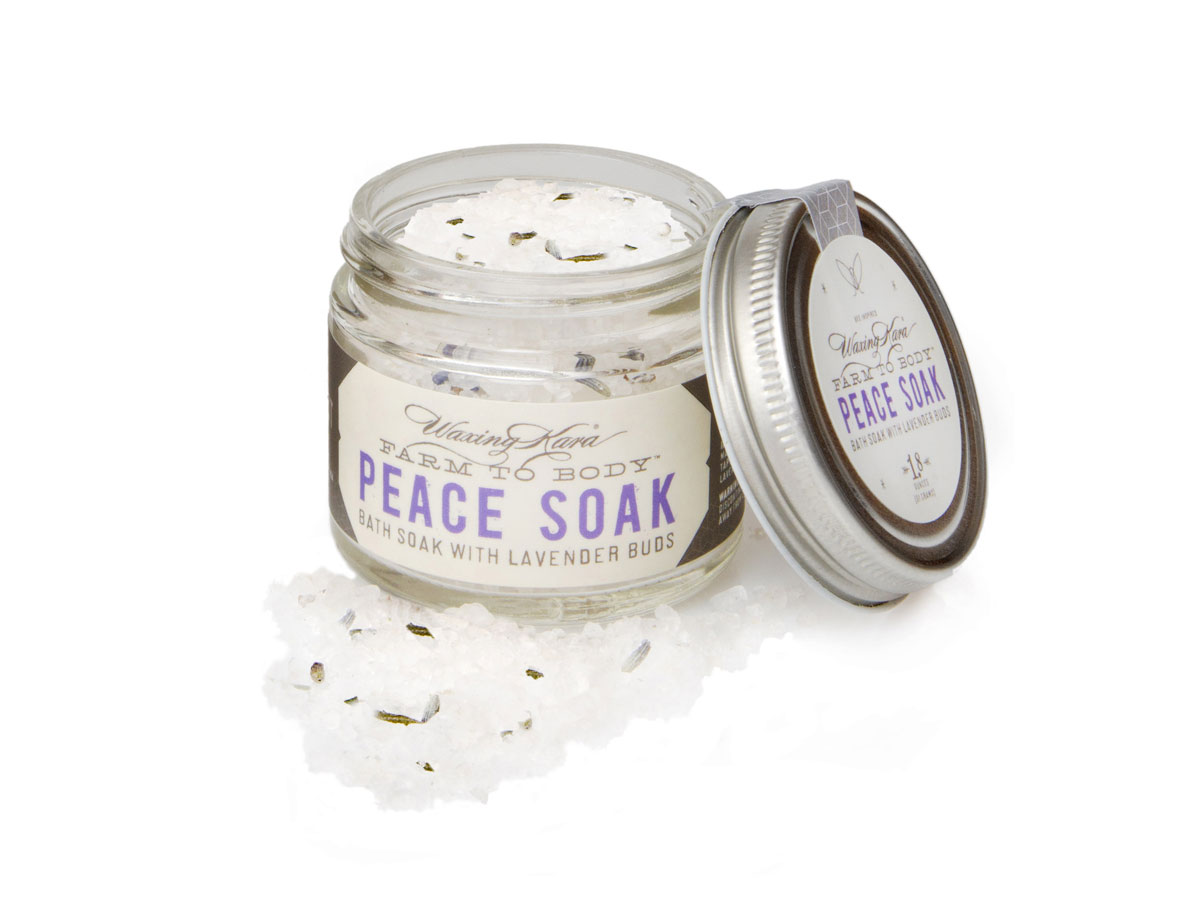 Calming Face and Body Mask: made with clays, botanicals, and honey to soothe and calm the skin. You add some water and mix it to make a paste-like substance. Then you put it on your face and/or body and let it dry. Then rinse off! Relax an irritated complexion with Calming Mask. Made from a masterfully blended combination of oats, lavender, honey, and clay, this mask nourishes and soothes dry, dull skin to reveal your inner glow. Perfectly formulated for those with sensitive skin.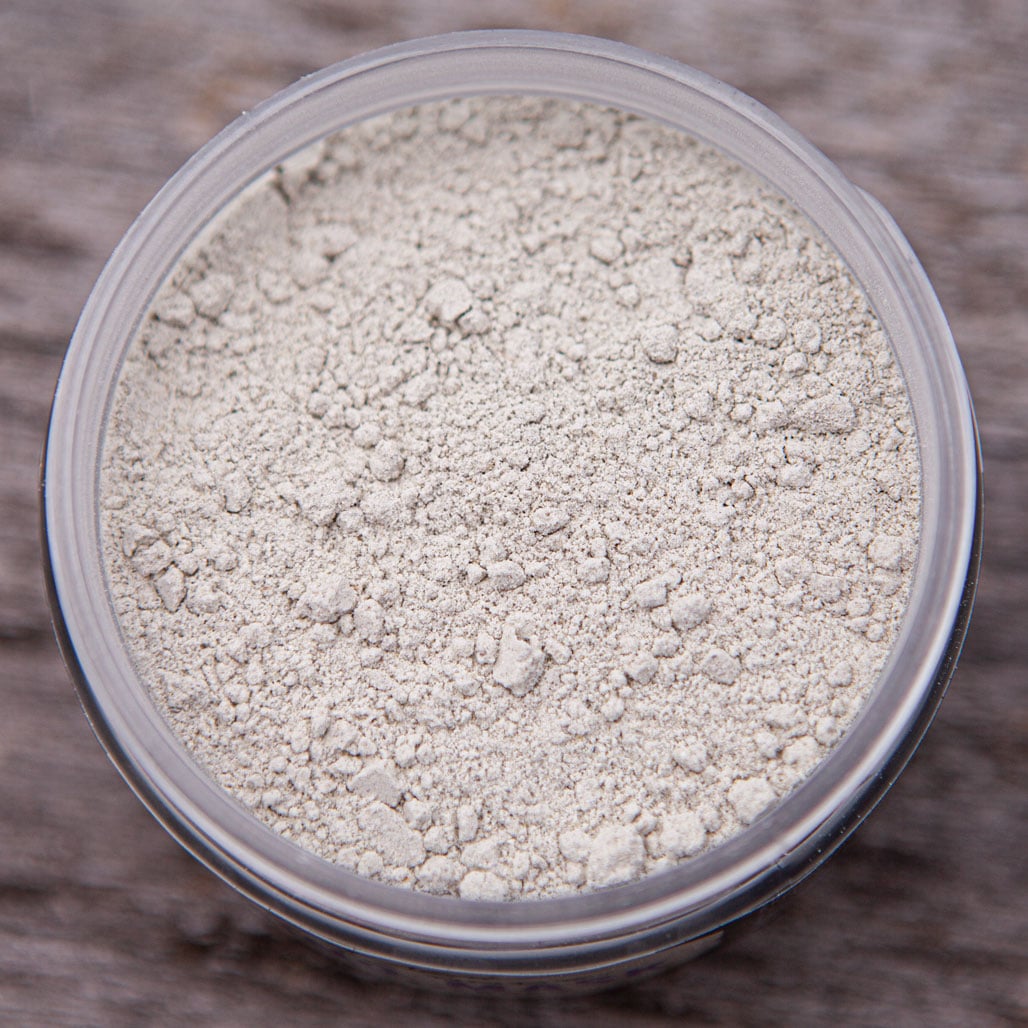 Peace of Mind Body Butter: a rich body butter made with shea, honey, and lavender essential oil. This body butter is AMAZING. It leaves my skin sooooo soft and moist!!! The best body butter I have come across in a LONG TIME! I need more! A lavish, intensive butter that moisturizes the driest of skin. Peace of Mind is a rich essential oil blend of lavender and citrus created for ultimate peace and relaxation. It's perfect for an at-home spa day. Deeply nourish and revitalize the body while also calming the mind with the Peace of Mind Butter.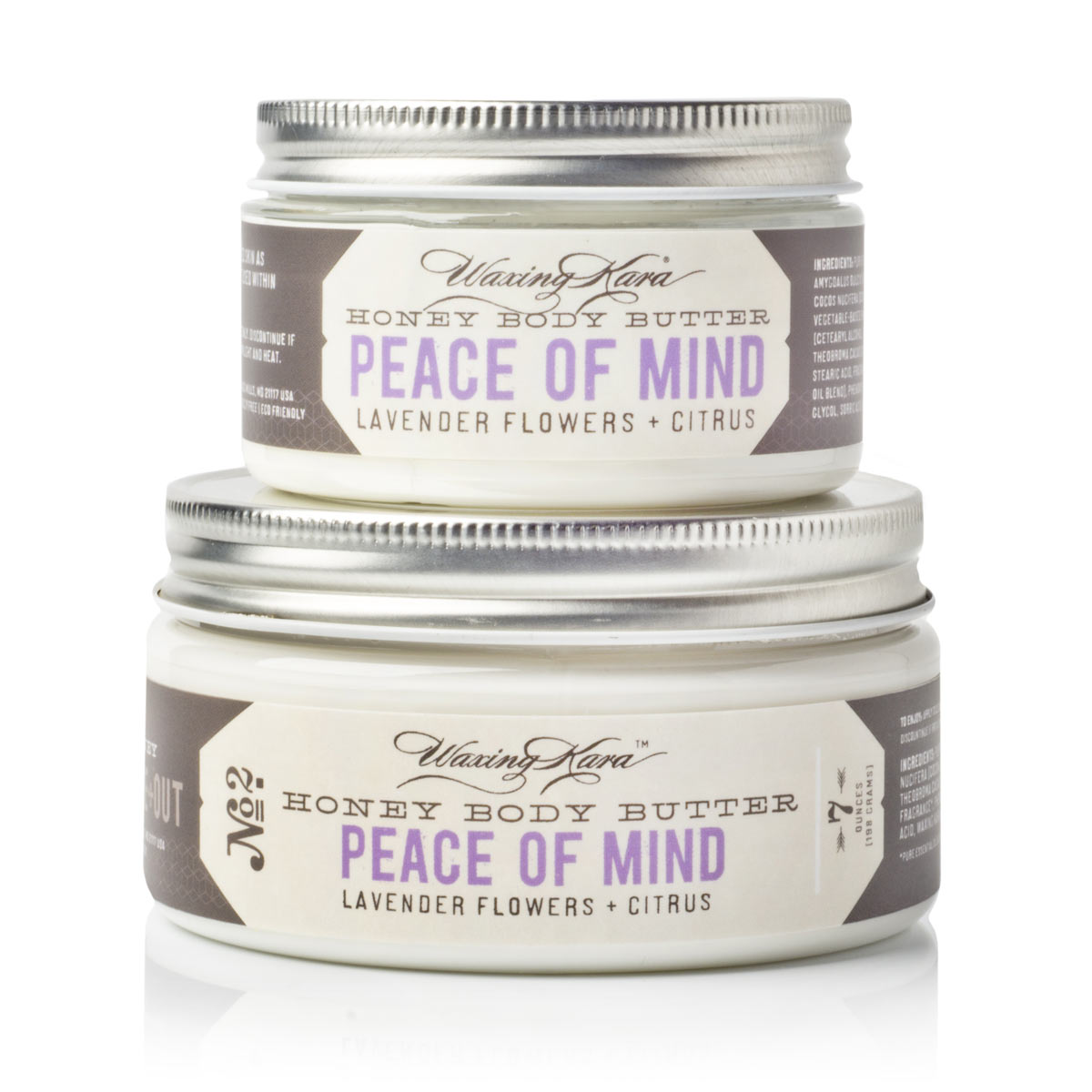 Peace of Mind Honey Body Scrub: an exfoliating blend of honey crystals, plant butter, and lavender essential oil. This makes my skin SO soft! I love it! Relax with Peace of Mind Body Scrub. Formulated to relax, exfoliate, moisturize, improve texture and brighten skin. Made with organic and natural ingredients including organic honey crystals and aromatic Bulgarian lavender for ultimate relaxation.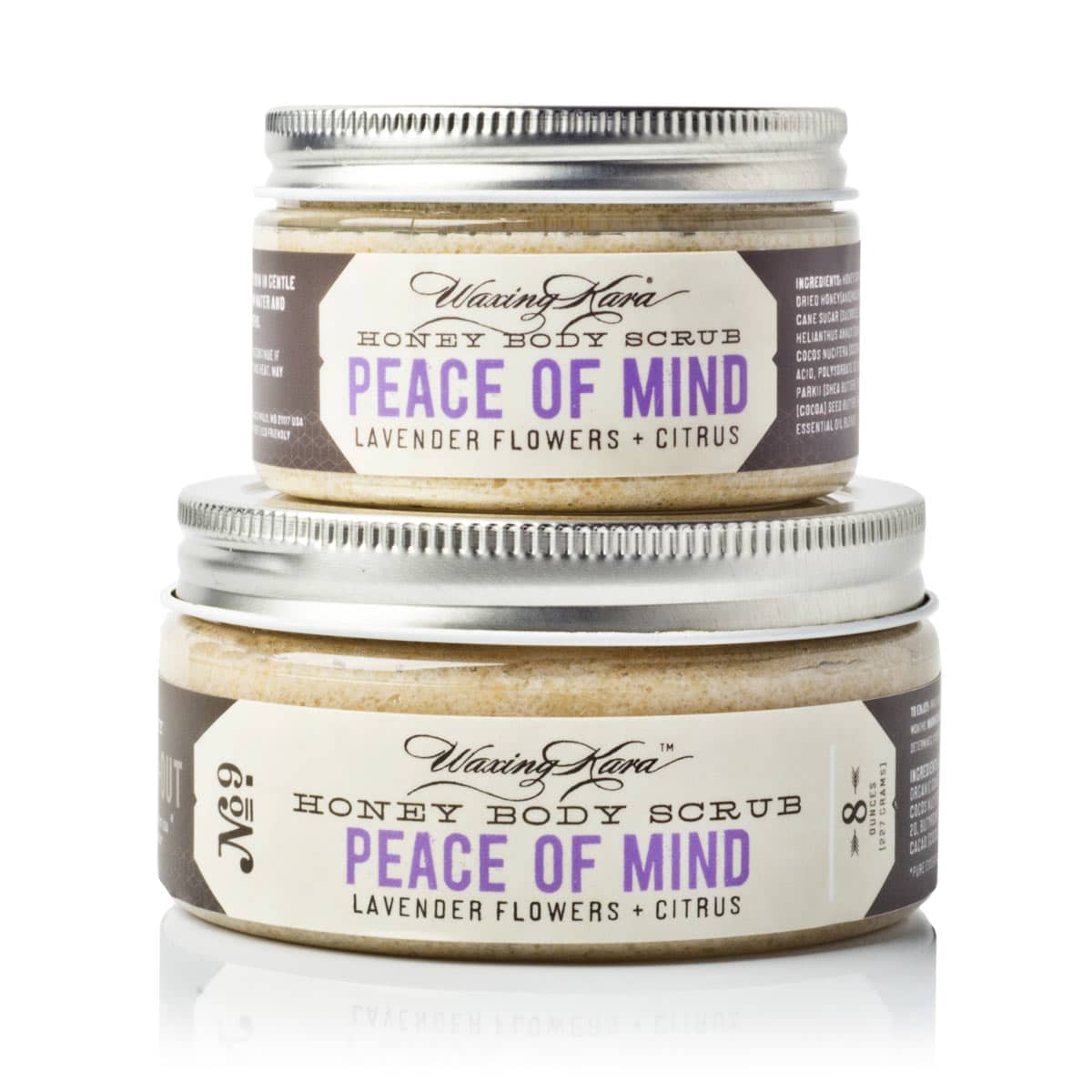 So many decadent goodies for your skin, nestled inside of this tower! It allows you to try these products before you buy bigger products. A sample (but the sample sizes are NOT too small) and then you can decide what you loved and buy a bigger version. However, this tower comes in two sizes: 20 oz. AND 40 oz.
Waxing Kara Reward Points!
And, when you buy this product, you will get 50 points with the Waxing Kara Reward points! If you love their Bee Inspired® goods and you shop with them on their website frequently, you become a "Hive Insider". They have put together the Waxing Kara Rewards Program to share their appreciation!
Inside our Hive are REWARDS!
Details:
*Everyone with a website account is eligible to participate!
*The first step is to register and get 75 points right away!
*Please note: If you do not register first, no points can accumulate! So be sure to register!
*Next, the more money you spend, the more rewards you earn!
*Write a review for your favorite product and get 75 points per product in your Hive.
*Note: You must have actually purchased that product and you can only review it one time.
For every dollar you spend at waxingkara.com, you'll receive one point for your Bee Hive (1 point for each $1 spent). Once you earn 150 points you will receive a $10.00 virtual gift card that can only be used on their website! So fun!
*Rewards points CANNOT be used in their Honey House. Rewards Points CANNOT be accumulated at our Honey House and applied online.
Buy
You can purchase Raw Honey Beauty And Skincare products from Waxing Kara by visiting their online website here. Don't forget to register to start receiving rewards!!!
Win!
One person is going to win the Spiritual Awakening Ritual Skincare Tower from Waxing Kara! Yay! Retails for $50.00!
Rules
The contest is open to US residents ages 18+. This giveaway will end on April 15, 2020, at 11:59 pm MT. The winner will have only 24 hours to claim their win or a new winner will be selected. I am NOT responsible for lost or stolen mail (DUH!).