CONGRATS TO
Andrina Goetz #2635!
*Product was received. Opinions are mine.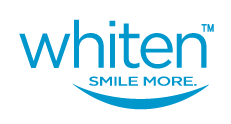 No one likes to see themselves with yellow, corn teeth. I try to keep my smile bright and white. I am very particular about my teeth and tend to brush them far more than anyone I know. I also like to whiten them when needed.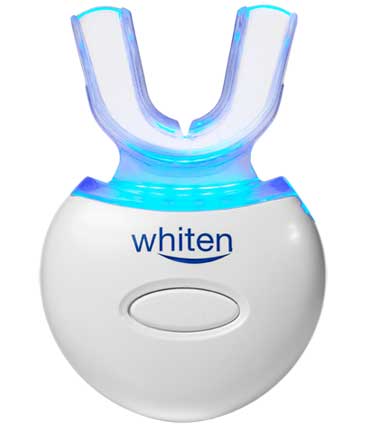 I received the Home Teeth Whitening System to review. Sure, I have reviewed other At Home Teeth Whitening Systems before, but this one seemed different to me and I will tell you why..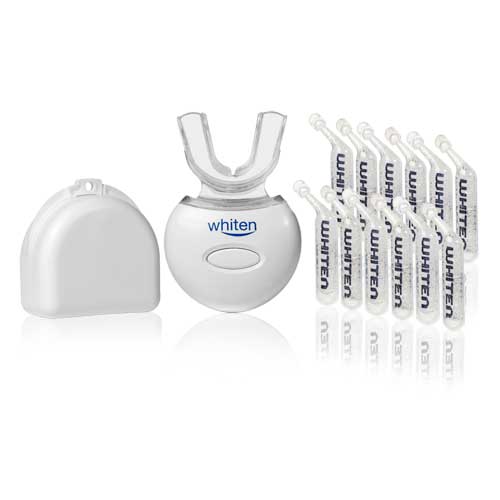 This particular teeth whitening system includes everything you will need for professional teeth whitening at home. It does not cause sensitivity to my teeth at all. This was big for me because I ALWAYS get sensitive teeth after whitening them, when I use the strips. Oh gosh, it hurt! With this, I did not.
This Kit Comes With the following:
1 Whiten™ Luminator base
1 USB charger
1 Mouthpiece with case
12 Single-treatment gel tubes
I also really liked that I can charge it! It comes with a USB charger and when the light no longer works, just charge it up! It seems like after one or two uses I need to charge it again, which is fine because I will charge it right after I use it so it will be ready for the next time I use it.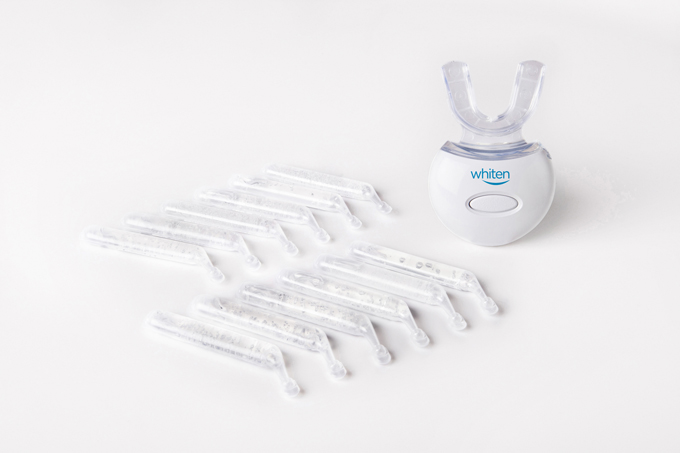 The mouthpiece is bulky, but not uncomfortable. The mouthpiece slides right onto the Luminator Base easily and slides out easily for cleaning. This kit also comes with the handy case, so that after using and cleaning my mouthpiece, I can store it away so it does not get hairs or gross crap on it.
Don't want my teeth looking like this guys! Eww!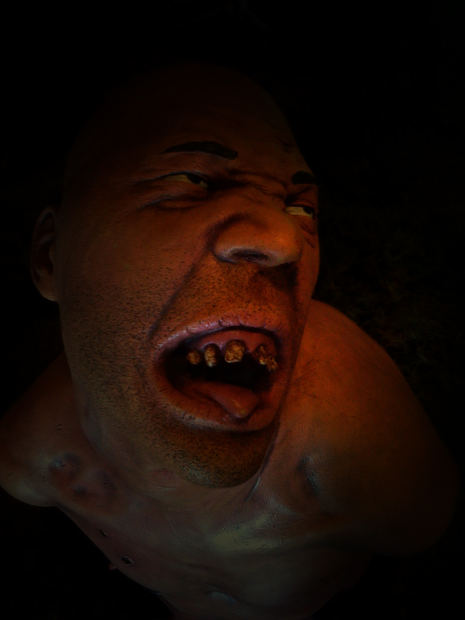 It is super easy to use. Just attach the luminator base to the mouthpiece, Apply gel evenly in upper and lower mouthpiece channel and bite into the mouthpiece and press the light! I like to hold the mouthpiece and luminator base with one of my hands (you don't have to but I do), because it is less heavy in my mouth. The light on the base will turn off, when ten minutes is up. I really like that because I don't have to look at the clock all the time and keep track of time. When your session is over, pull out of your mouth, take the mouthpiece off and wash it under warm water, dry it and store the mouthpiece inside the case and charge the luminator base (if needed). Easy!
They recommend 3-5 treatments for the first week, depending on your individual situation. Then a regular touch-up as needed.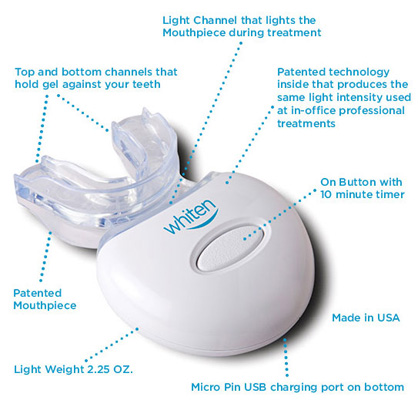 Why it Works:
During the teeth whitening process, the Whiten light (The Luminator) accelerates the breakdown of the active ingredient in the gel – Carbamide Peroxide. Carbamide Peroxide is light activated: The more intense the light, the better the oxidation process. As the Carbamide Peroxide breaks down into oxygen and water otherwise known as oxidation, it releases Hydroxyl Radicals. The Hydroxyl Radicals enter the tiny pores of the enamel, the cracks and crevices of the tooth to break up the stains. The gel also cleans and disinfects the gum line to help eliminate the bacteria that causes plaque, cavities and bad breath. Your teeth will feel like they have been professionally cleaned every time you use it. The powerful patented Whiten light helps accelerate the whitening process and that is why the treatment is only 10 minutes. The Whiten process is safe and the gels are designed so they do not cause sensitivity.
Buy
You can purchase the Teeth Whitening Kit online at http://www.whitensmilemore.com/
Win
One person will win the Teeth Whitening System! $149.00
How?
Easy! Just use the Rafflecopter form below! GL!
RULES:
Contest is open to US 18+ will end on December 2, 2013 at 12:00 am PST. One person will win a home teeth whitening system!!!(see above!)! Winner will have 48 hours to confirm their win or a new person will be chosen, good luck!