CONTEST OVER! CONGRATS TO
Nicole Ann Newby #427

Half of my home has hard wood floors. The other half is super light-colored carpeting. So, vacuuming, spot cleaning and mopping are a good part of my chores!
It is hard to keep a wood floor from getting dirty. Mud prints, hairs and dirt are constantly being mopped up or swept up from my floors. I cannot handle a dirty floor, just ask my family! I vacuum ALLLL the time, day or night!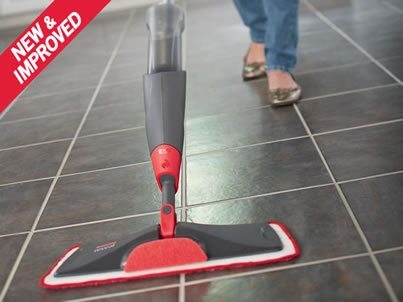 When I was asked to review the New and Improved Rubbermaid Reveal Spray Mop, I was happy to oblige! I was sent this mop and put it to use almost immediately. Rubbermaid made several updates to the product including the addition of a non-scratch scrubber for stubborn spots!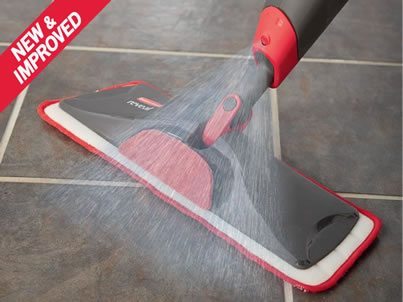 It came assembled. All I had to do was add the water in the little container and two teaspoons of your favorite cleaning solution. Then I was good to go. I filled the little bottle with VERY hot water and added a bit of lemon cleaning floor product to it. Then I connected the container to the mop and went to work!
The base part of this mop is large and covers a lot of floor at once. I really liked that. It gets into nooks and crannys pretty good too,  but I always get down on my hands and knees and get in those with a little brush or rag to ensure that I got all the yuck out.
The handle of this mop has a lever that you pull and the base of this mops sprays out the cleaner, right onto your floor. It sprays really well and a lot comes out, which I also liked. Then you simply run the mop over the water and mop away all the gross stuff! Easy!
It really cleans my floors nicely. I do put a little elbow grease into it though, to ensure my floors are nice and tidy. I like that this is cordless, the cords drive me INSANE as they ALWAYS get in the way of me cleaning, so no cord is awesome for me. It is light weight and easy to use. I use this at least once a day. The container that comes with this mop, that you fill with water and cleaning product, lasts me at least three cleanings. The bottle  holds a lot!
When you are done mopping, simply pull off the mop part off the base of the mop and throw it into the wash! It is a thick microfiber pad. So easy! Also, I just leave any left over product in the container for use next time and it does not leak out.
I also use this for my bathrooms too and my bathrooms are not really big. This mop cleans the floors in my home really well and I definitely recommend it to you.
Features:
Safe to use on all floor types including hardwood, vinyl, laminate and tile
Microfiber cleaning pad picks up 50% more dirt and dust per swipe than traditional mops
22 oz. refillable bottle allows you to mix your own solution
Non-scratch scrubber for stubborn spots
Microfiber pads are reusable and machine washable up to 100 times
Non-battery operated spray trigger allows you to dispense as much or as little solution as you need to clean your floor
Constructed with durable, yet lightweight material
Be sure to check out Rubbermaid's Promotions & Special Offers page!!!
Buy
You can purchase the New and Improved Rubbermaid Reveal Spray Mop online at http://www.rubbermaid.com
Win
One person will win the New and Improved Rubbermaid Reveal Spray Mop!
How?
Easy! Just use the Rafflecopter form below!
Disclosure:
I received product to review. All opinions are mine. This post contains my Amazon.com Affiliate link.