Borghese has combined the tradition of classic Italian beauty and modern sensibility to create a collection of color and treatment products of unparalleled effectiveness and quality that celebrate the unique beauty in every woman.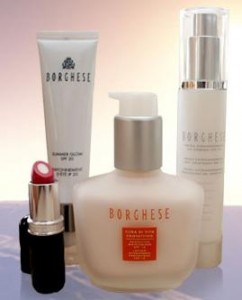 Borghese believes that beauty is not bound by age. Most importantly the believe that every woman has a secret beauty waiting to be revealed and they want to help you discover it!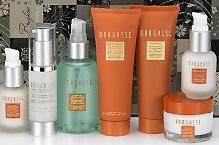 I received a wonderful set of Borghese's Bel Viso Facial Skin Care Set to review. It is a very nice set! Has everything in it you will need to help fight the signs of age and help with the winter dryness we are all experiencing!
This kit includes:
*  2.5 oz Esfoliante Delicato
* 1 fl oz Fluido Protettivo advanced spa lift for eyes
* 4 fl oz Effetto Immediato spa soothing tonic
* 2.5 oz Fango active mud for face and body
* 1 fl oz CuraForte moisture intensifier
* 1 fl oz Crema Straordinaria Da Giorno SPF25
* 1-oz Dolce Notte re-energizing night creme
* Made in USA
So, as you can see, it has all that you need! It is totally affordable to at only $54.00!
I really liked everything in this kit. The moisturizers were great for my face. Blends in quickly and leaves it soft feeling. The mud for the face and body, I mainly just use on my neck and chest area. It seems to make my neck and chest area soft and smooth feeling. I use that about once a week.  The lines around my mouth area, yep I have two, do seem to be less noticeable when I do use the Dolce Notte re-energizing night creme. I also like that it is made in the USA and all their products are NOT tested on our furry friends.
This is also the perfect gift to buy, if you are not familiar with the Borghese line. You can purchase this, sample the products and if you like it, you can then purchase the other products in full sizes.
Buy It!
You can purchase the Borghese Facial Skin Care Set online at http://www.borghese.com/
Disclosure:
I was sent product to review. These are my own honest opinions, thanks!