VR games haven't really had the impact that their manufacturers had hoped but they still provide a solid gameplay experience. While the up close and personal experience of being immersed in a virtual world lends itself brilliantly to horror games, these aren't suitable for children and will genuinely frighten them to the point of not being able to enjoy the game.
*This post includes my affiliate link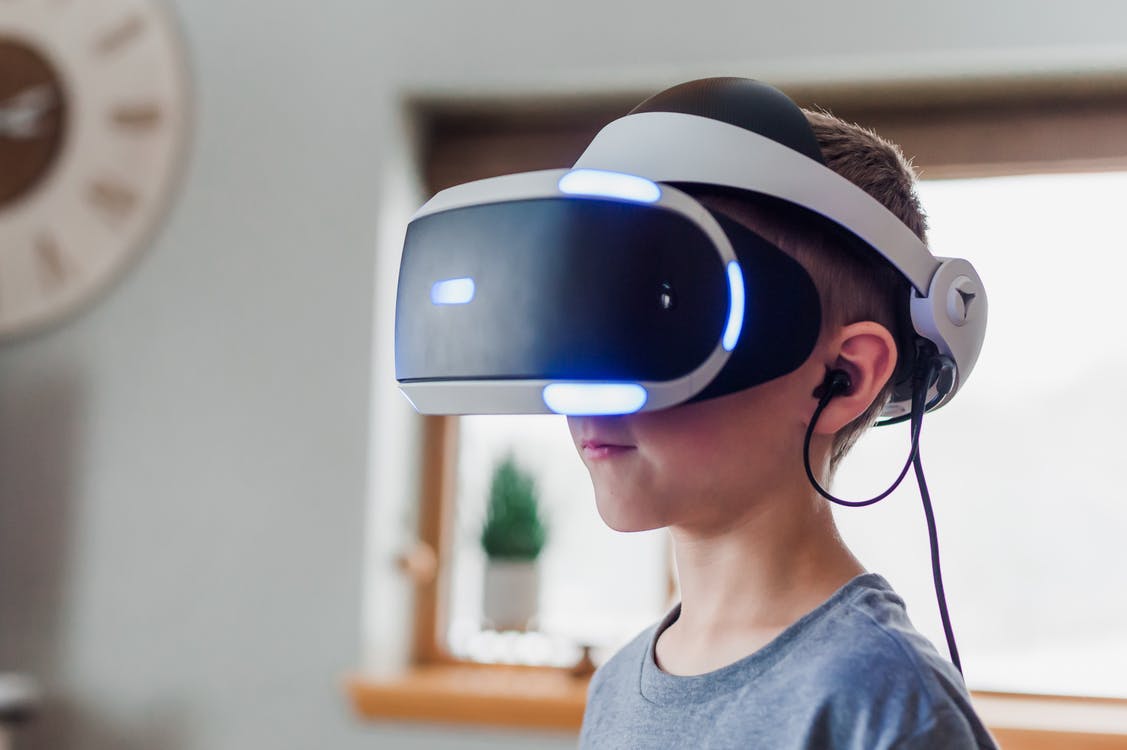 3 of The Best PSVR Games Suitable for Kids
With that in mind, while the majority of PSVR games aren't that great, there are some genuinely intriguing and fun titles available that are child-friendly but might take some time to learn. Kids are always surprised though and they will almost certainly enjoy these amazing titles Here are 3 of The Best PSVR Games Suitable for Kids:
No Man's Sky

Iron Man

Star Trek Bridge Crew
No Man's Sky is the science fiction game of a geek's dreams and offers a genuinely satisfying galactic adventure while Iron Man allows you to become a superhero and Star Trek Bridge Crew makes a great effort to scratch that Star Trek itch that other games just can't.
No Man's Sky
When it was released in 2016, No Man's Sky failed to deliver on almost all of the amazing promises that the developers made during the game's development and it became somewhat of a joke. The game seemed to fade into relative obscurity and was all but forgotten when it made an explosive comeback in 2019 with all-new features, stories, and bug fixes.
No Man's Sky is a space-faring adventure where you get to explore a procedurally generated galaxy filled with multiple types of planets each with its own ecosystems, animals, plants, and ocean life. There are also multiple races in the galaxy all fighting for dominance in individual systems as well as overarching storylines and many side quests.
One of the best things about No Man's Sky is the ability to build bases from raw materials and establish your presence on a planet. This gives you the ability to explore local areas both locally and in the star system by using the bases as operational points. Raw materials can also be processed and traded for currency inside the game which can help you to acquire better spacecraft with improved abilities such as combat skills or long-range warp drives.
But one of the most surprising changes, when the game made a comeback, was a full VR mode for PC and PlayStation 4 via PSVR which was kept under wraps. The game's graphics have been improved and immersing yourself in another world using PSVR is nothing short of amazing and addictive.
Subsequent updates to the game have seen vehicles added, more base options, flora and fauna improvements, and animal companions as of the latest update that can be farmed befriended, and bred. Be careful when playing this game as the associated long play times and RSI will have you calling a local personal injury lawyer before you have had the chance to build your first aquatic base.
Iron Man
Who doesn't want to be a superhero? Iron Man is one of the most iconic heroes ever created and thanks to the Marvel Cinematic Universe is more famous than ever. Iron Man is also the main character in the excellent Marvel Avengers game and now has his very own PSVR title.
Playing in VR, Iron Man allows you to take control of one of Earth's mightiest heroes as he hurtles toward danger and battles foes in the sky. The bulk of the story is focused on battling the game's villain, a hacker named Ghost, but there are intermissions with known characters such as Pepper Potts and Nick Fury.
One of the coolest things about it is the ability to upgrade and customize Iron Man so you can play the way you want to and the fact that this is done in Tony Stark's garage feels great. The highly detailed area makes it feel as though you're actually there and this is one of the more accurate and realistic VR experiences available.
While this game isn't a AAA first-class experience that is aimed for, it is amazingly fun to play and children absolutely love it. There isn't anything complex or confusing which makes it a great "pick-up and play" title that kids can get to grips with very quickly. Being a Marvel game also means that there is minimal violence and no blood or bad language.
However, some of the combat sequences can be a little intense so having your kids take a break every now and then might be a good idea. It should be noted that the PlayStation Move controllers are required to play this game, which is available as a separate purchase and they aren't cheap.
Star Trek Bridge Crew: Best PSVR Games Suitable for Kids
Many Star Trek games have come and gone and it's only really Star Trek Online that has been good enough to stick around. As good as Star Trek Online is, with its amazing space combat and officially licensed items, it missed an opportunity by not including bridge-based action which would take it to another level.
Fortunately, Ubisoft acquired a license to develop Star Trek Bridge Crew for PSVR and it is essentially a "Trekkie's" dream. Playing as the captain through a short campaign set in the Kelvin universe (the new JJ Abrams movies) you get to command your very own Starfleet starship from only a bridge point of view.
This game is very authentic and as such has a steep learning curve, but the more you play the better you will get, and being Star Trek means that it is a very child-friendly game. Commands are issued by way of a command panel that allows you to issue orders to other bridge crew members or by direct control such as when raising shields as soon Klingons are spotted off the starboard bow.
More than a space shooter, the game forces you to think tactically, and going head-on into battle without a plan is destined for doom. This game is more of a simulation, like the Kobayashi Maru scenario, which amazingly is available in the game.
For lifelong fans, there are expansions available that include the original Enterprise bridge and that of Enterprise D from Star Trek the Next Generation piloted by Captain Jean Luc Picard.
Playing each of these bridges changes the game to authentic scenarios based on each of the TV series and is controlled a little differently as well. While there is no story associated with the extra bridges you can patrol the galaxy and run into random scenarios just like in the shows.
So, if you are planning on buying a VR for your child, you should definitely check out these fun PSVR Games Suitable for Kids! You won't regret it because they are so much fun!