We all know that taking care of our skin, especially when we grow older, is VERY important. I have never taken this lightly. Even at the tender age of 13, my mother ALWAYS told me to use skin care creams and moisturizers every day.
I have baked my skin in the sun for hours, and I have had numerous sunburns in my day that were so severe I had blisters and swollen skin, but to see my skin now? You probably would not have guessed I abused my skin so badly in the past.
I am not saying my skin is perfect or line free, but it is certainly not aged because of the abuse I did to it and for that, I am so thankful! I am thankful that my mom told me to moisturize every day and to use skin care products every day.
One brand that I have been a forever loyal fan of is Dove. Why? Because their products deliver. Their products don't hurt my skin but instead, soften my skin and make it healthy looking.
Since having kids, I now use Dove products on them. Their skin is SO dry and delicate and this is one of the few brands that I use on them when they take baths or showers.
Even their doctor recommended I use Dove on their skin. I adore all Dove skin care products, but the three that we use every day, are listed below.
*This post includes my affiliate links.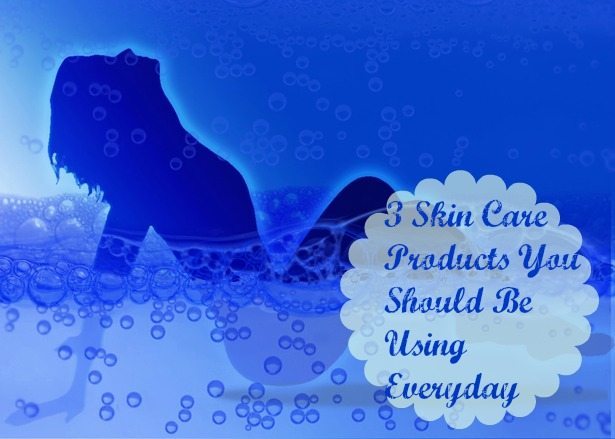 3 Skin Care Products You Should Be Using Everyday
Dove Shea Butter Body Lotion. This lotion is SO moisturizing and I use it all the time. It is perfect to use right after your shower or bath. I apply it to my skin while my skin is still a bit damp, to lock in moisture better. Love this lotion! It retails for around $7.29.
Dove White Beauty Bar. LOVE LOVE LOVE this beauty bar. This is the perfect bar for my kids to use in the bath/shower. It is gentle on their skin and has a subtle clean scent. This beauty bar has never let us down, ever. They retail for around $4.49.
Dove Dry Oil Moisture Body Wash. I have been using this for a little while now and love it. I lather it up on a loofah and spread it all over my body. It smells heavenly and leaves my body SUPER soft feeling!! This is my new favorite body wash. It is also a dermatologist recommended. It retails for around $5.22.
Of course, all of the Dove products I have used in the past and present, have never let me down. As I said earlier, I am a HUGE fan of Dove beauty products!
Worth Sharing!
New research from Dove shows that there is a powerful link between dry skin and women's confidence. I know when I have dry skin, my confidence goes down a bit, especially when it is noticeable to others :/
Dove has created an eye-catching infographic to help show visually how impactful dry skin is on women's confidence and the way they go about their day-to-day lives.

* A majority of women (65%) do not feel as beautiful when they have dry skin.
*An incredible 98% of women feel more confident when their skin is moisturized vs. dry
*Much more…
Dove is committed to listening to women, and the brand is proud to launch the NEW Dove Dry Oil Moisture Body Wash and Beauty Bar, which was specifically formulated to address the issue of dry skin and help nourish and protect from dry skin in the shower.
Of course, you can always make your own skincare products at home too! Be sure to check out that post! It is always nice to know what is IN your beauty and skincare products, right?