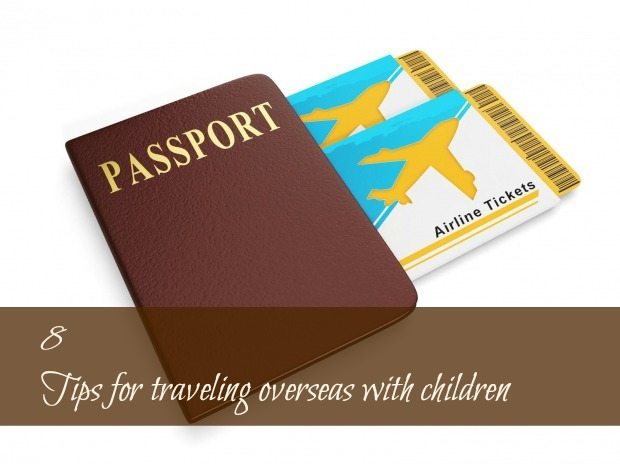 8 Tips for traveling overseas with children
Here are 8 Tips for traveling overseas with children. This can be a very difficult task for any parent but especially with your first child! I traveled from the US to the UK with our 9-month-old baby and then back to the US when she was 15 months old. Here are 8 Tips for traveling overseas with children I learned that might help you!
1. On most overseas or long­haul flights, you are able to book a bassinet seat. If you can get your child to fall asleep on their own in the bassinet, you are set and should have a fairly easy flight!
2. Bring DVDs or download their favorite programs to your computer. It might also be worth investing in a small DVD player or device for them, in case your battery dies, you'll have a back­up. Although many airlines are now offering power ports. Make sure you have a travel adapter on hand!
3. You have the option to check in your car­seat & stroller at the gate, that way you'll have it right up until the time you need to depart. If you don't have a combo stroller and car seat, you might want to check in the car seat at check­in, and the stroller at the gate.
4. If your child is under 2, they can just sit on your lap and won't need to buy a ticket, although if you are on a very long flight and they won't sleep, this is going to seem like an even longer flight! You can also get lucky and have an open seat next to you.
5. Do not carry more bags in your carry­on than you can handle. On our first trip, my husband and I had 2 bags between us each, plus the baby and stroller, and car seat. We had way too much stuff and this made things even more difficult! The airline staff can not help you carry your luggage when you get to the terminal and have to check the car seat & stroller.
This means you have to carry the baby down from the gate to the plane, often waiting in long lines. Bring a baby carrier so you can wear the baby during this time. You could also wear the baby while sitting in your seat if your baby won't sleep in a bassinet, this may help you to get a few winks yourself so you don't have to worry about dropping baby if you doze off.
6. Nurse your baby during take­off and landing. This will help relieve any ear pressure they might experience. This is often the cause of very unhappy, screaming babies on a flight. Make sure you don't nurse them too soon or they'll be full and might not want to nurse at these times.
7. If you have a wait at the airport, look out for play structures or soft­play areas for children. They have a great one at London Heathrow that is supervised, with two separate sections for little babies and bigger kids. This will help wear out your little one to ensure a good sleep on the flight!
8. Bring a couple of new toys for your kids on the flight but also have their favorite toys on hand that keep their attention for the longest time. Just don't bring too many!
Best of luck on your journey!