Kolcraft Contours Lite Stroller
Since we will be going to Disneyland next weekend (WOOT!), I really needed a lite weight stroller for my daughter (and son, if he needs it..), to bring with us. I started searching Kolcraft, since it is a favorite of ours, and found a great stroller for our trip!
The stroller I received, is the Kolcraft Contours Lite Stroller. I was impressed with how easy it was to put together, hey, not bad! What was really funny, was that MY 5 YEAR OLD SON put most of it together! LOL. He wanted to do it, so I let him and low and behold, the boy got it done!! Of course I had to help with putting the little pins into the back wheels to keep them on, but other than that, it was my boy who put this together. So VERY easy to put together! This is a BIG mom plus!!!
Once the stroller was put together, I added the little tray with cup holder and we were good to go! My daughter hopped in and we were off for a trip around our home! ALL day long, my daughter was in and out of this stroller. She brought her stuffed animals and blanket into it and had me prop her in front of the television. She really likes this stroller and that tells me, it is pretty comfortable for her then, yay!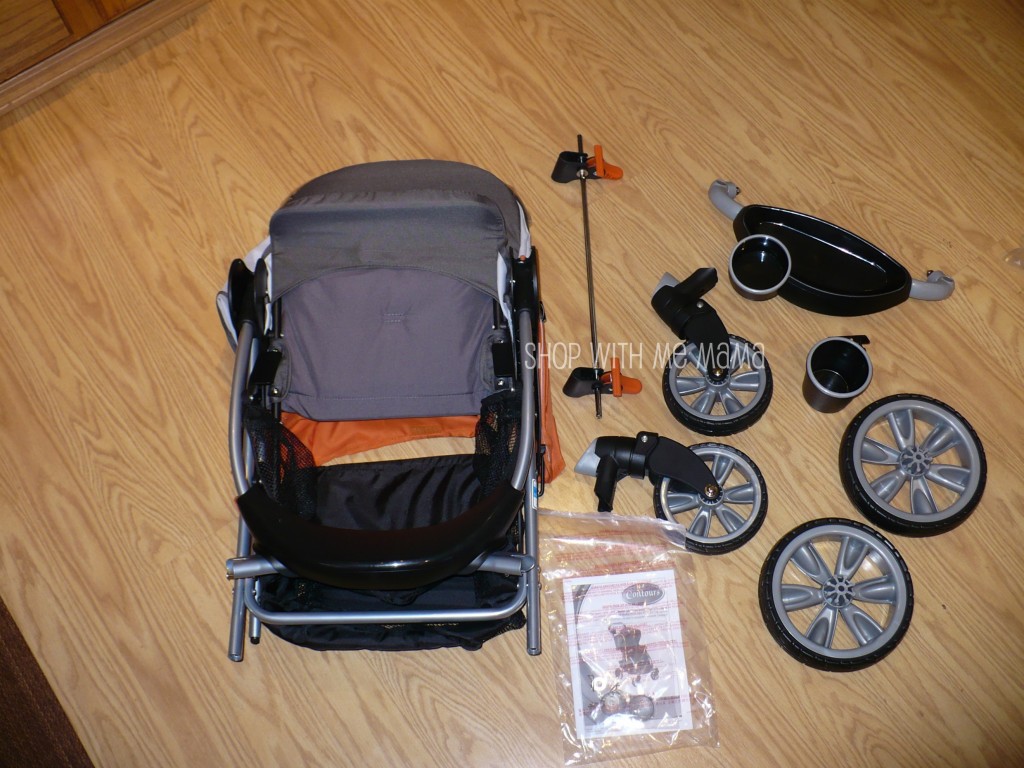 Now for the person who will be pushing this stroller. It pushes with ease. It is smooth and effortless to turn and it turns great. No having to pull it back and forth to get one of the wheels aligned with the other one, to turn right, nope. This stroller turns well and pushes smoothly. I can also push it with one hand, if I need to, with ease.
The bottom part of the stroller, where you can put things, is spacious enough for us to  put a tiny cooler down there to carry our beverages at Disneyland. I can also put a medium-sized purse in their and our camera too! Great storage space. It also comes with a parent cup holder, which you can place on the stroller, securely! This is a great feature, since I will NEED to use this where we are going!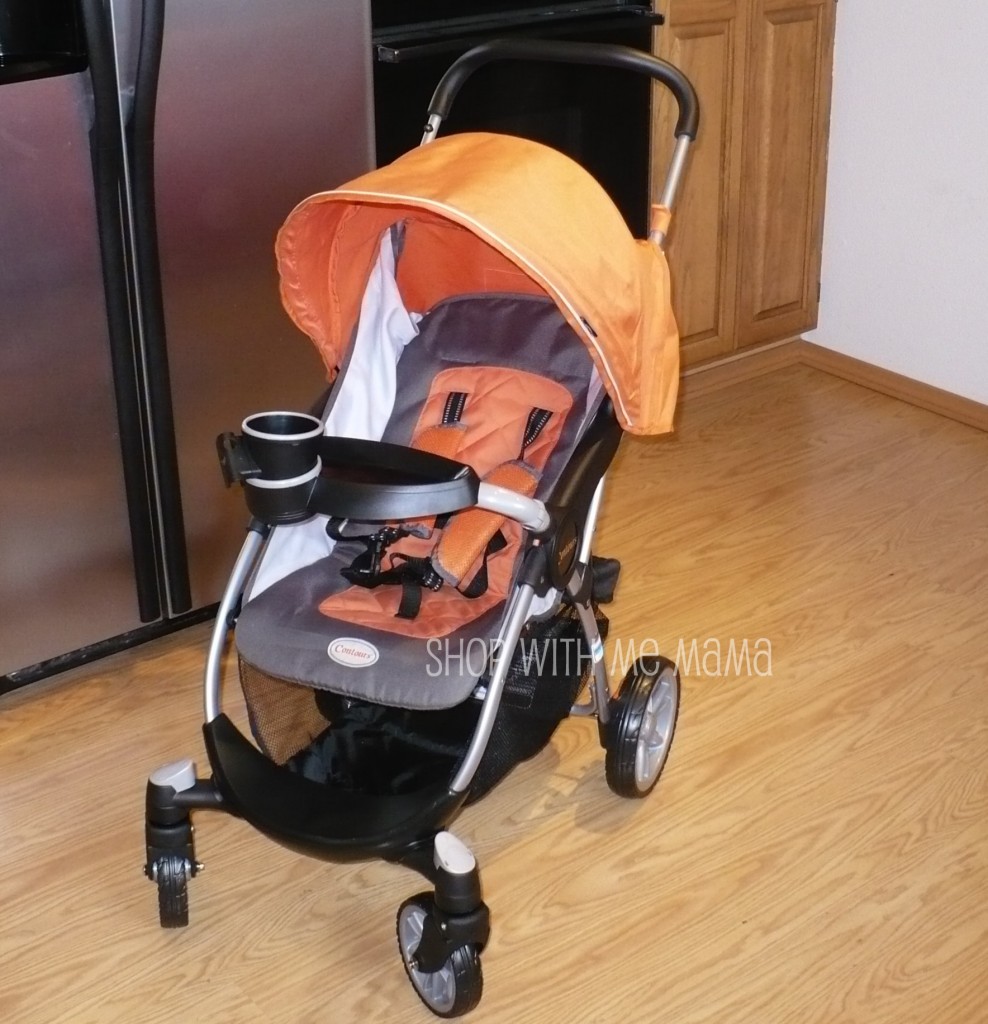 This stroller does recline, but not fully. Which is fine, it reclines enough for my daughter. The handle height is great, it is 39.5" measured from the ground to the middle of handle grip, so no hunching over to push this. However the handle cannot be adjusted.  The tray is removable and can easily be cleaned with soap and water and put back on or left off, your choice.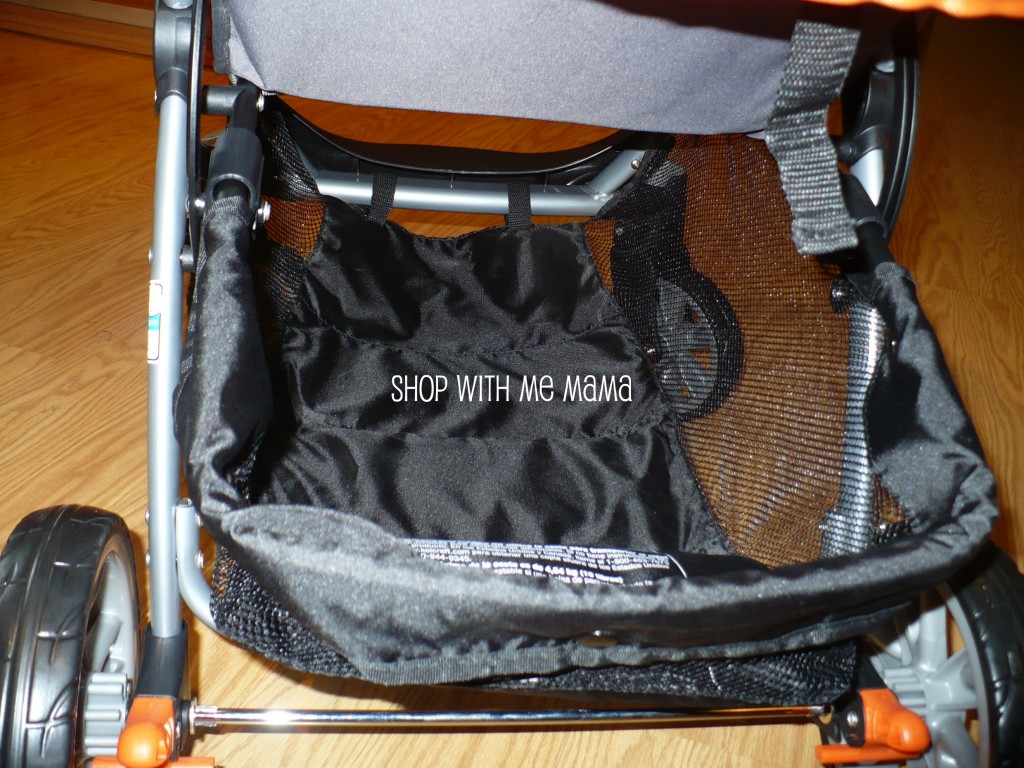 Stroller Specifications:
JPMA Certified
Stroller is lightweight, only 15.5 lbs.
Compact fold: 19 x 25 x 34
40 lbs. maximum child weight
Only use this product in the reclined position until child can sit up unassisted
Stroller Features:
6″ front single swivel & 8″ rear wheels for easy maneuvering
Convenient free-stand design stands when folded
Parent cup holder keeps your drink close by
Child snack tray with drink holder rotates for easy child access
Multi-position reclining seat
Large canopy blocks sun
Large storage basket
Height adjustable 5-point harness for safety and padded sleeves for comfort
 Buy It!
This stroller is totally affordable at only $69.99 and you can find a retailer that carries them, by visiting Kolcraft online at http://www.kolcraft.com/
 Win One!
One lucky person is going to win the Kolcraft Contours Lite Stroller!!
How?
Easy! Just use Rafflecopter Below!!
Things to Remember when using the Rafflecopter:
You MUST have javascript enabled to view and enter this giveaway. When you do your entries, simply click on the "I did this" button and submit your info. At times, I will ask for your tweet, email addy (to confirm email rss subs), ask for links if you blog, etc… When you click on the 'I did this" button, you will be brought to a form you can enter all of that. No need leave comments on the actual blog post, just on rafflecopter. Don't worry, this is safe and secure!! Thanks!
Disclosure:
I was sent product for this review. These are my own honest opinions, thanks!