*This post includes my affiliate links.
Are you getting married or know someone who is? I remember when I got married the hardest part for me was adding things to my wedding registry. I was lucky, my mom did all the other stuff for me.
I certainly wish there was Amazon when I was getting married. Heavens, it would have helped SO much! You all have it easy nowadays! But, back in the 'olden days', we had to actually go INTO the store and scan things with a scanner that we wanted on our wedding registry list! And yes, it was time-consuming, to say the least.
Now that there is Amazon (or other online stores) no sense in wasting time scanning products in-store, you can do it from home, lucky you!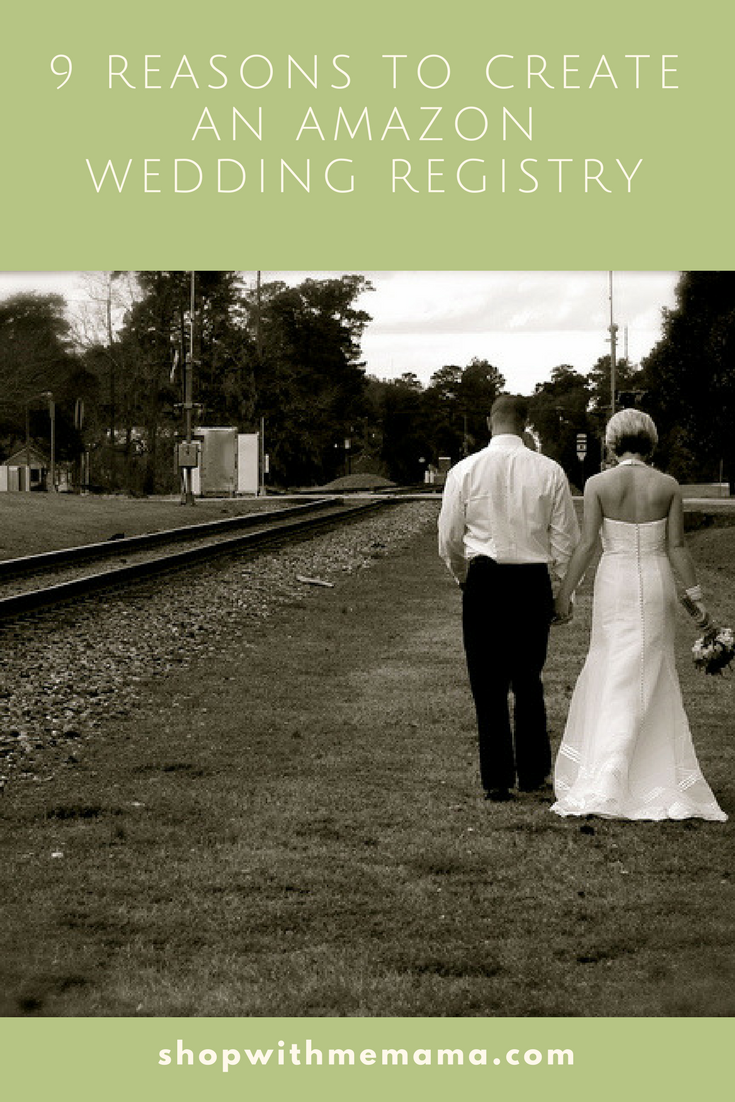 9 Reasons To Create an Amazon Wedding Registry
There are many reasons to create an Amazon Wedding Registry, but I will give you 9 GOOD reasons.
10% Gift – Receive a wedding gift after your event date. Get 10% off most products on Amazon for savings up to $100 and 20% off for Prime members!
The have the World's Largest Selection of products. You can also Register for all the items you both want so you know you are getting things you both need.
It's universal – keep track of what you want from anywhere! Add from other websites to your Wedding Registry with the universal button. This absolutely has to be my most FAVORITE feature and a reason why you should create an Amazon Wedding Registry.
Personalize and share your registry with everyone you love. You can give registry visitors a wonderful feeling by uploading a favorite picture of you and your partner together! Then you can point them in the right direction by adding comments and setting a priority for each item you listed. Once you are done personalizing your registry you can quickly share your personal registry page link through email and/or social media!
Free shipping for Prime AND non-Prime Members! Get your wedding gifts delivered to your doorstep. Wedding purchases are now eligible for Prime's free, two-day shipping! Even non-Prime members can enjoy the free shipping on orders $49 or more (of eligible items).
Bonus Gifts!! Amazon has lined up bonus gifts from great brands! Simply register for items from participating vendors and once that item/s is purchased, you will be eligible to redeem bonus offers! How fun!
Never miss those 'Thank you's'! Amazon keeps track of the gift buyer details to help you stay organized and on top of things. You will be able to quickly view and print an itemized list of who purchased what gift! Easy peasy!
Gift financing is available. Financing options for up to 24 months through the Amazon Store Card so your guests can easily buy those larger ticket items. Now you don't have to feel too guilty for adding those 'things you REALLY want but don't want to ask for' items to your registry! Yay!
Worry-Free returns (180-day). You are busy and Amazon 'gets' that. This is why they offer 180 days to return any item! Now you can take the time to figure out if that gift will work for you.
Do You Shop Online At Amazon.com? Are you getting married soon or know someone who is? Tell them why they should Create an Amazon Wedding Registry. Spread the word!
I found a really cute and unique gift to give someone who just got married! Enter to win a Custom Cut Design of Your Favorite USA State from D Lighted Designs! Good luck!
Enter to Win a Custom Cut Design of Your Favorite USA State from D Lighted Designs!