*This post is brought to you by Terminix AllClear Mosquito Bait & Kill. Opinions are my own.

Warmer weather brings those pesky, annoying mosquitoes! I hate them and they always seem to find my skin to grab a quick snack! Ugh. It is no wonder nearly 38% of parents said they would eat a mosquito if it meant they did not have to fight them off all summer long!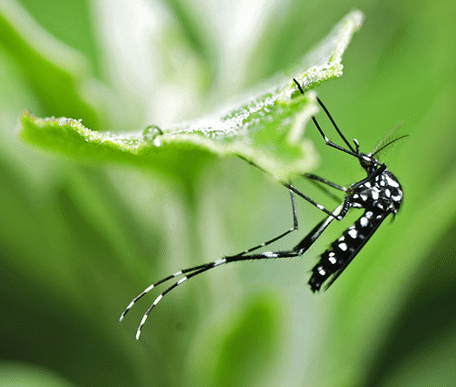 Thankfully, most parents won't need to nibble up those critters to keep them at bay because Mother Nature and science have finally come together to produce a totally non-toxic approach to eliminating mosquitoes in the backyard!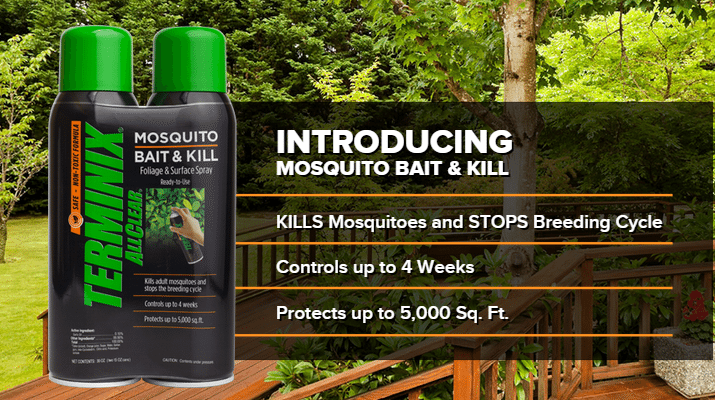 The Terminix AllClear Mosquito Bait & Kill is the first and only ready-to-use formula incorporating the scientifically proven approach of Attractive Target Sugar Bait (ATSB). This is a different approach to mosquito control that uses the mosquitoes natural physiology against it, versus using harmful chemicals that raise health concerns. This was important for me to find out, because I have little kids. I don't want my kids to be exposed to harmful chemicals, ever.
Explain More About ATSB..
I want to explain a bit more about ATSB! It is not harmful to children or pets. It is 100% safe and is also safe for the environment. It is made from a blend of plant sugars and micro-encapsulated garlic so it is totally safe.
Why Does This Stuff Work?
This is based on simple concept that mosquitoes need plant sugars to survive, to fly, to mate and even to bite us! A team of scientists spent more than 10 years honing the ingredients of a perfected sugar bait that targets mosquitoes specifically, but is 100% non-toxic to people, pets, the environment including insects like bees and butterflies!
*For continued control, reapply Bait & Kill every four weeks*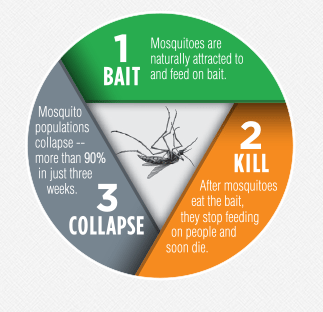 How Long Does It Take To Kill The Pesky Mosquitoes?
ATSB is now available in an easy, DIY, non-toxic spray for your backyard! Simply apply Bait & Kill to green, non-flowering foliage or on non-porous surfaces.
Within 48 hours of ingestion, the male and females will stop biting and breeding and they begin to die off. Within about 3 weeks, the mosquitoes collapse by more than 90%.
Where Can I Buy This?
You can purchase Terminix AllClear Bait & Kill at Target, Lowes and Amazon.com. It retails for $12.99. Each twin pack protects up to 5,000 square feet of space.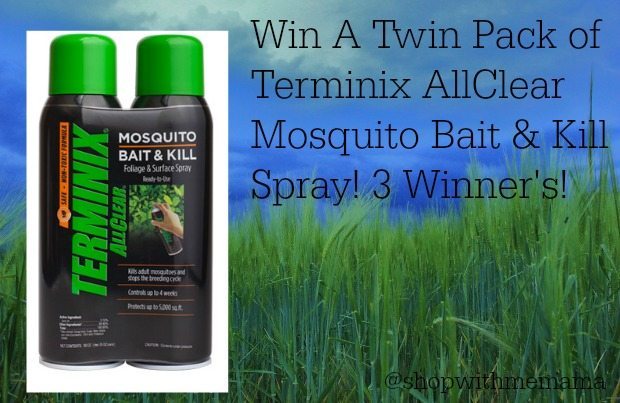 Win! 
Three people will each win a Twin Pack of Terminix AllClear Mosquito Spray!
How?
Just use the entry form below!
Rules:
Contest is open to US 18+. Giveaway will end on July 5, 2015 at 12 am PST. Winners will have 48 hours to confirm their win, after I email them, or a new winner will be chosen. I am not responsible for lost or stolen mail.
Get Social!
Connect with Terminix on Twitter and Facebook!