CONTEST OVER! CONGRATS TO
debi jackson #46!!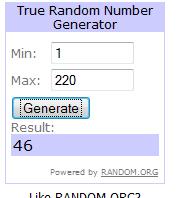 With Spring Break nearly here, everyone is scrambling to see where they should travel to or visit. Why not visit The Great Wolf Lodge???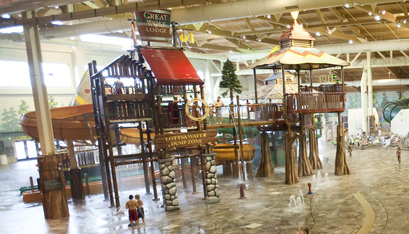 Me and my family had the opportunity to go to The Great Wolf Lodge in October and we had an absolute BLAST!!! I could not believe all the wonderful activities they had for kids, wow. Talk about a busy, but really fun two days we had! Right now, you can receive a $50 off coupon for a stay at the Great Wolf Lodge when you purchase Alpha and Omega DVD!!!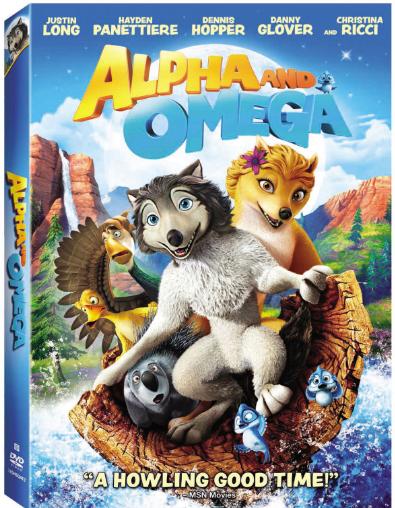 Yep, the coupon is tucked inside of this awesomely fun and cute movie box! Alpha and Omega is a tale of two wolves on their great adventure home. This movie is an all time favorite at The Great Wolf Lodge, wonder why?? 🙂 Me and my family received this movie to review. My kids and I loved this movie! My son would not look away from the t.v. for too long, because he loved watching the wolves! It was so cute. My daughters eyes lit up when the girl wolf would come on, she loved loved loved her! This is a fun movie and is guaranteed to entertain you and  your children.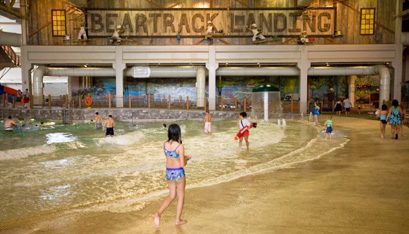 About the Movie:
Two mismatched wolves embark on a cross-country quest to get back home and restore peace in their pack after being relocated thousands of miles away by well-meaning park rangers. Quick-witted Humphrey (voice of Justin Long) likes to frolic with friends and play video games with squirrels; disciplined Kate (voice of Hayden Panettiere) likes to call the shots and hunt caribou. Normally, an omega wolf like Humphrey would never stand a chance with an alpha wolf like Kate, but when they're both transported halfway across the country they must work together to get back to their natural habitat. And it won't be easy either, because the one thing Humphrey and Kate can agree on is that they don't have anything in common. Perhaps by working together toward a common goal, however, the two contentious traveling companions will finally realize that even lone wolves can use a helping paw every once in a while. Christina Ricci, Danny Glover, Dennis Hopper, and Larry Miller also supply voices for the Crest Animation production, helmed by Anthony Bell and Ben Gluck from a script by Chris Denk. Jason Buchanan, Rovi
Features
* Genre: Kids and Family
* Category: Action + Adventure
* Theme: Finding a Way Back Home, Kidnapping, Man's Best Friend
* Release Date: January 11, 2011
* Rating: PG (Parental Guidance Suggested)Rating Opens in New Window – Scary Moments, Scatological Humor, Violence
* Studio: Lionsgate
* Lead Actors: Justin Long, Hayden Panettiere, Dennis Hopper, Danny Glover, Larry Miller
* Supporting Actors: Eric Price, Vicki Lewis, Christina Ricci, Chris Carmack, Brian Donovan, Kevin Sussman, Maya Felteimer, Christine Lakin, Marilyn Tokuda, Eric Lopez, Paul Nakauchi, Bitsie Tulloch, Mela Lee, Nika Futterman, Fred Tatasciore, Mindy Sterling, Steve Vinovich, Marcelo Tubert, Toby Huss, Jason Ortenberg
* Director: Anthony Bell, Benjamin Gluck
* Run Time: 1 hr 28 min
* Format: Blu-ray
So what are you waiting for? Go pick up your copy of Alpha and Omega today and don't forget to get the one that has the Great Wolf Lodge $50 off coupon on your next stay!!!!!
Win It!
One very lucky individual is going to win their own copy of Alpha and Omega with the $50 off Coupon tucked inside for their next stay at The Great Wolf  Lodge!!!!!
How?
Easy! Just let me know this: Have you ever been to the Great Wolf Lodge? If not, WHY???? Tell me in a comment below! Mandatory entry!
Extra Entries!
Follow Lions Gate Ent. on Twitter
Like Alpha and Omega on Facebook
Like The Great Wolf Lodge on Facebook
Follow the Great Wolf Lodge on Twitter
Follow me on Google Friend Connect, see sidebar, let me know you are!!
Follow Shop with Me Mama on Twitter

Like Shop with Me Mama on Facebook
Share this giveaway on Facebook (see share button below this post) can be done once daily!! Let me know your fb name below!
Leave a NEW Comment on a NON giveaway post and let me know which one for 2 extra entries!
Interact on my Facebook Page and let me know you did!
Grab my site button, found in my sidebar, and proudly display it in your sidebar, towards the top if you can! Let me know where I can find it! 2 Extra Entries!
Blog about this giveaway and link back to this post. Let me know the link for 4 extra entries!
*Lots of ways to enter, so use them all! Contest is open to US  and will end on March 31st, 10PM, PST. 1 person will be chosen using random.org to win the Alpha and Omega DVD with a $50 Coupon for the Great Wolf Lodge!!!!! Winner will have only 48 hours to confirm their win or a new person will be chosen. Good luck!*
Disclosure:
I was sent the Alpha and Omega Movie and coupon to review. These are my own honest opinions, thanks!!