*An Open Love Letter To My Kids. This post includes my Amazon Affiliate links.
We all know that when a baby is born, a Mother is born. That is no secret. And, with Mother's Day this Sunday (May 11th), what better time than now, to share with you all a letter I have written for my sweet babies! I really wanted to write this letter to ALL of my kids, as I could not just pick one.
An Open Love Letter To My Kids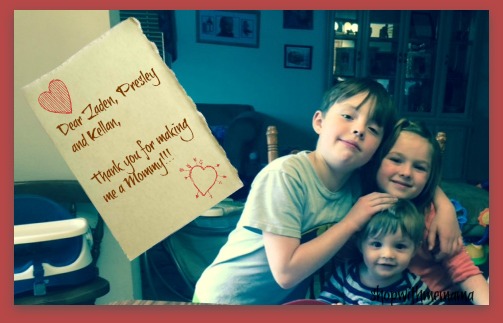 An Open Love Letter To My Kids
Dear Zaden, Presley, and Kellan,
Before you all, I only knew love with your Daddy. Him and I met at such an early age and fell in love quickly and deeply. We married not too long after and we had lots of fun together before you were a glimpse into our eyes.
Luckily, my Mama instincts kicked in and I was soon longing for a little one to cuddle with. When I had you, Zaden, I was so new to this 'Mommy' thing. I had no clue what to do or how to do it! But, I knew one thing, and that was how much love I felt for you. From the moment you were shown to me, I was in complete and utter love with you. I never thought I could love someone so deeply, other than your Daddy! You have brought so much love, laughter, and craziness into our lives and we could not be happier with you!
Not long after I had you, Zaden did me and Daddy want another baby! You made it so fun, we just wanted to add to it all! You were not even two when your little sister was born! In came you, Presley! Your birth was SO easy, laid back and CALM. You were so tiny and 'girly'! That TINY nose of yours was the talk of our family! So cute!! You certainly kept up with your brother and only wanted to do the 'boy' things with him! You cried when I put dresses or bows anywhere near you. Now that you are older, you long to have me paint your little nails and do your hair! You even love wearing girly things, like frilly dresses and you LOVE my makeup! You have brought so much fun and love into our lives! We love you so much and could not imagine our lives without you, sweet Presley!!
About a year later, I wanted another baby! Our last one! I thought it would be easy to get pregnant, but I was mistaken! It took 3.5 years to get pregnant with your brother Kellan! But man, when Kellan came into this world he made it KNOWN! Fast and furious he came! We did not know you, sweet Kellan, were a boy or a girl! I had wanted another boy and I got YOU! Oh, I was soooo happy and sooo in love with you! Another beautiful, precious sweet baby added to our now, completed family! You are sooo funny and have the BEST sense of humor already! You want so badly to be like the older kids and do things with them, yet you are still so tiny so mommy and daddy are with you most of the time! We love you sweet baby boy!
Mommy and daddy love ALL of you wonderful, sweet, caring, brilliant, funny and beautiful kids! We are sooo blessed to have you all in our lives and to watch you grow each and every day. I am thankful for you all and for being able to call myself your mommy! Thank you, sweet babies, thank you for loving me back! Thanks to you three, I now really know what unconditional love is. Thanks to you all, I now appreciate the little things in life more. I know not to disregard a moment with any of you, because in that moment? That is what matters most!!!!
Love,
Mommy
Oh, this felt so good writing and get it 'out there'! Have you ever written your kids a love letter? If you have not, you should! Put it in a memory book and give it to them one day (maybe at graduation?).