*Product was received. Opinions are my own.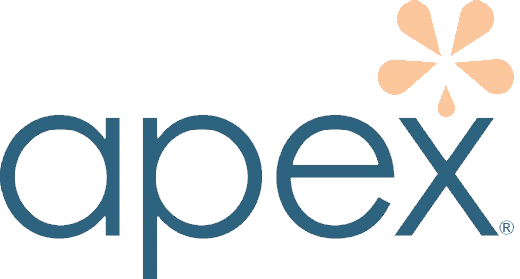 Before I decided to get pregnant and have three beautiful children, I could jump on a trampoline without peeing myself, I could sneeze without peeing myself and I could do lots of things, without peeing myself a bit..
It is not a subject many woman are willing to talk about, but me? I don't care, if there is something I need to improve, fix or something that is irritating me, I WILL talk about it or say something. Talking about the peeing myself when I sneeze, cough, jump etc, is no different!
Trying to give birth to my first probably destroyed my pelvic muscles.. I TRIED to push that boy out for 4.5 HOURS before I told the nurses I think I should have a c-section as this one is NOT coming out on his own. I was so angry that I had to tell the nurses, they should have known LONG before the 4.5 hours I was PUSHING. He was my first baby, so I had NO idea but the nurses DID and should have made a decision. When my boy was born via c-section, he had a HUGE gouge in his head… Yep, I knew my baby was stuck! Mother's intuition….
Anyways, ALL that pushing really did a number on my insides, that is for sure. Then, when I had my daughter (vaginally!!) and that was a fairly easy birth. I only pushed for 2 hours with her. Next came my third child. My water broke at home and I barely had time to get to my room and he was out! Goodness! So, with having three kids, all that pressure on those pelvic muscles really did a doozy on them!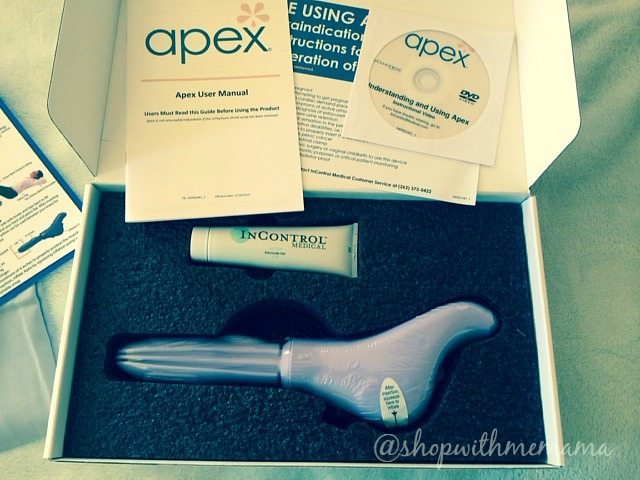 So, along came the Apex device and I had to try it. I had to figure out how to strengthen those worn out pelvic muscles of mine. This device is a lifesaver for my pelvic muscles and I am really excited to start seeing some long-term results with this.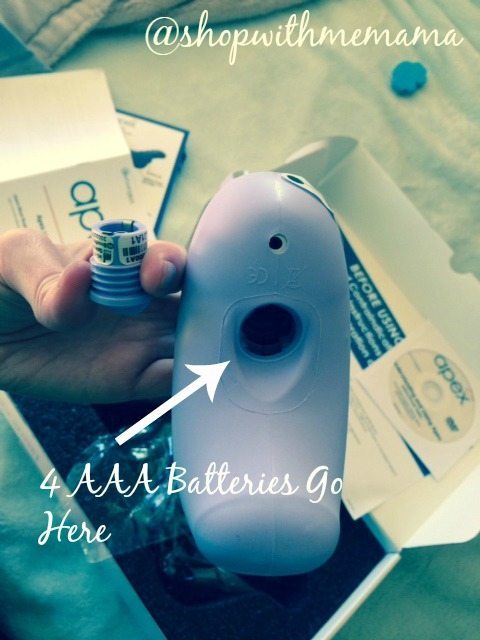 What Is Apex?
Apex is a device to help restore  a woman's pelvic floor muscles.  Hundreds of physicians have recommended the Apex to postpartum patients as treatment to restore their pelvic floor after childbirth. Apex is used in the privacy and comfort of your own home.
Apex uses gentle muscle stimulation to contract and strengthen the muscles of the pelvic floor, restoring your ability to control bladder leakage.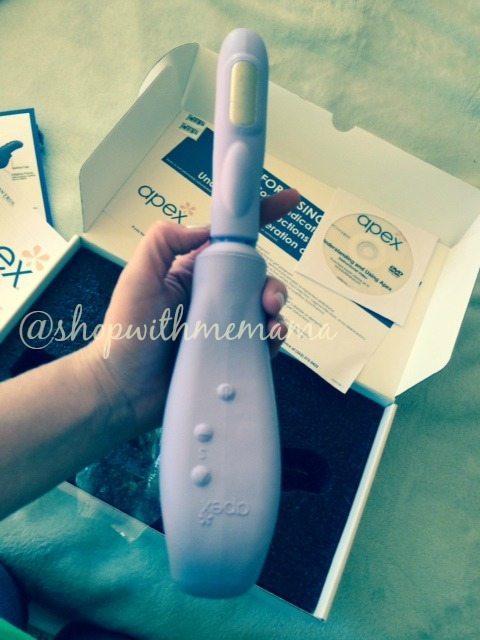 How Do I Use Apex?
First of all, make sure the Apex is clean! Then pop in that handy DVD that came with the Apex and watch it. Also read over the manual to make sure you are doing everything correctly!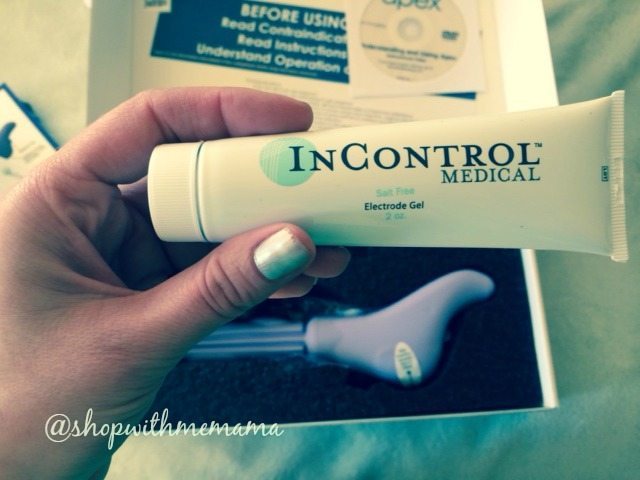 Make sure you install the batteries first. It does require 4 AAA batteries (they are not included). It is pretty easy, really. Kind of like inserting a tampon or if you have ever been pregnant and had a vaginal ultra sound. Put some gel (it comes with this), on each of the stimulation contacts and on the tip of the device. Spread the gel evenly. While Apex is off, insert the probe into your vagina a minimum of 4 inches. This will properly position the muscle stimulation contacts within your vagina to activate your pelvic floor muscles correctly.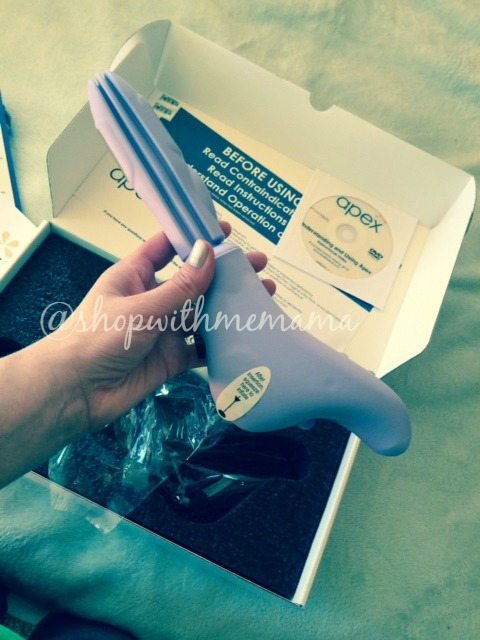 Once this was inserted, I just inflated the Apex by squeezing the inflation pump until the inflatable probe feels comfortably snug. You will know it is in the right place because it will not be uncomfortable.
You can adjust the stimulation by pressing the up/down arrows. I began at level one to make sure it was okay. Then I increased the stimulation until I felt a full muscle contraction. Your pelvic muscles should contract around the probe.
Apex Helps Restore A Woman's Pelvic Floor Muscles
Once you find the level of stimulation you feel most comfortable with, you just relax with Apex as it stimulates your pelvic floor muscles for about 5-10 minutes. The first time I did this I only did 5 minutes, but by the second or third time I did the full 10 minutes.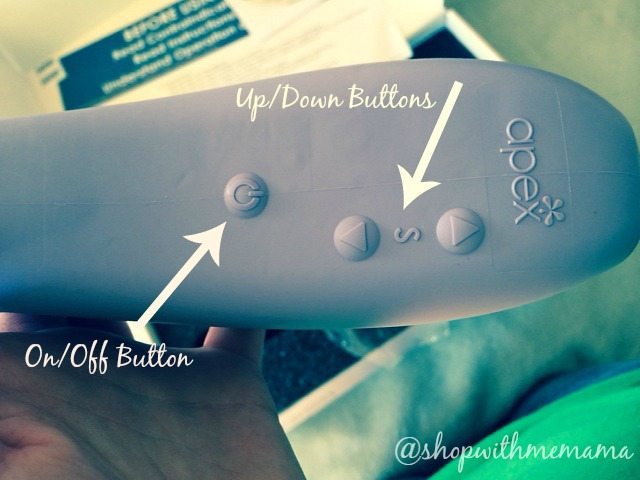 After you are done with the stimulation session, you turn the Apex off and  complete self-directed contractions which means you will contract your pelvic floor muscles on your own and complete a series of three, 3 second short contractions followed by a longer 10 second contraction.
When done with the self-directed contractions you then deflate the Apex by pressing the air release valve. Then you can easily remove the Apex, clean it up and store it away in the handy bag it came with and go about your daily routine!
I usually will use the Apex right before my shower at night or in the morning after I drop the kids off at school. It does take about 30 minutes (give or take) to use the Apex. It does for me anyways, so be sure you set aside some time to use it properly.
I will continue using the Apex until I no longer have leakage. I hope that is soon! My pelvic floor muscles already 'feel' a bit stronger.
I really like the card that comes with the Apex. It has everything you need to know on it. I use this all the time to make sure I am doing everything correctly. I also highly recommend watching the DVD that comes with the Apex.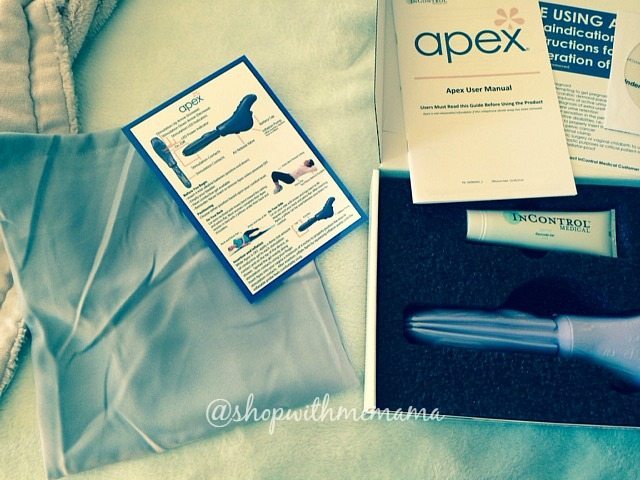 Buy
To learn more about the Apex device, please visit dontpadtheproblem.com. For the next 30 days we will be offering $35 discount plus free shipping (enter code KD2015 at checkout).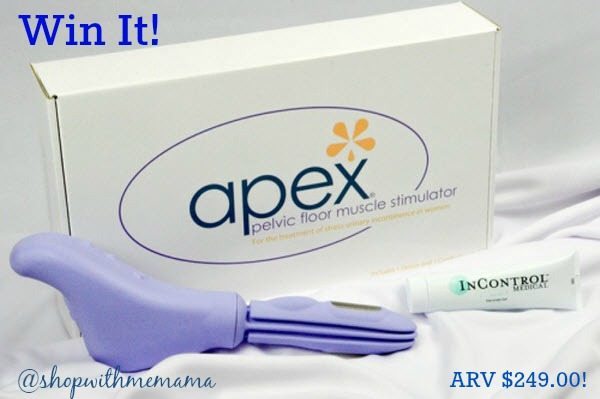 Win
One person is going to win the Apex! Yay!
How?
Easy! Just use the Rafflecopter form below. Good luck to you!
Rules:
Contest is open to US 18+. Giveaway will end on May 7, 2015 at 12 am PST. Winner will have 48 hours to confirm their win, after I email them, or a new winner will be chosen. Sponsor is responsible for sending out prizes. I am not responsible for lost or stolen mail.