I know I am happiest when my home is clean and my laundry is all done! I am more productive and just overall more happier in general. I also love natural products like AspenClean Green Cleaners. My kids suffer from eczema and we all have sensitive skin, so using the AspenClean Eco laundry detergent has been a lifesaver! I do so much laundry during the summer months because the kids are outside more and do more! At the end of the day, their clothes go in the washer with AspenClean Eco laundry detergent!
AspenClean has so many wonderful Eco-friendly cleaners! From laundry detergent pods and dishwasher pods to dish soaps and cleaning kits for your home. They really have it all and it is natural! I love this so much.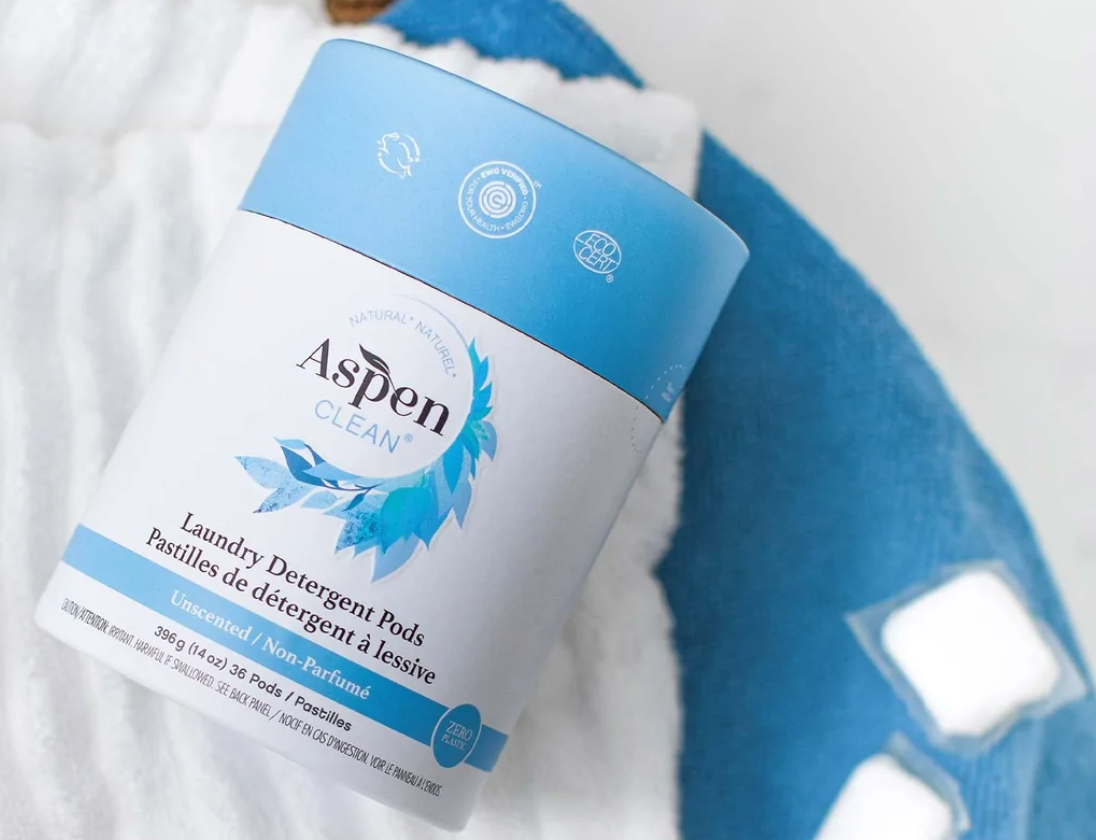 AspenClean Green Cleaners Products
AspenClean is a popular Canadian brand that produces award-winning safe and effective alternatives to chemical-based cleaning products. They now offer their line of plastic-free detergents to Americans through its website: aspenclean.com.
The laundry detergent pods, dishwasher pods, and oxygen bleach powder and stain remover, all with plastic-free packaging, ship anywhere in the United States. AspenClean products are made with only natural and organic ingredients and have won cleaning product awards from Parents and Good Housekeeping magazines!
I received their laundry detergent pods and dishwasher pods to check out and I love them. Not only are they free of harsh chemicals but they clean my laundry and dishes SO well. It sure makes doing laundry and dishes a breeze!
The plastic-free product line includes:
· AspenClean's Unscented Laundry Pods
AspenClean's Unscented Laundry Pods are entirely fragrance-free and carefully formulated with oxygen bleach and enzymes, using no synthetic fragrances, toxins, or irritants. The zero-plastic laundry pods are naturally formulated to remove tough stains, fight odor and fight dirt, grime, and grease but are non-toxic and packaged in a compostable container.
These laundry pods are packaged in a 100% recycled paper package designed for convenience while being conscious of the impact on the environment. The vegan laundry pods are gentle on sensitive skin and won't damage your clothes with harsh chemicals. Remove tough stains and leave your clothes feeling good as new with an eco-friendly laundry pod that is still 100% baby safe, pet safe, and environmentally sustainable. Also available are Eucalyptus Laundry Pods and Lavender Laundry Pods.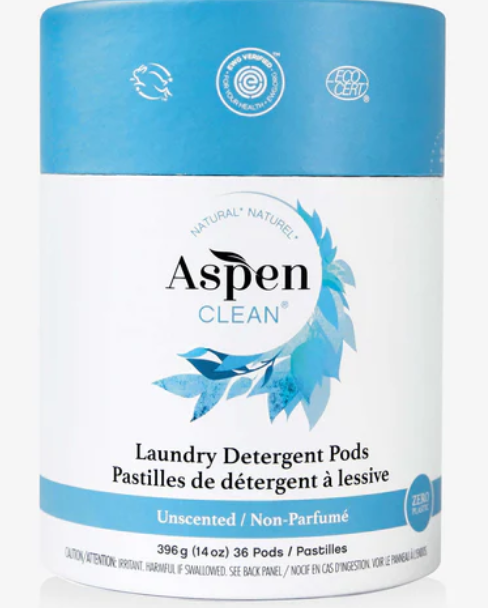 · AspenClean's Unscented Dishwasher Pods
Made of biodegradable, plant-based ingredients that leave your dishes sparkling clean every time, AspenClean's Unscented Dishwasher Pods are packaged in a 100% recycled paper container with no plastic at all, while being fully compostable and safe for your family and the environment. These eco-friendly dishwasher pods remove even the toughest of food stains and eliminate grease without leaving any residue or film on your dishes or glassware in just 1 cycle!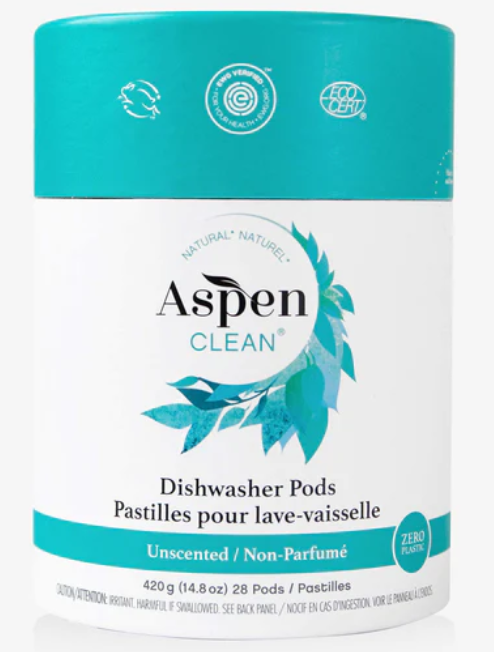 · AspenClean's Oxygen Bleach Powder and Stain Remover
AspenClean's Oxygen Bleach Powder and Stain Remover are made of biodegradable, plant-based ingredients that give your laundry a natural booster to remove tough stains on clothes! The oxygen bleach stain remover will leave your clothes whiter and brighter using the natural power of mineral-based ingredients and enzymes in just 1 wash.
Give your clothes a deep clean by removing those stubborn stains and restoring them back to brand new. Revive those whites and brighten those dull colors! Add the color-safe oxygen bleach powder as a laundry booster or as a stain remover to any load of laundry. AspenClean Oxygen Bleach is suitable for standard and HE laundry machines.
About AspenClean
AspenClean was born out of a parent's journey to find a safe and effective alternative to chemical-based cleaning products. AspenClean offers 100% ingredient transparency and every formula is made without toxic, or even potentially toxic, ingredients. They are cruelty-free, Ecocert® certified, and have received an A-rating from the Environmental Working Group (EWG). All AspenClean products are 100% recyclable, while the company's line of biodegradable, plastic-free products is a big step towards a plastic-free future.
Buy
For more information, please visit https://www.aspenclean.com/. You can also follow AspenClean on Instagram, Facebook, and Twitter!
Win
One person is going to win the AspenClean tub of laundry detergent pods and 1 tub of dishwasher detergent pods! That way, you can try out the AspenClean Green Cleaners Products! Yay!
Rules
The contest is open to US 18+. The giveaway will end on August 14, 2022, at 11:59 PM MT. The winner will have 48 hours to confirm their win after I email them, or a new winner will be chosen. I am not responsible for lost or stolen mail.