There is no reason on this earth, to be rude to others or pick on them. I never understood that, until I grew up a bit. Now, I truly understand the meaning of being nice to others and treating others how you would want to be treated.
October is National Bullying Prevention Month, and to celebrate CustomInk launched its annual Be Good to Each Other bullying prevention campaign, by partnering with Gina Rodriguez, the star of "Jane the Virgin" and 11 other top celebrities and athletes (Rachel Platten, Gracie Gold, Melissa Rauch, Deontay "The Bronze Bomber" Wilder, Wesam Keesh, Quincy Davis, Alyson Stoner, Miles Heizer, Addison Riecke, Aija Mayrock, and Paola Andino)!
Be Good to Each Other campaign aims to unite students and adults in an effort to take a stand against bullying and promote kindness, acceptance, and inclusion within their communities.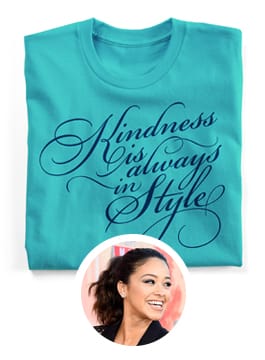 The 12 awesome celebrities designed t-shirts that will be sold for $20 each and 100% of the profits from the sales of bullying prevention t-shirts will benefit PACER's National Bullying Prevention Center in its effort to engage, educate, and unite communities nationwide. I thought this was wonderful!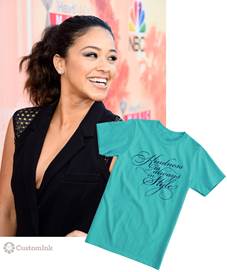 I was so happy to be able to ask Gina Rodriguez, a few questions! Some other bloggers were able to ask her a couple of questions too, about bullying. Thought I would share the questions and answers with you, below!
My Questions and Gina's Answers:
Have you ever been bullied?
· I recently received negative comments on social media for an Instagram post and it really surprised me that I could be judged for something so small. I grew up with Spanish being my second language – my parents didn't want me to be teased for having an accent the way they had been. I didn't realize I'd be criticized for not speaking well enough in Spanish.
If your child was being bullied, how would you handle it?
· I would be calm and supportive and reassure them that it's not their fault, letting them know that we will work through this together. I'd also notify their teacher to figure out the next steps on how to handle the situation.
MomStart

's Questions and Gina's Answers:
Celebrities have been on the receiving end of cruel treatment in the media for a long time. Now that smartphones and social media exist, everyone is in the public eye to a certain degree, opening private individuals up to an unprecedented barrage of criticism from strangers. As a public figure, how do you cope with this, and what advice would you give to young people dealing with this kind of unwanted attention online?
· I've learned that no matter what the situation, someone, somewhere will likely have something negative to say about it. Rather than focusing on the hate, I try to keep things in perspective and surround myself with positive energy and positive people as much as possible. We should be focusing on the good we can bring and on lifting people up rather than bringing them down. I try to stay true to my values – my family is a huge support system for me as well.
· I would tell young people to be confident and embrace the qualities that make them different and unique. Ignore the negative comments and surround yourself with positivity.
MomsLA

's Questions and Gina's Answers:
Since becoming a celebrity, you've experienced online bullying. How do you manage that as an adult? When do you respond? And when do you ignore it?
· I try to ignore the negative comments that are posted on social media. I like to surround myself with positive energy because it's unhealthy to surround yourself with hate. As an adult, it's easier to brush things off and in an industry where you're constantly being judged makes you grow a thick skin.
· As a woman, I want to set a good example for young adults and inspire them to stick up for themselves. There are appropriate ways to do so without using force and through one's words. At the end of the day, I can't control what people say about me but I can inspire and encourage them to be kind and think before they speak spread hurtful messages.

What Can You Do To Help?
Celebrity t-shirts are available for purchase at www.customink.com/stopbullying. You can support this campaign by designing your own custom bullying prevention t-shirts, Ordering PACER's Official 2015 Unity Day t-shirt, or Taking a stand with our celebrity supporters and purchasing a t-shirt they designed! See the link above!
Over the past four years, with the help of all our supporters, CustomInk has donated nearly $120,000 toward bullying prevention efforts! Order your t-shirt today and spread the word!
What Will You Do To Help Stop Bullying?