*Products received. This is only a feature.
If you are looking for unique stocking stuffers for this holiday season, I have a couple of ideas for you! Big Mouth Mask and Blobbits!

Big Mouth Masks allows children and adults the opportunity to become whoever they want to be. They each come prepackaged and come with a mask and papers as well as the 'pump' that you use to make the mouth open and close. I had my kids each color a mask and they are really fun to make and very easy to construct. Just go to the Big Mouth Masks printer page and align what face you want to the face templets. Easy peasy.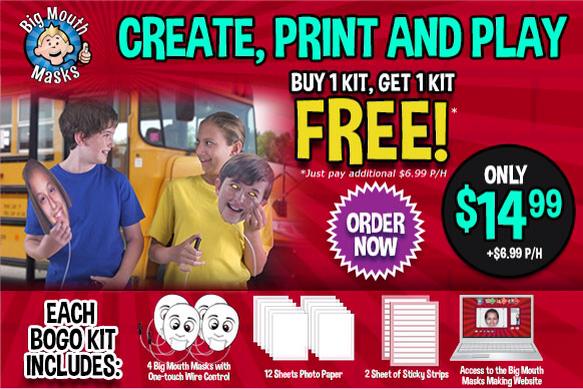 You can also use your own face, your friends face or who ever's face, on the mask. Lots of imagination and fun go into making and using these! Very unique! Oh and these can be pretty creepy too, if you know what I mean!
The Blobbits are totally cool! My kids really loved them. They are a hands-on, creative that is stretchable, glow-in-the-dark, moldable, silicone-based compound that is non-toxic, heat-resistant, and non-allergic.  Blobbits can be formed into any shape and come with body and face attachments to give them personality! My kids had so much fun playing with these! There friends loved them too. These would be perfect to stash away in those stockings for Christmas morning!
Buy
You can purchase the Blobbits online at https://www.blobbits.com/, they retail for $9.99. As for the Big Mouth Masks, I simply cannot find where to buy them….? Their website is not working for me.
What do you think of these products?