*This post includes my affiliate links
We love using our BlendJet 2 to create the most yummiest and delicious BlendJet recipes! I recently was sent one of these awesome mini blenders and their new Orbiter drinking lid from BlendJet!
After my food is done being blended, I can easily put the new BlendJet lid onto my blendjet and drink right from it! With this new resealable drinking lid, you can whip up your favorite sippers and smoothies on the go and drink them directly out of the BlendJet 2! How insanely easy and convenient is that???
BlendJet Recipes are the perfect way to enjoy healthy and delicious thick smoothies, shakes, and other treats on the go. Whether you're heading to work, hitting the gym, or simply running errands, a BlendJet portable blender can help you stay on track with your health and wellness goals.
This portable blender makes it easy to whip up a quick and nutritious meal or snack, no matter where you are. From classic fruit smoothies to green juices and protein-packed shakes, you can make anything in this high speed blender!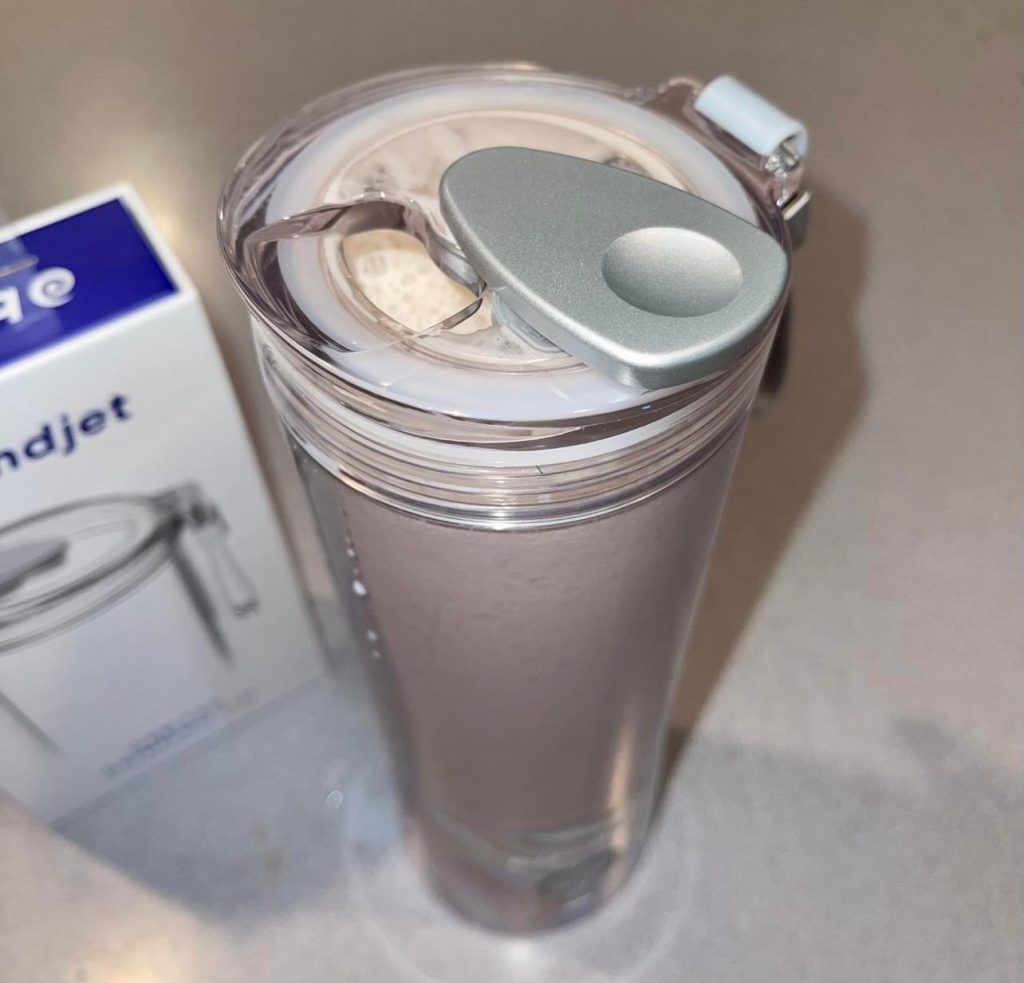 What Is The BlendJet 2???
With over a million sold, the BlendJet 2 lets people make healthy sips, smoothies, shakes, and snacks anywhere and no power plugs are needed. I can achieve 15+ blends after charging for just one hour using any USB port.
The BlendJet 2, my trusty portable blender, comes with a water-resistant USB-C port, simplifying the charging process like never before. Additionally, the included cable is intelligently reversible, ensuring that there's no incorrect way to plug it in. The BlendJet 2 holds 33% more than the original BlendJet!
The BlendJet 2 portable blender comes in 34 different colors and prints. I have the camo one (in black) and the Geode color one with the Orbiter drinking lid from BlendJet!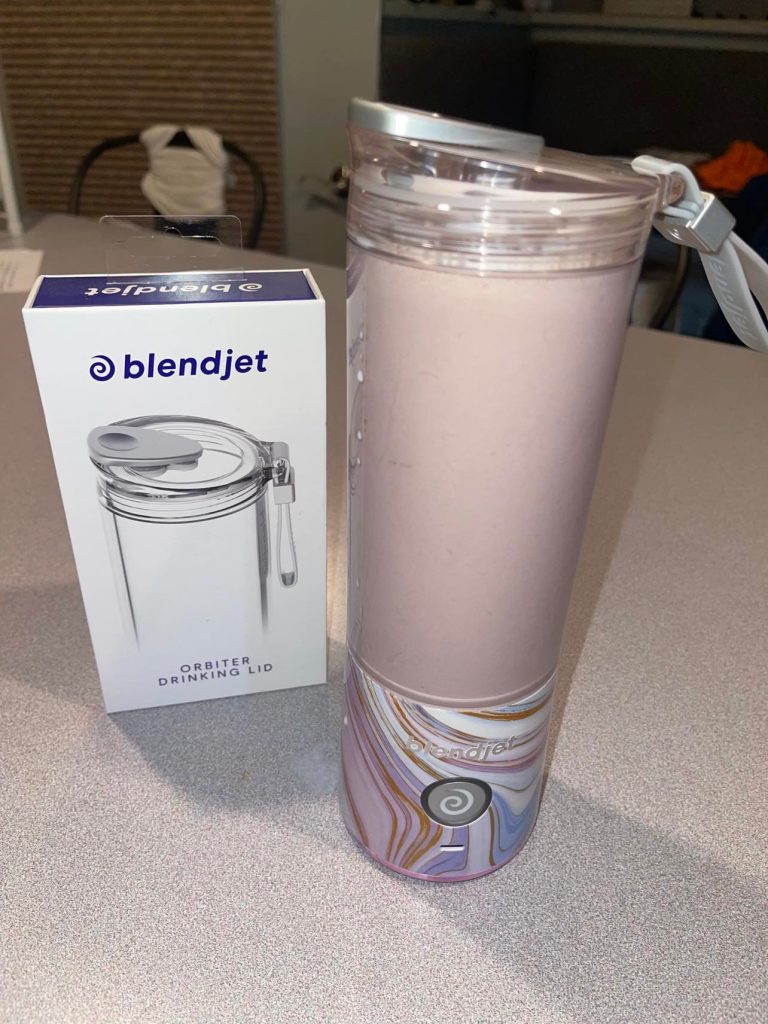 With this little powerful blender, you have the freedom of being able to go anywhere and blend your favorite smoothies, shakes, margaritas, frappés, or baby food without the limitations of a regular blender.
This portable blender also transforms into a powerful food processor that pulverizes veggies, fruits, nuts, and more. You can pulse your way to tasty guacamole, pesto, salsa, and hummus in mere seconds!
Traditional blenders rely solely on their blades for blending purposes, but a revolutionary method has been introduced, rendering all other blenders outdated.
The inventors have unveiled their secret weapon in the form of BlendJet 2, equipped with stainless steel blades strategically positioned away from the center of the base.
This ingenious design creates a whirlwind effect, propelling ingredients into the back of the jar an astounding 275 times per second, leading to significantly enhanced blending outcomes.
By incorporating this cutting-edge technology, along with a more robust motor and doubled battery capacity, BlendJet 2 has become five times more powerful than its predecessor, BlendJet One!
Since I am absolutely enjoying and getting a lot of use out of my little powerful blender, I wanted to share with you all some easy and simply delish recipes I have been making in it!
Summertime is all about taking it easy and creating easy meals, right? Well, this little high-speed blender is a great way to make your smoothies, smoothie bowl, or whatever, quickly!
BlendJet Recipes: 10 Delicious Smoothies You Need to Try Now!
Here are some of our favorite BlendJet smoothie recipes:
If you are looking for a delicious BlendJet smoothie recipe, check out my favorite smoothie recipes below!
*Berry Blast Strawberry Smoothie:
This creamy fruit smoothie is packed with antioxidants and vitamins, thanks to a blend of mixed berries and lots of strawberries. Simply blend together a half cup of strawberries (or MORE!), a half cup of blueberries, and a half cup of almond milk (or soy milk) for a smooth, creamy, and delicious drink.
Your favorite childhood sandwich turned into a smoothie in a snap with BlendJet? Click that link and grab the recipe! Don't forget the ice cubes! And, don't forget to fill up that ice cube tray again for next time! Such a creamy smoothie that is just the perfect amount of sweetness, if you have a sweet tooth!
We're totally jacked about this Mango Jackfruit Smoothie made in the BlendJet! This is the best way to wake up in the morning!
This is a BlendJet Recipe that you will cherry-ish forever. This makes a great workout smoothie!
*Chocolate Peanut Butter Smoothie:
If you're in the mood for something sweet and indulgent, this easy smoothie is sure to hit the spot. Simply blend together a half cup of almond milk, a half cup of frozen banana, a tablespoon of peanut butter, and a tablespoon of cocoa powder for a rich and creamy treat. This tastes like a chocolate milkshake to me. I also like to add some chia seeds! So yum!
*Tropical Paradise Smoothie:
This smoothie is like a vacation in a glass, thanks to a blend of tropical fruits. Simply blend together a half cup of pineapple, a half cup of mango, a half cup of coconut water or coconut milk (or milk of choice!), and a handful of ice for a refreshing and delicious drink. You can also add a bit of Greek yogurt to this delish smoothie!
If you want a tasty and healthy way to energize yourself for the day, you should definitely try our Blackberry Smoothie. It's made with blackberries, which are packed with antioxidants and vitamins that are really good for you.
*Vanilla Dragon Fruit Protein Smoothie:
We're letting the love drag on this month with the help of this Vanilla Dragon Fruit Protein Powder Smoothie! Let's face it, everybody needs a pink smoothie in their life. This is the perfect protein shake to make each day!
This Pink Pomegranate Smoothie featuring Oatly Milk is da POM! You've gotta try making this in your BlendJet and let us know what you think! Simple ingredients for a simple summertime smoothie, ahhhhh!
Jumping into a new month can be hard after a strenuous 30 days, but this Detox Smoothie recipe will get you out of any lingering funks and detox your body the right way!
For more healthy smoothie recipes, visit the BlendJet site! They have SO many creamy shake recipes for all you smoothie lovers out there! These are simple ways you can stay healthy and eat the right stuff!
Here are some easy Blendjet recipes I have been having fun creating:
Below are more of my favorite BlendJet recipes!
*Chocolate Peanut Butter Banana Bark:
I LOVE this one! It is so good! There's nothing better than dark chocolate…. Especially chocolate-covered bananas! This is the perfect treat to enjoy after a long day.
This is a gorgeous Dragon Fruit Breakfast Parfait that's almost too pretty to eat and tastes amazing!
This is a colorful and satisfying healthy breakfast bowl to kickstart your day— and it only takes 5 minutes with the BlendJet2! This can easily be a meal replacement smoothie bowl! Add fresh fruit on the top and you are good to go! YUM!
A classic breakfast bagel made easy and healthy with your BlendJet2 and a handful of spinach! So dang good and healthy too!
Channel your inner baker and whip up these Blueberry Oat Muffins which are a great option for the perfect breakfast!
You can find more BlendJet recipes on their site here! SO many good ones to choose from! Above, are my favorites! Can't wait to try more!
FREE EXPRESS SHIPPING! YAY!
Enjoy free express shipping at BlendJet.com!
Do you have a BlendJet 2? If so, what recipes and smoothies do you enjoy making in it? Let me know in the comments below!

---
PIN IT