Breast Milk And Banana Popsicles! Got your attention? Well, it has been super hot here in the Pacific Northwest lately, so what better way to keep cool than with a popsicle!! These are also wonderful for a teething fussy baby! I swear his face/lips are not frostbitten, lol. It is just the picture, promise!
Summertime (or anytime!) is the perfect time to make some delicious treats like popsicles, for your little ones! And since breast milk is a great source of nutrients, why not make some homemade breast milk popsicles? All you need is some bananas and breast milk, and you can add any other ingredients your little one likes. If you are a breastfeeding mama, I highly recommend making these for your littles!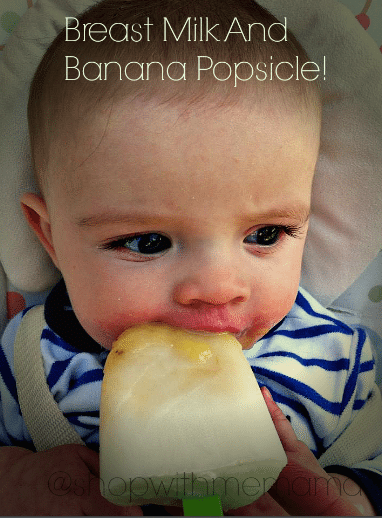 How on earth do I keep the little one cool though? With Breast milk and banana popsicles, of course!! And oh boy did he LOVE them!!! These are SO healthy for your little one/s!!
Sitting poolside (kiddie poolside that is..) and watching my other kids play, the baby ate this popsicle up in no time flat!! Cute little messy face and clothes to prove he enjoyed this special 'mommy milk' treat!!!
I think next time I will add other kinds of mashed-up fruits and possibly veggies too! The possibilities are endless 😉
Breast Milk And Banana Popsicles! Yum!
A delicious and healthy treat for babies!
Author: Kim Delatorre
Recipe type: Treat For Babies
Serves: 2
Ingredients
5 ounces of freshly pumped breast milk
½ banana, sliced
Steps
Pump 5 ounces of breastmilk
put in bowl
slice up ½ banana
mix breast milk and banana
pour into popsicle molds
Freeze for about 2 hours
Enjoy!
So, if you are looking for a fun and easy way to beat the heat, or want something special to help soothe your teething baby, give these breastfeeding mama-approved banana popsicles a try! Have you ever made these before? What is your favorite popsicle recipe?