*Deeno-saur Smart Children's Electric Toothbrush was received.
Do you have little ones that are ages 3 and up who are having a difficult time brushing their teeth? Even with the help of a parent or caregiver, brushing teeth can be difficult when your little one is not cooperating! Been there, done that! Not fun for either one of us!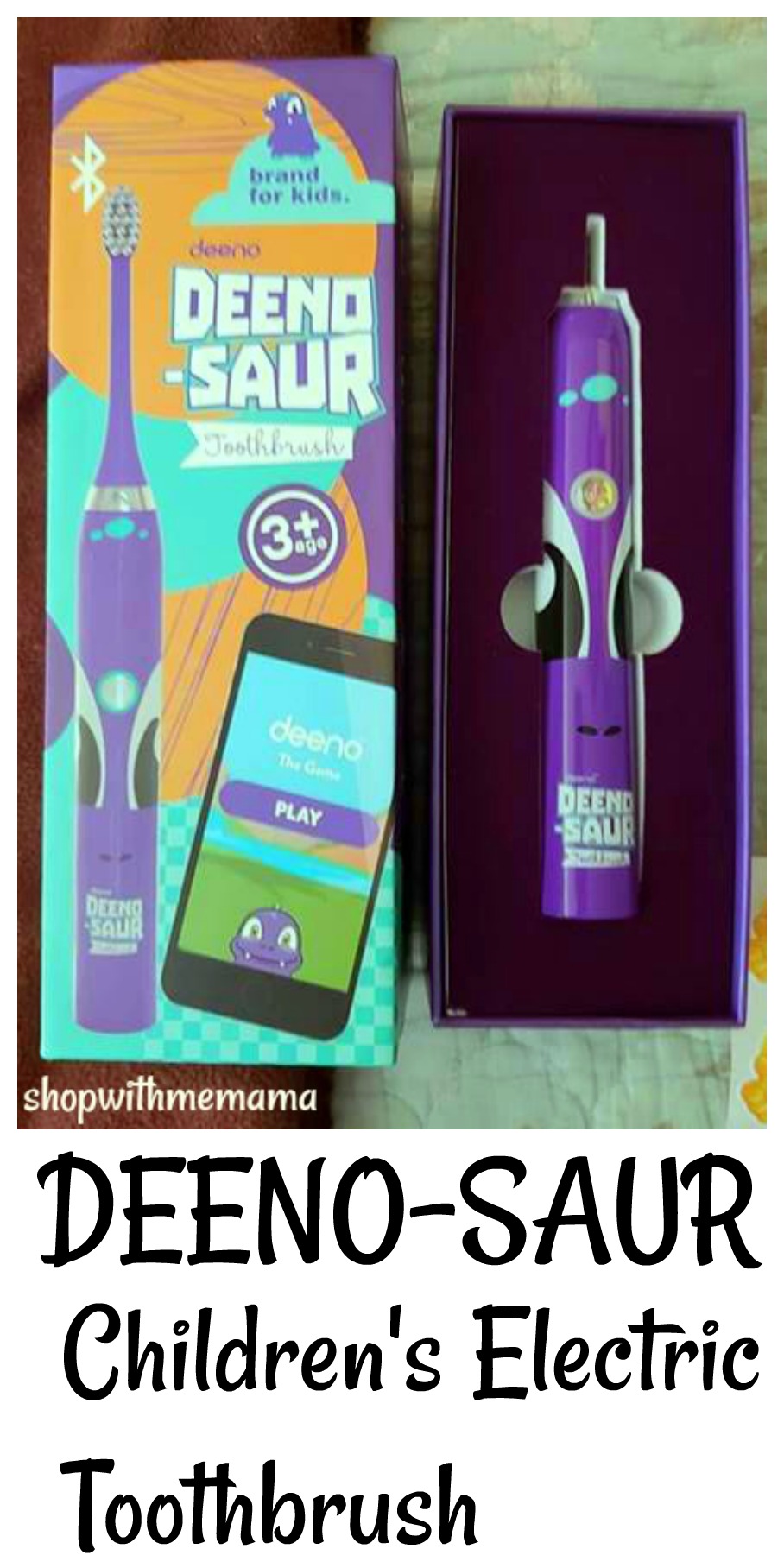 That is where the brand spanking new Deeno-saur Smart Children's Electric Toothbrush with App, comes into play! For real, this smart children's electric toothbrush with an app is soooooo neat!
Deeno-saur Smart Children's Electric Toothbrush with App
Deeno is the latest in Smart Bluetooth Technology connecting the high performing rechargeable toothbrush to the Deeno App. And, it is fun!! This seriously makes my 5-year-old WANT to brush his teeth TWICE a day!!! I am one happy mama!!
The Deeno-saur kids Bluetooth connected rechargeable electric toothbrush, uses gamification to teach kids to brush their teeth properly and improve dental hygiene. Now your child will want to brush their teeth because they think it is a game 😉

The Deeno-saur Smart Electric Toothbrush Connected to the Deeno App, provides an analytical platform for parents and fully integrated gamification for the kids, rewarding them for effective brushing habits. The electric toothbrush featuring fun games is a win!
It is an incredibly fun and effective way to get children to look after their teeth properly and develop good habits from a young age for life. Your kids will now fall in love with brushing their teeth! Plus, kids brush better when there are incentives!
Plus, with the coins they have earned via the app, they are able to Feed, Clean, dress, and play with their virtual pet Deeno! This keeps your child engaged by unlocking new features and games (on the app), after successfully maintaining their teeth brushing behavior.
Deeno utilizes a special electric toothbrush that connects to your smartphone via Bluetooth. Set on the app the optimal daily brushing goals for your kid. Then, sit back and watch as the targets are achieved. Each time the child brushes their teeth at the pre-programmed times, they win coins to use on the Deeno mini-games.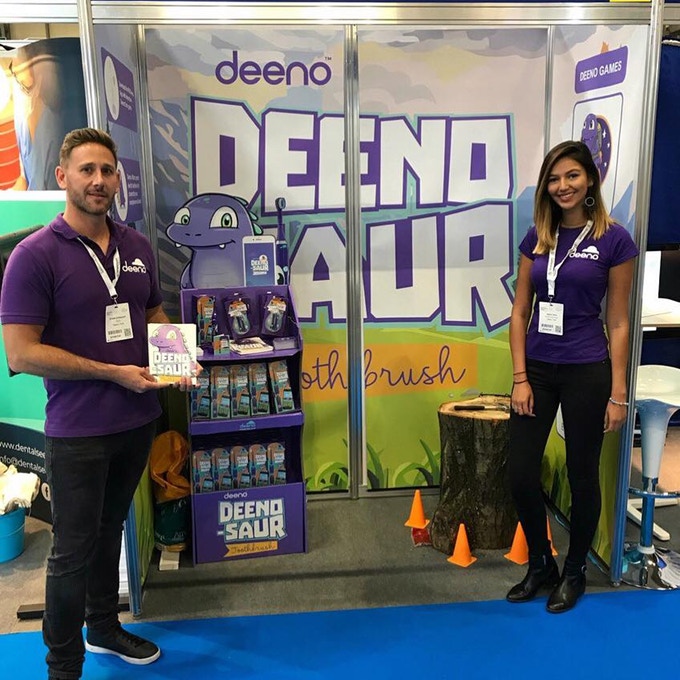 There are 3 games inside the Deeno App; Flying Deeno, Basket Deeno, and Lumberjack Deeno! All three games are a lot of fun to play, just ask my 5-year-old!
Why Is Brushing So Important?
We all know WHY it is so important to brush and floss our teeth, but kids do not. That is why it is up to us parents and caregivers to instill these healthy habits, early on! Tooth decay is no joke and can be so costly too!
Did you know that 1 in 4 children will have tooth decay when they start school? Each child with tooth decay will have on average 3 to 4 affected teeth! Nip that in the bud early on and never have to worry about it later on!
Our Thoughts About The Deeno-saur Smart Children's Electric Toothbrush with App
This came in a really cute (actually, quite adorable!) purple box. The box is sturdy and you can keep it in your cupboard to store some of your Deeno-saur smart children's electric toothbrush accessories in if you wish. That is what we do.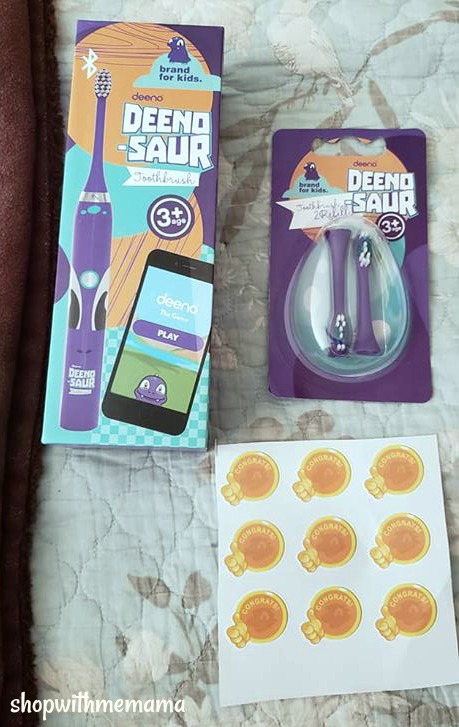 Once the box is opened, you will see your new Deeno-saur children's electric toothbrush nestled inside with some accessories too!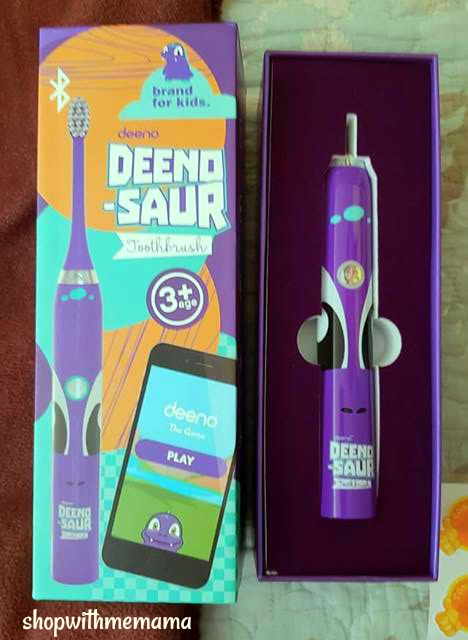 My little guy was SO excited to open this purple box up and grab out his new children's electric toothbrush! And, I was excited to see him excited!!! This is a wonderful rechargeable electric toothbrush for little kids!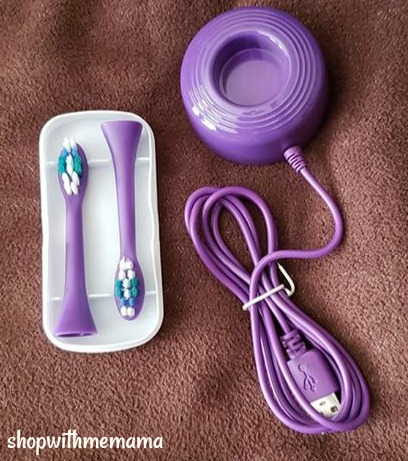 My little guy loved how Deeno looked and really thought his bulging eyes and cute character were funny! We took everything out of the box and read the directions on how to set everything up. We fully charged the Deeno-saur electric toothbrush before using it.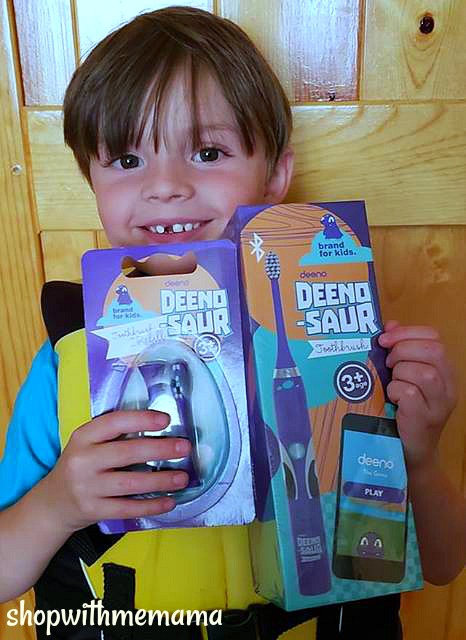 While we were waiting for the electric toothbrush to charge, we downloaded the Deeno App and got ourselves familiar with it and set up my 5-year-old account.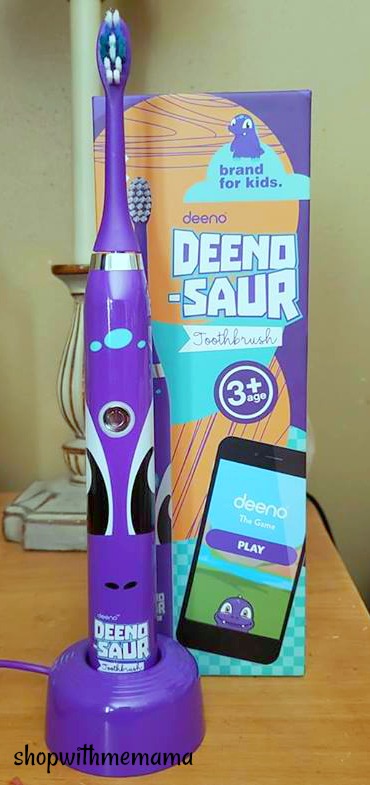 After the Deeno electric children's toothbrush was fully charged, we were ready to brush those teeth! The Deeno-saur toothbrush paired with the fun, educational app, is a lot of fun for my little guy! I also like that it comes with 2 replacement toothbrush heads.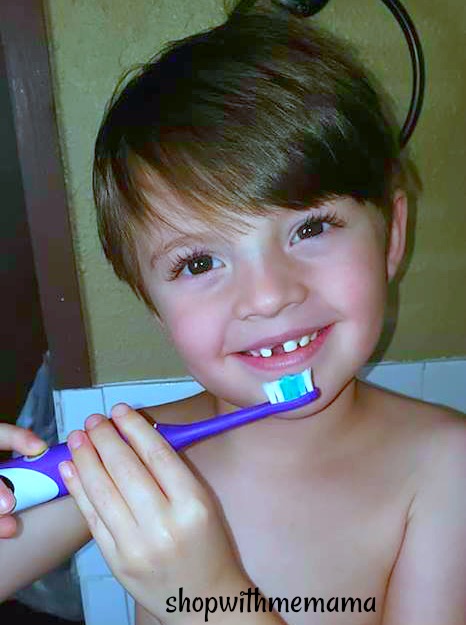 Brushing his teeth has never been so fun (and easy!) to do. No more crying or fighting me to brush his teeth each day. There are way more happy smiles then frowns nowadays when it comes to brushing my youngest's teeth! That is a HUGE win for us!
Features
*Two Minute timer
* 30-second quadpacer
*3 cleaning modes
*Extra soft bristles so no owies in the mouth
*Dual charging
*Universal voltage
*Inductive charging dock
*Bluetooth smart
*Sonic brushing technology
*Kid-friendly design
*Free App
*Kids can earn rewards for brushing their teeth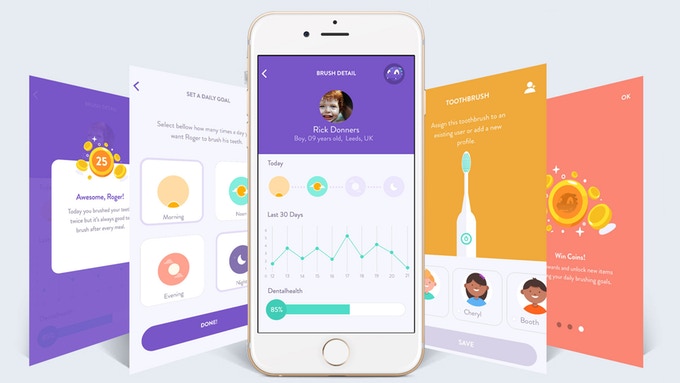 About The Deeno App
The Deeno APP allows parents to register more than one toothbrush, in other words, up to 6 children in one family children can have their own profiles and pet Deeno-saur!
Parents just need to define the brushing targets for each kid and follow the evolution and improvement in their children's' daily brushing via the App leaderboard. Easy! You can download the Deeno App for free, here! It is on Google Play and Apple Store.
How Does The Deeno-saur electric children's toothbrush compare to other toothbrushes?
Take a peek at the picture below!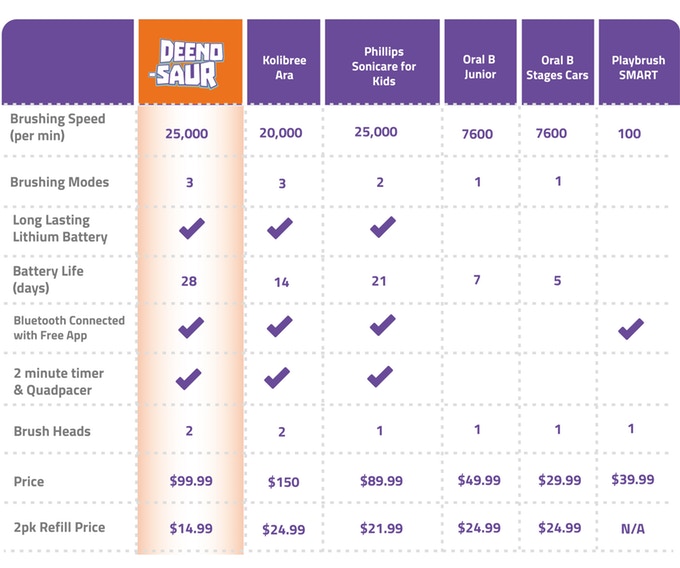 Get The Deeno & Save 65% Off Retail!!
Right now, Deeno needs YOU! Deeno is committed to the vision of improving oral hygiene among our younger generation and making brushing teeth FUN! However, to do this they need your help.
Please support their campaign on Kickstarter to enable them to raise the cash for the initial set up, and to be able to manufacture the deeno-saur products to come off the factory line and into your hands ahead of anyone else!
Support Deeno today and let your kids be the first to experience this amazing product. They are offering it at a much-discounted price versus suggested retail at $35 (Super Early Bird)… Think Christmas presents for your smaller kiddos! Grab your early bird special here!