I have certainly tried my fair share of toothbrushes! From electric and ultrasonic to regular, manual toothbrushes. I have literally tried them all! I love the ultrasonic ones because they tend to REALLY clean my teeth nicely. An awesome ultrasonic toothbrush I tried out recently is the CariPRO Toothbrush from Smile Brilliant! So, below, you will find my thorough CariPRO Toothbrush Review!
It always helps to read reviews before purchasing a product. That is why I really wanted to get down to the nitty-gritty on the CariPRO Toothbrush. I want my review to help you decide if this is the right toothbrush for you!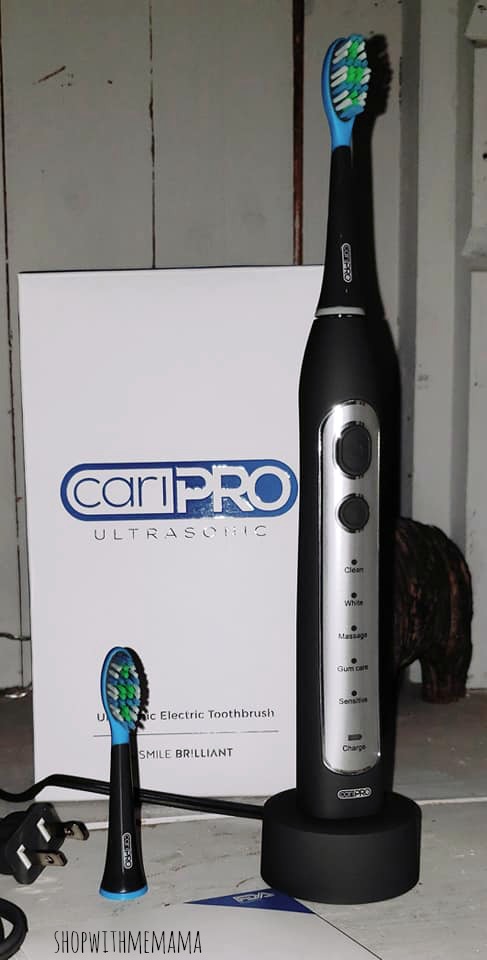 CariPRO Toothbrush Review
What sets the CariPRO Electric Toothbrush apart from the others? For me, that was a simple question! This toothbrush is more aggressive and gets into places that my other toothbrushes could not. When I use this toothbrush, it is timed perfectly for me.
I start the brush (choose which function I want) and then I start brushing. It will let me know when I need to move on to the next section! Love this! Because I know that I am brushing the length of time I need to be brushing and not longer or stopping too soon (which I tend to do!).
This ultrasonic electric toothbrush has better features and a much better value than other electric toothbrushes on the market. I love that it is rechargeable. Every toothbrush needs to be rechargeable in my opinion! When not in use, I just keep it on the charger. It is nice to look at and looks great on my countertop. Plus, it has a 30-day battery life (on a full charge)!
Reasons To Try CariPRO Toothbrush: My CariPRO Toothbrush Review
CariPRO Toothbrush Review: I have three reasons why you should try the CariPRO Ultrasonic Electric Toothbrush by Smile Brilliant! See below!
Your mouth will feel fresher and be healthier! Since using the CariPRO rechargeable electric toothbrush, my mouth has felt cleaner and my teeth feel smoother. Usually, around noon, my mouth starts to feel yucky again, but since using this toothbrush, my mouth doesn't feel like that anymore. This rechargeable electric toothbrush is said to remove 7x more plaque than a manual toothbrush and improve gum health in as little as 2 weeks! I believe it!
Your teeth will be whiter! So far, I have noticed my teeth gleaming a bit more then they have in the past. My teeth are a little whiter and I am loving this toothbrush because of this! My teeth are SO clean! Daily brushing with your cariPRO™ will remove more surface stains from everyday food and drink, giving you a noticeably brighter smile.
No risk & high reward. You're getting the best electronic toothbrush for half the price…and shipping is free. If you don't love it after 60 days, return it for free. What toothbrush offers that?

Features of the CariPRO Toothbrush
Of course, I have to add the features to my CariPRO Toothbrush Review! I love talking about features on something I have reviewed and this toothbrush has some great ones! This toothbrush has 5 modes to choose from when brushing and is waterproof!
*Clean. Press this button after you press the power button to get your teeth super clean!
*White. I use this mode after I clean my teeth with the 'clean' mode. This is a bit faster vibration and really scrubs your teeth good so that the stains come right off and leave your teeth super smooth and white! It really polishes your teeth! Beats using those teeth whitening strips!
*Massage. When using this mode, it will offer gentle stimulation vibrations to help massage and care for your gums, safely.
*Gum Care. This is a gentler mode and safely and gently cleans your gums with a timed pulse. This is great for your gums & gumline to keep them healthy and clean.
*Sensitive. This is a great mode to use if you are suffering from sensitive gums and teeth. It gently cleans your teeth and gums with a lower vibration. This mode is ideal for sensitive teeth.
Performance
This electric ultrasonic toothbrush can really clean your teeth, gums, and mouth in no time!
*Brushing Action: 40,000 vibrations/minute (VPM)
*Auto-Timer: 2-minute routine timer
Interval Timer: 30-second quadrant timer
Choose Your CariPRO Electric Toothbrush
The CariPRO Electric Toothbrush comes three ways!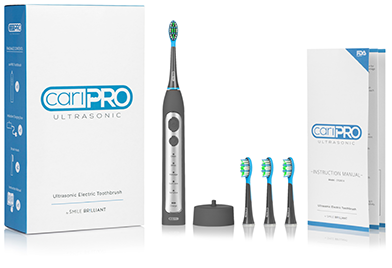 Deluxe Package:
x1 cariPRO™ Ultrasonic toothbrush
x4 premium replacement heads with tongue scraper & DuPont™ bristles
x1 wireless charging dock
2 year limited warranty
60-day trial
Retails for $129 (compared to $250)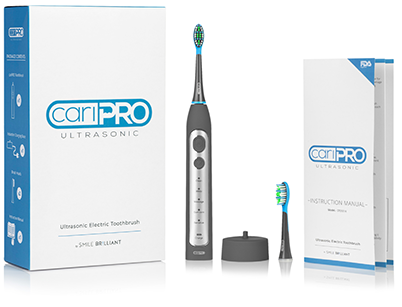 Individual Package:
x1 cariPRO™ Ultrasonic toothbrush
x2 premium replacement heads with tongue scraper & DuPont™ bristles
x1 wireless charging dock
2 year limited warranty
60-day trial
Retails for $119 (compared to $220)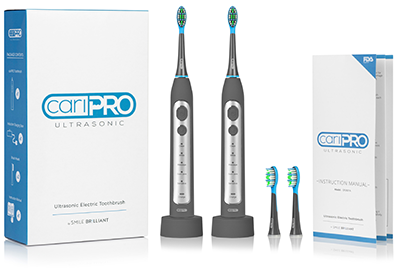 Couples Package:
x2 cariPRO™ Ultrasonic toothbrush
x4 premium replacement heads with tongue scraper & DuPont™ bristles
x2 wireless charging dock
2 year limited warranty
60-day trial
Retails for $199 (compared to $440)
I Am So Pleased! CariPRO Toothbrush Review!
I am very happy, so far, with my CariPRO Ultrasonic Toothbrush! I have been using it for about a week or maybe a bit more and I use it twice a day. It cleans my mouth and teeth better than any toothbrush I have ever used, hands down. My mouth seems to stay cleaner, for longer. Meaning, my teeth don't feel like they are wearing tiny sweaters by 9 pm. My teeth are smooth all day long and I love that!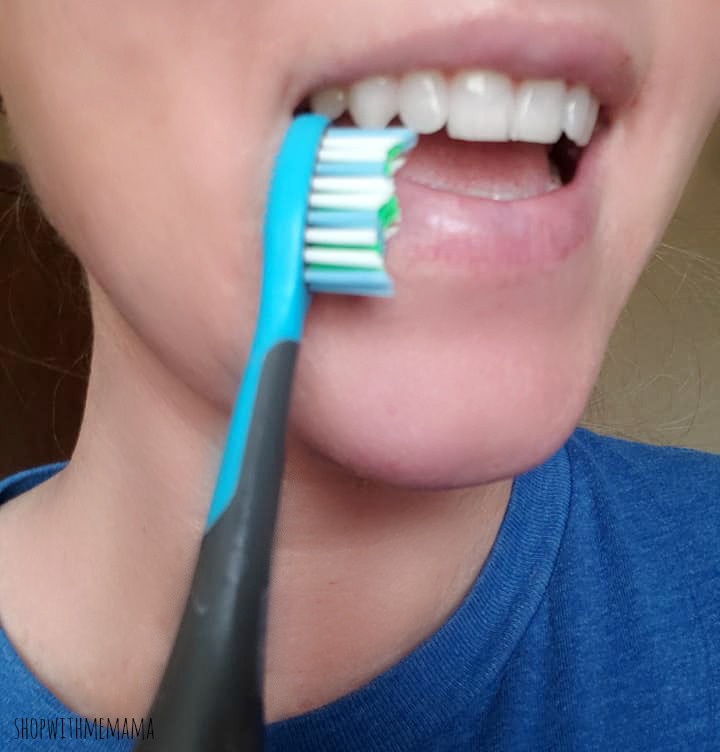 Since my teeth are so much smoother feeling, I am also noticing my teeth being more white. I am not a fan of the whitening strips I have used in the past and my teeth get so sensitive after using whitening strips (would LOVE to try out Smile Brilliant's whitening system!), so, being able to just brush my teeth and have them become whiter is a blessing for me.
My last toothbrush was the Philips Sonicare toothbrush. Comparing the CariPRO to the Philips Sonicare, I like the CariPRO the best. It just cleans better in my opinion.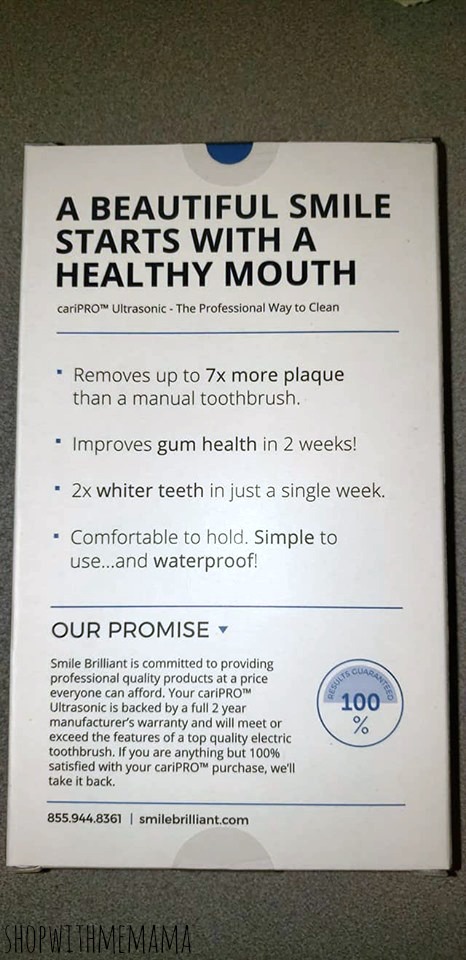 60 Day Trial And 2-Year Warranty!
Smile Brilliant is committed to providing professional quality oral care products at a price everyone can afford. The cariPRO™ Ultrasonic is backed by a 2-year limited manufacturer's warranty and will meet or exceed the features of any top quality electric toothbrush. If you are anything but 100% satisfied with your cariPRO™ purchase, they will take it back!
Coupon Code!
Get 20% off CariPRO Ultrasonic electric toothbrushes! Just use the coupon code: shopwithmemama20 at checkout!
Ready To Shop?
If you are considering an electric toothbrush or are in the market for a replacement toothbrush, you should consider the CariPRO Toothbrush! It is everything and more that you will ever need in a toothbrush, promise! Grab your electric toothbrush here! Read the FAQ's to answer any more questions you may have.
Smile Brilliant ships all over the world! We have customers in over 90 countries and are very familiar with international shipments, customs, and duties. The cost to ship your cariPRO™ electric toothbrush anywhere in the world is free! (unless an alternate shipping method is requested).