* DIY Holiday Treat Jar For Your Dog. This post is sponsored.
Hey now! If you have a canine in the family (and most people do!), then you certainly cannot leave them out of the holiday festivities!! Don't you dare! They deserve more than that! After all, they ARE a part of the family too and the holidays are all about that family 😉
Dogs are so sweet and loving and have so much love to offer their family's, all the time. So, they should be receiving a treat or two for the holidays!
My mother-in-law raises gorgeous little pugs and I really wanted to do something for those little guys and gals! So, I browsed the Big Heart Pet Brands Treat The Pups DIY Pinboard for some inspiration.
Maybe I was overly inspired, because I had a hard time picking just ONE, to make! But finally, I chose to make a cute treat jar for the pups!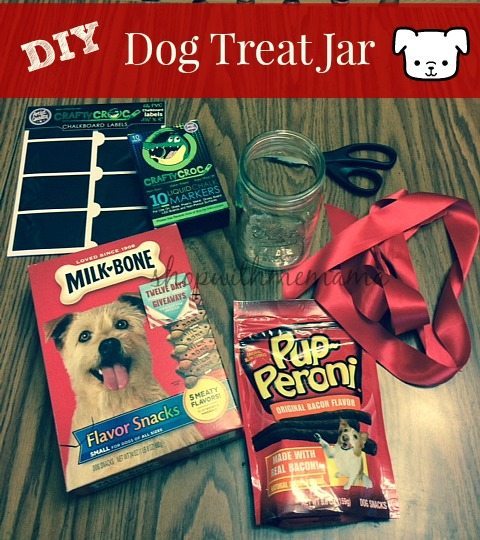 Now, of course, I had to add my own touches to the "Howliday Treat Jar" I saw on the Big Heart Pet Brands DIY Pinboard. I always like to make each craft 'my own'. So, I grabbed a glass jar (without a lid) and my supplies and went to work!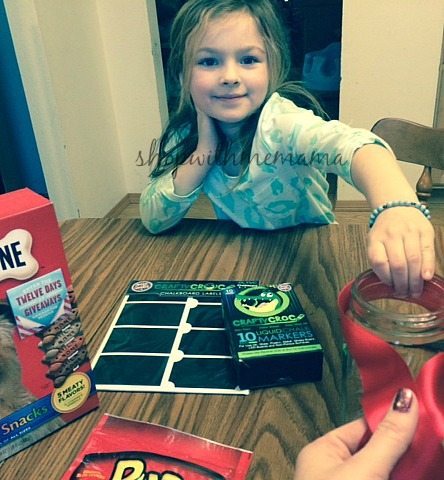 First, I tied a red, satin ribbon around the opening of the jar. Next, I carefully started filling the jar with the Milk Bones, then layered the Milk Bones with the Pup-Peroni Treats (I cut them in half to make them fit nicely!) and then layered the Milk Bone on top and then the Pup-Peroni Treats until it reached the top of the jar, kind of 'overflowing' it.
Next, I grabbed my chalk board pens and chalkboard labels and created a really cute and festive label to put onto the glass jar. I understand canines cannot read, but it was a nice touch that I am sure they appreciate, regardless of being able to read or not…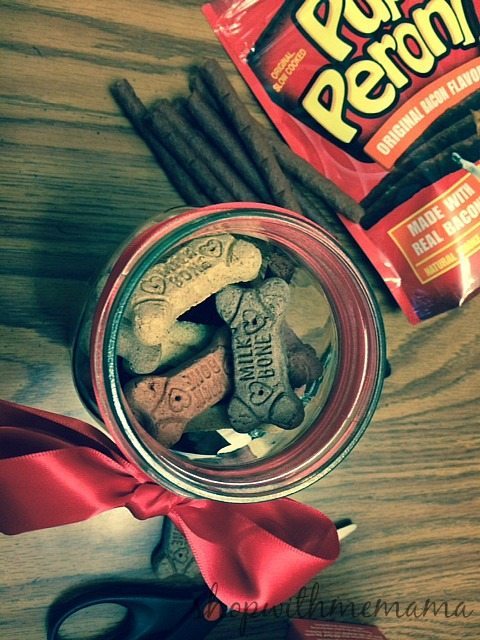 I finished off this project, by adding a Milk Bone and Pup-Peroni Treat (which was cut in half), to the satin red ribbon. I thought it added a nice touch!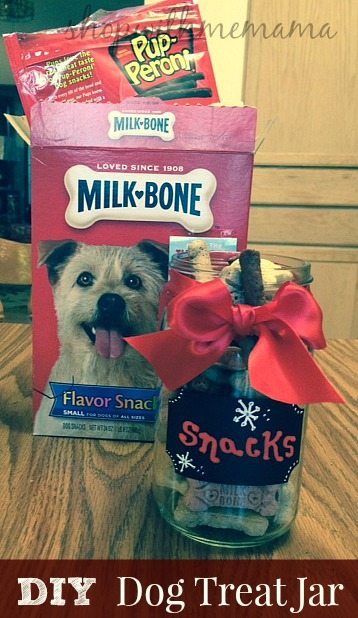 And guess what? Hope the little sausage looking pug absolutely LOVED her DIY Holiday Treat Jar!! She could not wait to get to those delicious morsels and nibble them away! She is one happy little pug!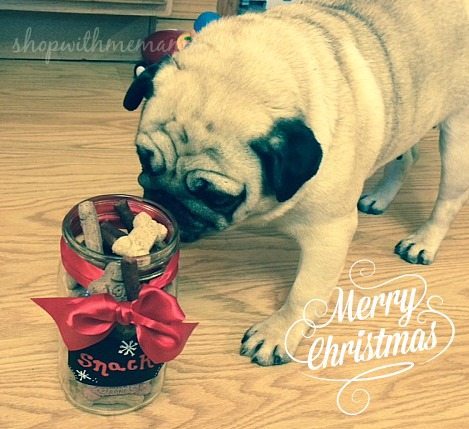 I encourage you all if you have a dog/s OR are looking for your first family dog, to get in the spirit of giving, and make a crafty treat for them. Why not? Why would they not deserve something, too? If you are still wondering if you SHOULD do something for your pets, go look into their eyes right now… That will get you going! Promise 😉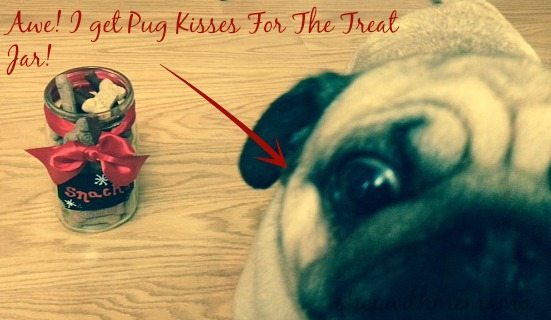 Have you ever made anything for your dogs? What do you think of my DIY Holiday Treat Jar For Your Dog?