I try to exfoliate my face and neck area (actually my whole body!) at least 2 times a week. Maybe 3 times. I love the way my skin looks, after exfoliating it. It is more clearer and smoother.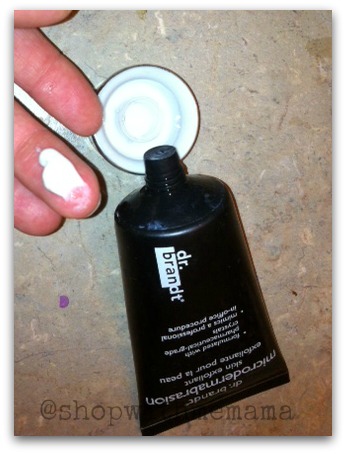 I had the opportunity to try out Dr. Brandt's Microdermabrasion Scrub and just adore it. It comes in a black tube and has been working wonders on my skin.
I use this 2-3 times a week, in the shower. I use it on my face and neck area. It has really fine particles in it that slough away dead skin cells. It also smells wonderful!!! This is a powerful microdermabrasion treatment, that instantly brightens ALL skin types by gently buffing away dead skin cells, revealing radiant, healthy skin underneath.
I like that it is in an easy-to-squeeze tube. Makes using it in the shower, super easy. It is a creamy formula and seems to really get my skin feeling super soft and clean feeling. I really like using this.
This was an Allure 2012 Best of Beauty Award Winner and I can see why. It works really well. Below, is a bit more about this awesome scrub/exfoliator:
dr. brandt microdermabrasion is a revolutionary formula designed to mimic the transformative brightening, and smoothing effects of the popular in-office microdermabrasion treatment at home.
enables better absorption of skincare products
an at-home alternative to professional, clinical treatments
helps diminish the appearance of fine lines, acne marks, and skin discolorations
Over time, it even reduces the appearance of fine lines, acne marks, and discoloration. The best part? No appointment-making hassle or big spend necessary. The $78 exfoliant is designed to mimic expensive in-office treatments but can be used in the privacy of your home.
Buy
You can purchase Dr. Brandt's Microdermabrasion scrub online at http://www.drbrandtskincare.com. It retails for $78 (which is pretty steep for a small tube of scrub). But it works well.