*This post is brought to you by Qmee. Opinions are my own.
Whenever my older two kids find penny's or any change lying around, they scoop it up and put it in their piggy banks. Smart kids, right?
I remember I used to do that too. One year me and my hubby counted it all out, after saving for one year, and it was over $600! Hey, change really adds up! In today's economy, a little can go a long way, I know that from experience.
We all have daily expenses, like latte's and coffee's to buying a doughnut or grabbing lunch, it adds up so fast. Why not why not add a little to your piggy bank to help with everyday expenses. I would love something that allowed me to Earn Cash Rewards for Browsing Online! Sheesh, that would be nice, wouldn't it??

Well, there is!!!
I wanted to let you all know about Qmee. It is a free search-loyalty, cash-reward browser app that installs easily into any major browser. Qmee rewards you with actual cash micropayments, for clicking on results you otherwise would click on anyways, for no reward!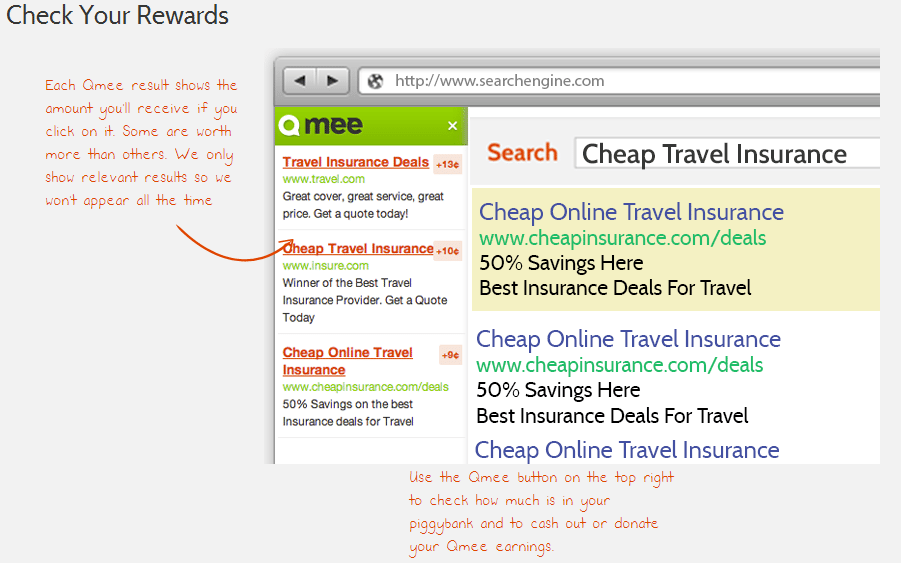 So, anytime you do a search using a browser such as Google or Yahoo, if Qmee has relevant results to your search, the app will pull up those results and they will then appear on your screen in addition to the other search results you would normally see. Brilliant! So brilliant that I HAD to get this browser app and try it out for myself! Heck, I will take all the money I can get with the holidays coming up! Yep, I said it… THE HOLIDAYS ARE COMING UP!! Heehee 😉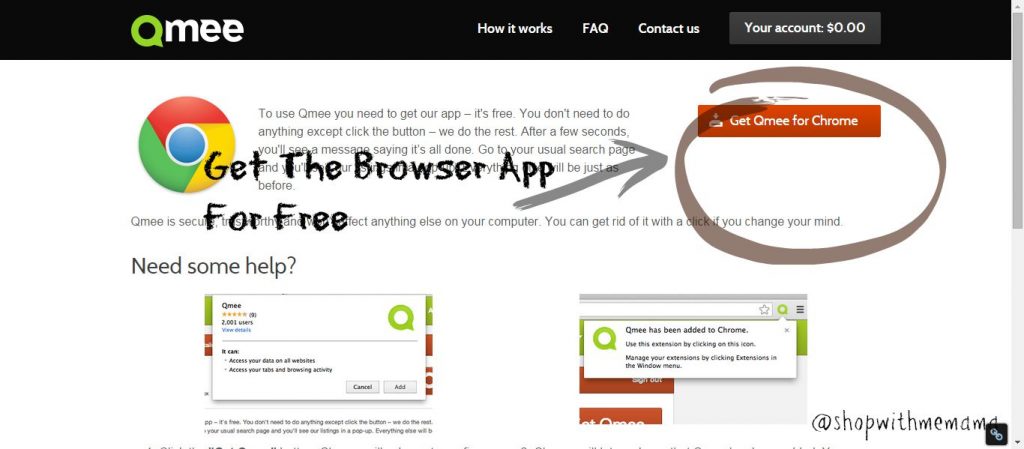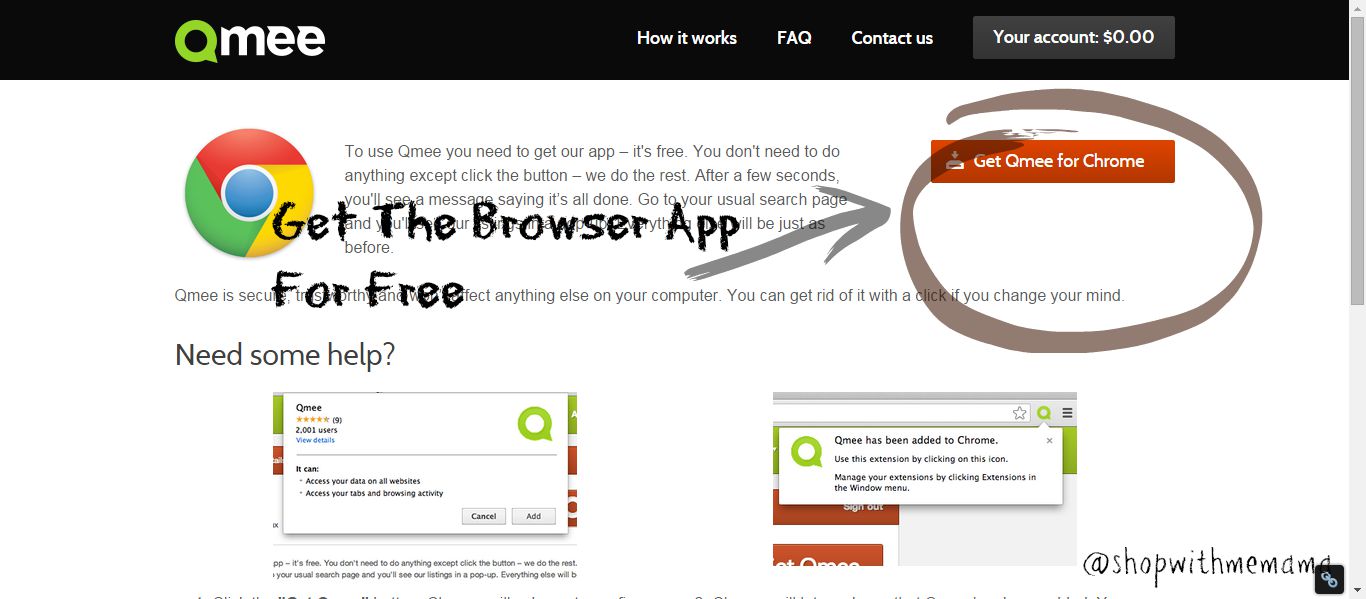 Sign Up Process
So, I signed up. All I had to do was enter my email address and a password (or I could have started the sign up process by clicking the Facebook button). That was simple!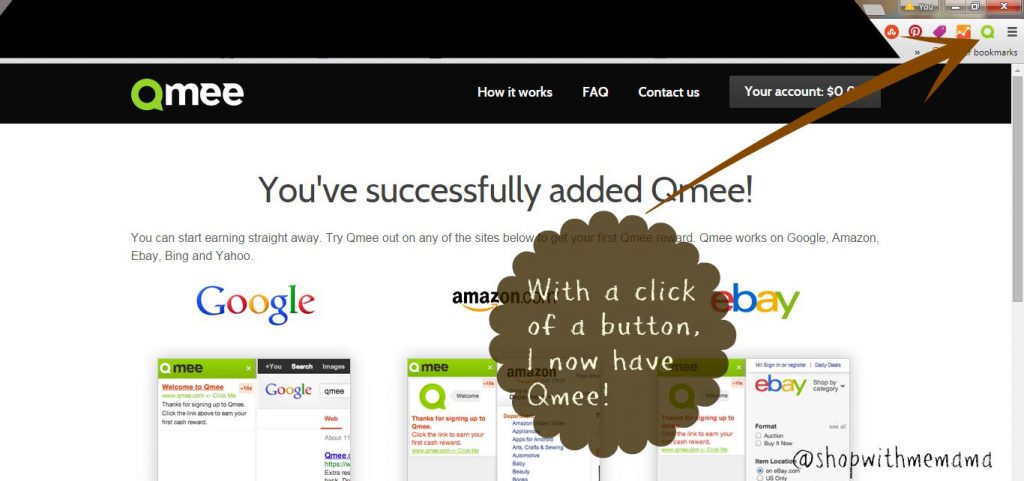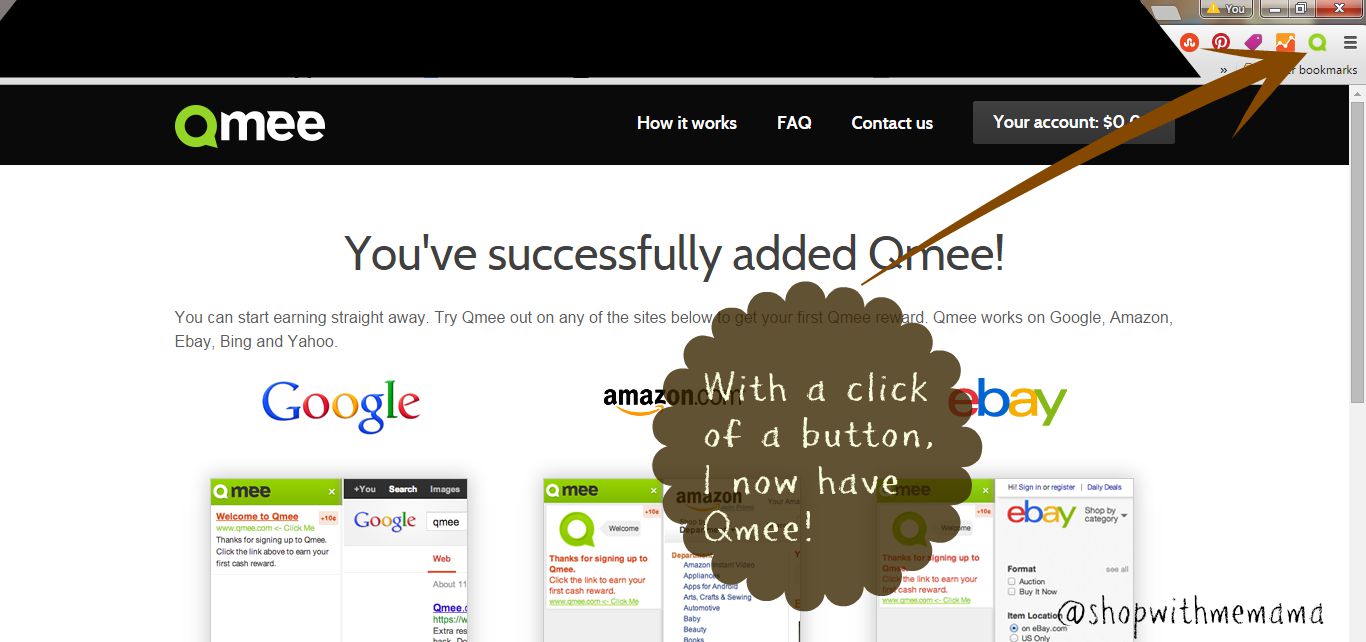 Next, I was brought to a page that tells me how to install their browser app. I clicked the red button that says "Get Qmee For Chrome" and installed the browser app. Now I can start earning straight away. I can try Qmee out on Google, Amazon or eBay and get my first Qmee reward! Qmee works on Google, Amazon, Ebay, Bing and Yahoo. Awesome! Here I go!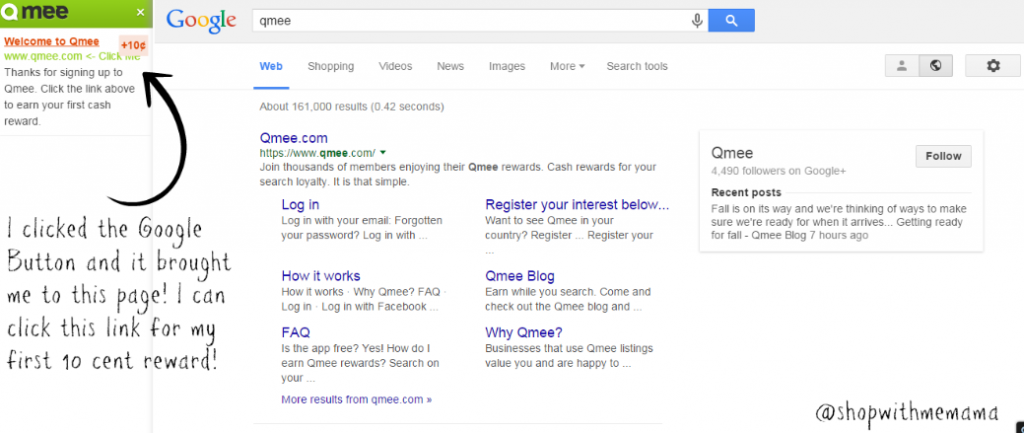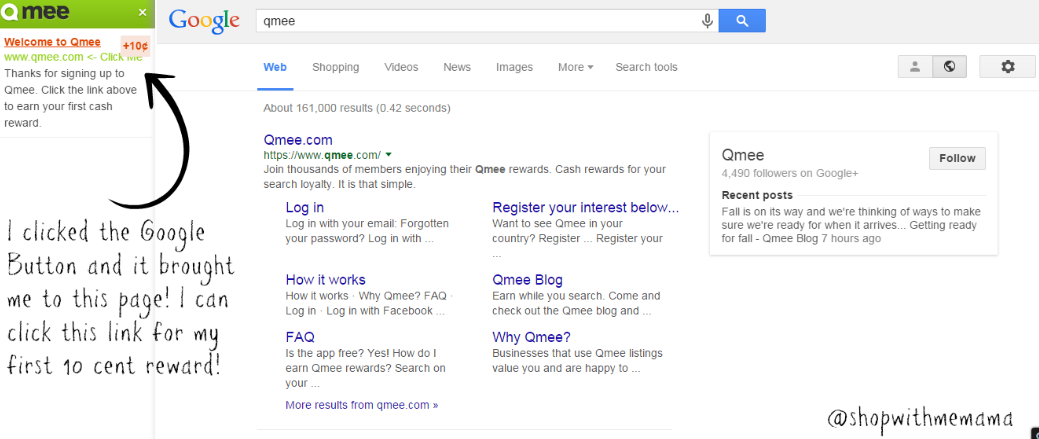 Earning Is Simple!
I clicked on the Google button and it brought me to this page. I can then click the top, left-hand link and earn my first 10 cents! Yay!!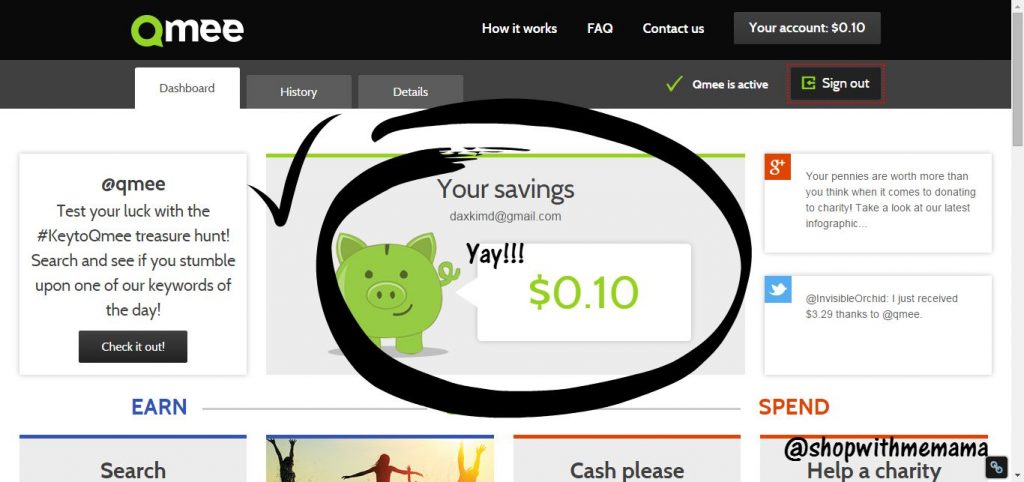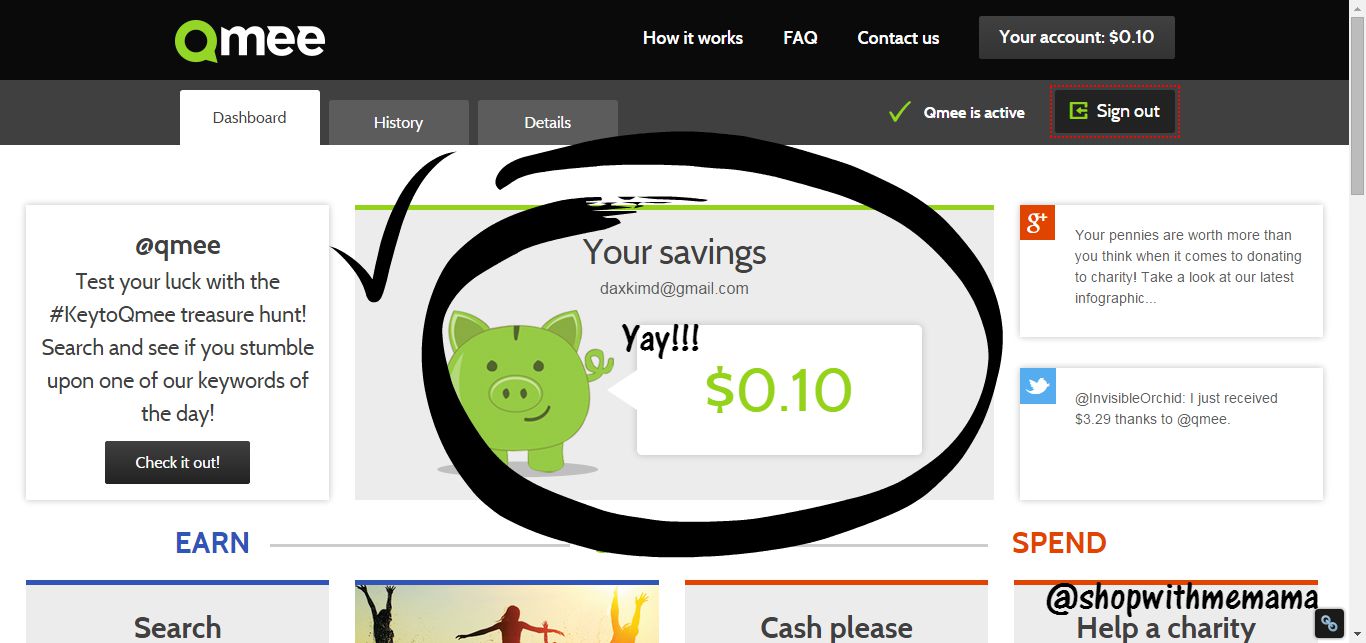 As you can see, when I clicked on the link, I automatically earned 10 cents and I was brought back to my dashboard. On the far left, you can see a fun 'game' they are offering me. I can test my luck with a treasure hunt by searching and seeing if I stumble upon one of their lucky keywords of the day! Sounds fun!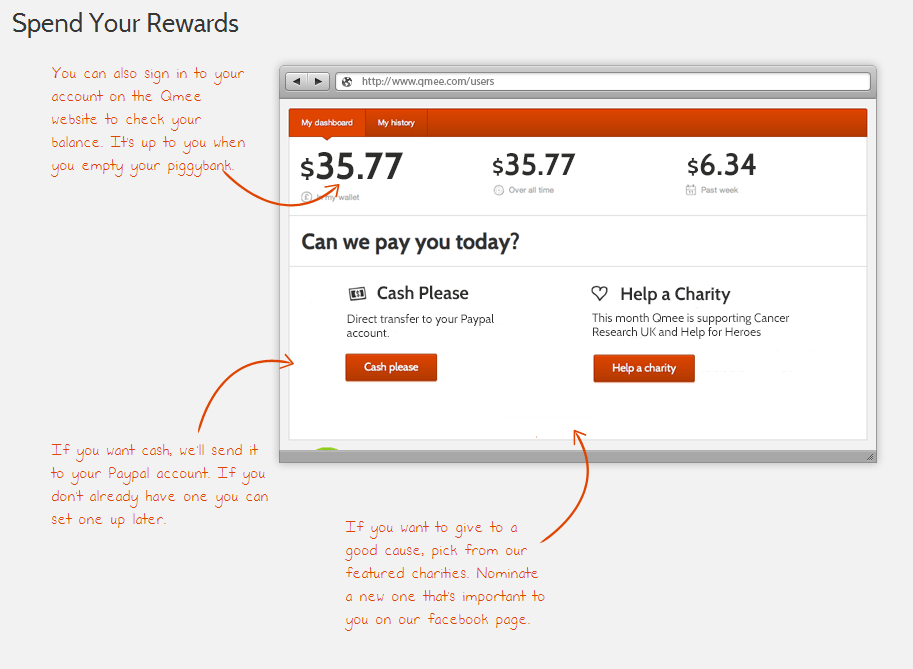 Link Your Account To Paypal
You can easily link your Qmee account to your Paypal account for easy access of your hard-earned cash! And GUESS what?! No matter if you have .10 cents or $100 in your account with Qmee, you CAN cash OUT!!!! I just tried it and it let me cash out for only 10 cents. I had to try!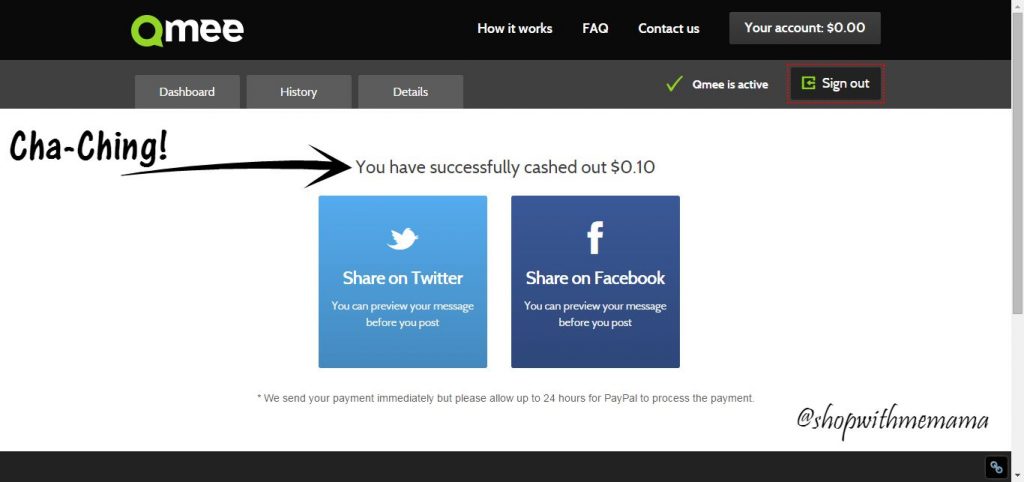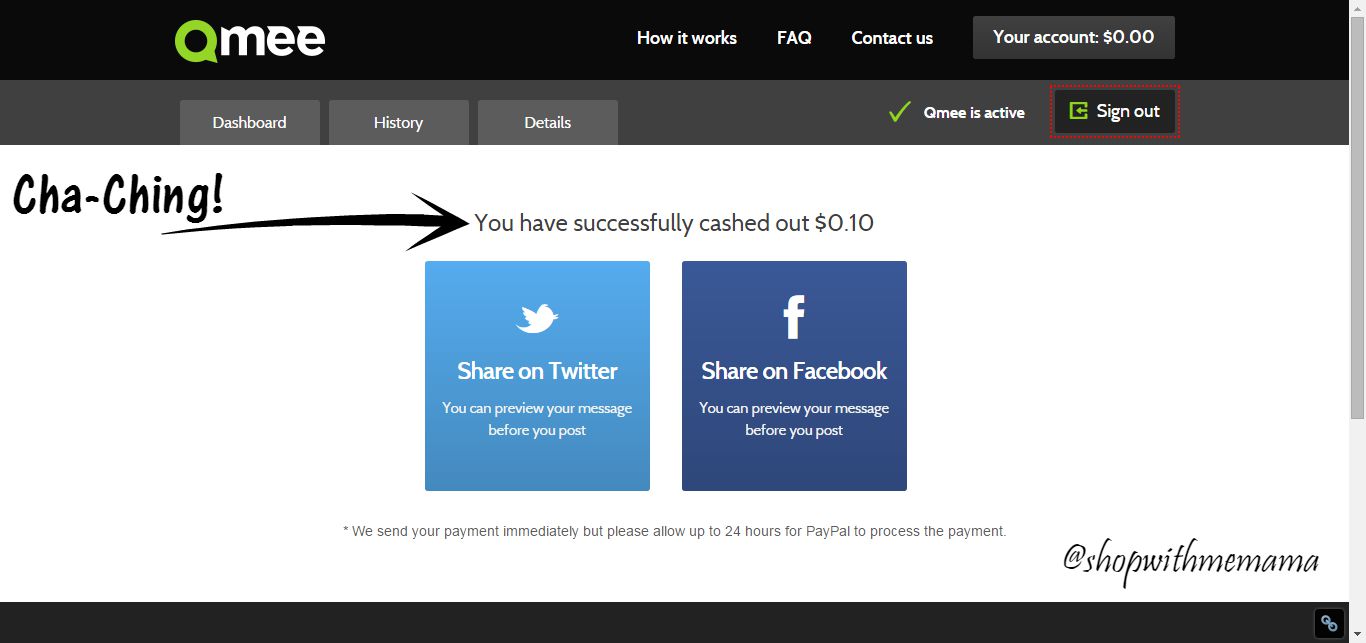 And, of course I had to share it with my Twitter peeps!!

In addition to the cash you collect through searching, Qmee will reward you with $1 in your piggybank for every referral you send when that person becomes a Qmee user!!!
I absolutely love this browser app and the potential of money I can earn. I am ALWAYS on the computer (hey, it is my job!) so I know Qmee will definitely come in handy!
Are you ready to sign up for Qmee? I mean, why not? It is free and you get rewarded for browsing the internet! Totally worth it!
To learn more, watch this video on Qmee, or visit www.qmee.com to try it for yourself.
Get Social With Qmee!
Connect on Twitter, Facebook and Google+!
Will You Sign Up For Qmee? What Do You Think Of This Browser App?