*I received products. All opinions are mine.
essence Cosmetics delivers everything you need for a hot, sexy look! Whether you are looking to play up your eyes or lips, essence has some pretty wonderful cosmetics at great prices, to choose from.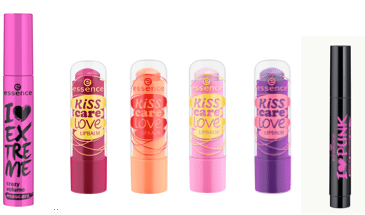 I received a great selection of goodies from essence Cosmetics. I always love receiving beauty items to review on my blog, because I love all things beauty!! I know I say that a lot, but it is true!!!
The box contained the following items:
kiss care love lip balm (SRP $1.99)
I love punk jumbo eyeliner pen (SRP $2.99)
I love extreme crazy volume mascara (SRP $4.99)
First I will talk about the really pretty kiss care love lip balm! I love this stuff. I always have to have my lip balm anyways, so why not, during the day, use one that is pretty and sheer and kind of shimmery? It is VERY sheer and leaves a tiny hint of color on my lips. It is moisturizing and perfect for any pout! My lips are really sensitive to anything other than Chapstick or Carmex, so I was pleasantly surprised when my lips approved of this stuff, yay! (Psst.. it also has a refreshing fruity taste!!!) It comes in four beautiful, trendy colors and flavors.
Next, is the I love Punk Jumbo Eyeliner Pen. This is really cool. It reminds me of a felt tip pen! I have used eyeliners like this before, but they seemed to come off easily. This has a really fine tip and draws onto your eyes really nicely. I wait about a minute before putting on my eye shadow, otherwise it will come or smear off easily. BUT, if I wait that minute, it will stay on all day long until night when I wash it off. No irritation and I just use eye makeup remover to remove it easily.
Last, but not least, is the I love extreme crazy volume mascara. I love trying out new mascaras and this one is the one I have been using everyday, since I got it. I love how long it makes my eye lashes look and it really gives them some much-needed volume. If it gets a bit clumpy, like most mascaras will do regardless of what they say, I simply rub some off of the wand with an old rag and it is good to go. It has a nice, smooth, creamy texture and is a deep, pretty black color.
About essence Cosmetics:
essence stands for trendy, unique and high-quality cosmetics at incredible prices.  The always-evolving collection of makeup bag must-haves leaves you looking fresh and fashionable.  The stylish essence packaging will make you proud to show it off and with products for face, lips, eyes and nails, essence makes it easy to achieve any look you desire!
Buy
essence is available at Ulta Stores nationwide as well as Fred Meyer and H-E-B stores and online at www.ulta.com.
 What kind of makeup do you use?