*Products received. Opinions are my own.
Lately I have found I am SOOOO dang tired. I literally have to take a nap when my littlest one does now. I never used to be like that, maybe I am just elderly?
I have not exercised in a LONG time and I have not been taking any vitamins, what-so-ever. Talk about not taking care of myself! Bad, right?
So, I started exercising again, in fact I joined a program on Facebook for a 7 day challenge. It is halfway over and then I am joining another one (different one), next week. So far so good there! I also started taking vitamins again. I told myself I am going to take care of myself starting NOW, so I can take care of my family!
I realize how important is really is, to take care of ME. Without mom feeling good, the home falls apart! I am needed so much and if I cannot do it, things just literally fall apart! So, I am taking care of me now and I am really starting to feel better.
EverydayHappy Launched a Wellness Care Kit for busy parents and I received the kit to try. The kit provides a full month's supply of Multivitamins and Omega-3s for both parents. Easy to swallow and carefully balanced to fill nutritional gaps, the power duo is allergen-friendly and free of risky ingredients. I started taking this duo about 2 weeks ago.
I love that this Daily Health Care Kit contains a one-month supply for two adults! So me and hubby can take these and not worry about running out because we are sharing one supply. This was really neat for me to learn!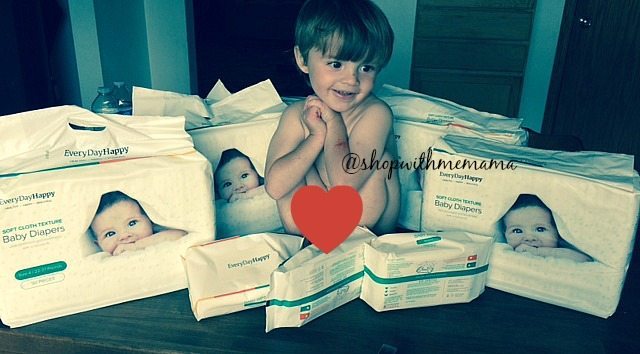 I also received packages of the EverydayHappy baby diapers and wipes! These diapers are great for my little guy during the day. They fit him well and I especially like the longer tabs that are on these diapers. The wipes are strong and moist and can take care of some messy things! I use these on my little ones face, hands and bottom.
Discover The Free Trial Kits
Kits offer a monthly subscription to a variety of premium, eco-friendly EverydayHappy products, all of which are delivered straight to your door. You can save up to 40% by choosing to bundle and decide when and how often your Kit ships. Cancel anytime! Grab your Free Trial Kit Today!
Buy
You can purchase EverydayHappy products online!
Win
One person is going to win the Wellness Care Kit For Busy Parents!
Rules:
Contest is open to US 18+. Giveaway will end on October 27, 2015 at 11:59 PM PST. Winner will have 48 hours to confirm their win, after I email them, or a new winner will be chosen. I am not responsible for lost or stolen mail.