Here is my full review of the awesome Exergen Temporal Scanner Infrared Thermometer! Summer may be here, but unfortunately, children can still fall ill, even during the warmer months. Just the other day, my little ones succumbed to fevers and sickness.
Thankfully, I had received the Exergen Temporal Scanner (Infrared Thermometer) for review the day before. It was the perfect opportunity to put this innovative device to the test!
*This post includes my affiliate links
Exergen Temporal Scanner Infrared Thermometer Review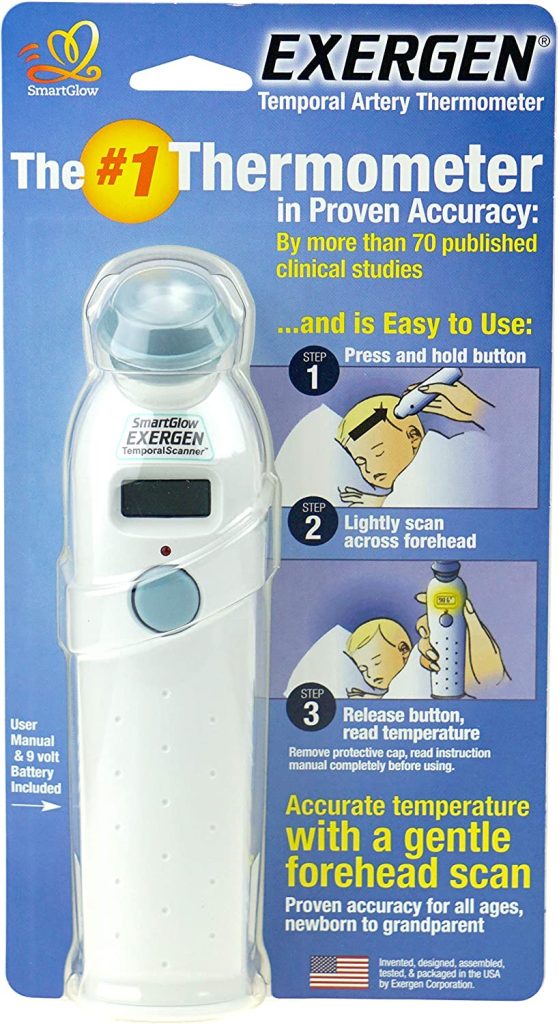 Upon opening the package, I quickly reviewed the straightforward instructions for using the thermometer. I started by measuring my daughter's temperature. The reading displayed 98.8, and I repeated the process twice to ensure accuracy, obtaining the same result each time.
Next, I used the Exergen Temporal Scanner on my son (it's incredibly easy to use! Just position the thermometer on their forehead, press the button, glide it across their forehead to the hairline, and release the button).
His temperature was significantly higher, reading 102.3. Once again, I repeated the measurement twice to confirm the result, and it was spot on. As you can see in the photo below, my daughter even wanted to be a part of the process!
Exergen Temporal Scanner]The digital display on the Exergen Temporal Scanner is clear and easy to read, as evident even in the picture taken with a cell phone.
The convenience and accuracy of this device surpassed my expectations. No longer do I need to resort to uncomfortable methods like placing a thermometer under their armpit or using rectal thermometers?
The Exergen Temporal Scanner offers a hassle-free experience, ensuring both my ease and the comfort of my children. I wholeheartedly believe that every mother should have this reliable thermometer in her medicine cabinet.
Some information about Exergen, as sourced from their official website:
Exergen Corporation is a globally recognized leader in non-invasive temperature technology for industrial and medical applications.
Their expertise ranges from providing temperature sensors for NASA and various industries to creating one of the most sought-after baby gifts.
Exergen's non-invasive temperature measurement devices offer superior accuracy, affordability, minimally invasive procedures, and enhanced reliability, revolutionizing the field.
They are credited with inventing the first temporal artery thermometer—the Temporal Scanner™—which remains one of the most effective and non-invasive thermometers ever created.
Exergen holds over 100 U.S. and international patents, and they are the sole manufacturer of retail medical thermometers in the United States.
Currently, more than 30% of hospitals and pediatricians rely on the Exergen TemporalScanner, and over one million consumers utilize it at home.
Founded by Dr. Francesco Pompei, a Harvard research scientist, over two decades ago, Exergen Corporation is headquartered in Watertown, Massachusetts, USA.
The Exergen Temporal Scanner Infrared Thermometer proves to be an indispensable tool for monitoring your child's health.
Its accuracy, ease of use, and non-invasive nature make it a must-have for parents. Embrace the innovative technology of Exergen and prioritize your family's well-being with this exceptional thermometer.
Buy
You can purchase the Exergen Temporal Scanner Infrared Thermometer on Amazon.com!